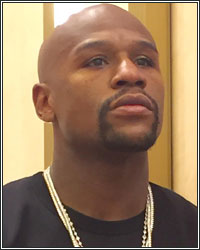 "I never once said anything negative about Ronda Rousey. Never! I never once said anything negative about Ronda Rousey. I never once said anything disrespectful about, I want to make sure I call his name right, Conor McGregor? Okay. I never said anything negative about them," stated retired undefeated former pound-for-pound king Floyd Mayweather, who shared his thoughts on MMA fighters, like UFC featherweight champion Conor McGregor and former UFC women's bantamweight champion Ronda Rousey, constantly bringing up his name. According to Mayweather, the fact that they do call him out seems ridiculous considering that he never has and never will compete in the sport of mixed martial arts. Furthermore, he thinks the media is instigating animosity between the two sports by taking his quotes and twisting them out of context.

"Now, I can wake up on the wrong side of the bed and not be happy that day because I'm not well rested. They can ask me a question about a male or a female, but if I'm not happy, I may say, 'You know what? I don't give a fuck about them.' And then you know what the media is going to say? 'Floyd said fuck them.' When I basically said, 'I don't give a fuck about them,' basically I'm saying, 'I don't even want to talk about them today. I just want to talk about me,' but they're going to take your words and twist it and put it out there the way that they want to put it out there. Remember, before it was Ronda Rousey. Then when she took an L, they moved her out the way and now they put someone else in her place," Mayweather explained during a conversation with FightHype.com.

He added, "Like I said before, my beef has always been with other boxers, you know. If I was involved with MMA sports, then my beef would be with MMA guys, but I'm not involved in MMA sports. I don't have no plans on getting involved as far as competing physically in MMA, but I do look forward to getting fighters and doing MMA fights in the future, and I'm talking about 2016."
[ Follow Ben Thompson on Twitter @fighthype ]