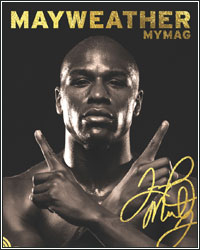 World-champion boxer Floyd Mayweather, just weeks in advance of his epic battle in Las Vegas with Miguel Cotto, released Mayweather, his signature MYMAG, a personalized magazine (Mayweather's first ever) with content curated by the legendary prizefighter himself.

Five contributing publishers have come together to provide content for Mayweather's MYMAG: Wallpaper, Respect, The Ring, Vibe and Empire magazines - all personal favorites of the champion boxer, all of them eager to help showcase the features, vintage and contemporary, that Mayweather likes best.

A glossy, oversized publication, Mayweather will be sold exclusively through MYMAG's Web site, MYMAG.com, with just 2,500 limited-edition, first-come, first-served copies available. The issue highlights how hard Mayweather has worked to reach the pinnacle of his profession - and the luxurious lifestyle he's now able to lead as a result. It's the world's top boxer like he's never been seen before.

Mayweather, with gold-leaf cover lettering and individually numbered editions, is destined to become a limited-quantity collector's item for the boxer's biggest fans. "Floyd is an enigmaZc guy," says Magnus Greaves, the founder of MYMAG. "He has never opened himself up to his fans like this before; this MYMAG he put together is by far the most insider look his fans will ever get."

Mayweather agrees. "I've never edited a magazine before, but why not add it to the mix?" he says. "It's all part of the entertainment package, and I loved doing it." Readers will go behind the scenes at a private fashion shoot the boxer did. They'll get a look at some of the finest work of gritty, streetwise photographer Estevan Oriol, a Mayweather favorite. They'll read up on all of the favorite films of Mayweather, a movie fanatic. And much, much more.

Mayweather, the first personal publication from the best boxer on earth, hits like a right hook to the jaw. Go to MYMAG.com to feel the impact.