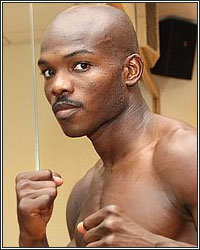 "What is Bob Arum's favorite slogan? 'I was lying yesterday, but I'm telling the truth today.' Is that it? I never told Bob that at all. He's a liar and I will tell him that to his face," stated newly-crowned WBO welterweight champion Timothy Bradley, who refuted claims, by his own promoter no less, that he admitted to losing to Manny Pacquiao just moments before the decision was read in his favor. According to Arum, prior to the scorecards being read, Bradley informed him, "I did my best. I just couldn't beat this guy." Bradley, however, has a totally different recollection of the conversation, accusing Arum of lying simply to protect his prized possession.

"I told Bob I did the best I can. I got injured. That was it. That's all I said to Bob. I didn't say, 'Bob, I couldn't beat that guy.' I would never say that, because I thought I won the fight," Bradley explained during an hour-long chat on MyDesert.com. "Bob's going to say that because that's his cash cow. The fact he lost to me, that's hard on him. That's hard on everyone." Although Bradley has no hard feelings regarding Arum's comments, he does plan on setting the record straight with his promoter the next time he sees him. "I have nothing but love for Top Rank. I have nothing but love for the people," he continued. "This is a business and some things are said and taken out of context. It is what it is. When I see him, we'll settle this. I'm a big man, I'll talk to him."

As far as Bradley is concerned, he's more than willing to put all of the controversy surrounding his split decision victory to rest by giving Pacquiao an opportunity to set the record books straight with an immediate rematch. "I think the rematch should happen. I think the fight was really close, it could have gone either way," Bradley added. "I'm all for it. Nov. 10, let's do it. November or December, if he wants to do the rematch, why not? All this [controversy] would be taken away. Let's do the rematch and settle it once and for all."

Whether or not you believe Bradley should have been awarded the victory, there's no denying that he's a champion willing to prove his worth. Although Pacquiao will likely move on to a 4th fight with rival Juan Manuel Marquez instead, perhaps he does have some unfinished business that needs to be settled with the undefeated Bradley.
[ Follow Ben Thompson on Twitter @fighthype ]