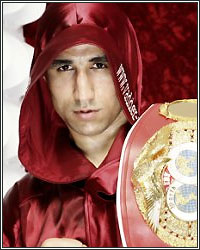 Arthur Abraham is the first prodigy of coach Ulli Wegner to become a two-division world champion. In a spectacular fight, the former IBF Middleweight Champion snatched the super-middleweight belt of his opponent Robert Stieglitz. And to the surprise of most experts, the known hard hitter did not win by knock-out but by a unanimous points decision.

On Saturday night at the o2 World Berlin, Germany, Abraham did not just put in boxing abilities on display but he also did not show any sign of his typical inactivity, which he has been criticised for during his recent fights. Right from the outset, he put his stamp on this bout and proved to everyone that the arena was his backyard. The 32-year-old dominated the fight in the first round by mostly using his jab and keeping his foe at bay.

Therefore, it was Stieglitz who seemed to be applying a "wait and see" tactic. After a wake up call by coach Dirk Dzemski, Stieglitz took advantage of his opportunity in round two and smothered the mandatory with great combinations. They did not always hit the target but they kept Abraham busy defending. Round three was not different but both fighters seemed to be on an equal playing field.

In round four Abraham seemed to have adjusted to the offensive strategy of Stieglitz. He started to anticipate his punches and managed to land counter attacks. A lovely combination of shots to the body and head was followed by two straight rights causing a cut above the eye of the 31-year-old man from Magdeburg, Germany. At this point most of the 10.100 fans at the Arena were expecting to see a KO victory by the "Abrahammer" who seemingly felt his opponent being impressed by him.

But the 1,80 meter tall Stieglitz was not willing to give in and kept looking for a way through the defense of his hard hitting enemy.

Nevertheless, his efforts did not really cause any troubles for Abraham, who even smiled at him during one of his attacks. Abraham then demonstrated how it should be done. Therefore, the Team Sauerland boxer impressed the crowd by throwing left hooks and straight rights at his opponent.

Nothing changed during the coming rounds. Stieglitz kept on punching without being able to break down Abraham's guard who in return kept on scoring by using his Jab. After a flourish of big blows, Stieglitz was getting into trouble when his left eye starting swelling with his sight consequently being impaired. Abraham took full advantage and surprised his opponent time after time with hard knocks to the head. As a result, ring doctor Professor Dr. Walter Wagner had to inspect the cuts of the 31-year-old but gave his clearance for the fight to continue.

After twelve rounds the judges scored the bout with 116:112, 116:112 and 115:113 in favor of the new champion Abraham.

"It´s such an emotional moment for me right now and I can't really describe it," said a touched Abraham right after the fight. "I worked hard and concentrated throughout the preparations for this chance and I boxed smart – that's the secret of this victory."

Stieglitz proved his sportsmanship by being a fair loser. "I have made a lot of mistakes today and from round seven onwards I wasn't able to see properly through my left eye. Nevertheless, I continued fighting but it just wasn't meant to be."

This was the 35th victory out of 38 fights for Abraham. In contrary, Stieglitz suffered his third loss as a professional.

Also on the card: Jack Culcay. "Golden Jack" won his first professional title, the WBA-Intercontinental Light Middleweight Championship against Frederic Serre from France.

However, this victory did not come easy for the German. His opponent kept on trying to cut the distance to the 26-year-old opponent. But Culcay kept his cool and while moving backwards away from Serre he kept on landing counter punches. By constantly bobbing his upper body, the amateur world champion of 2009 landed quick firing combinations to head and torso of his foe.

Midway through round three, referee Giuseppe Quartarone stopped the fight: During a quick firing combination of left and right hands, Culcay threw a surprising hard right hook to the face of Serre resulting in a gushing cut above his left eye. Consequently, the ring doctor had to look at the injury but called for the fight to be continued. Though, just a few seconds later, it was over. Serre´s injury was just too extensive and the bout had to be stopped. After two minutes and four seconds of round three Culcay was declared the winner of the fight.