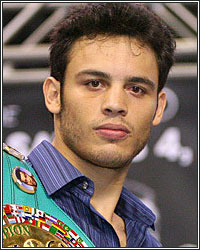 It's Monday. Welcome back for another edition of Observe and Fight, The Boxing Observer's compilation of observations and random thoughts from the week that was in boxing. Get caught up on some of the most recent events you may have missed out on, including the new #2 pound-for-pound fighter in the world, Julio Cesar Chavez Jr.'s reality check, Josesito Lopez's chances against Canelo Alvarez, the Klitschko brothers documentary, and much more. Without further ado, check out the latest observations from The Boxing Observer, David Kassel.



Andre Ward has now solidified himself as the #2 pound-for-pound fighter in the world. It's safe to assume that Ward is the best fighter between super middleweight and cruiserweight (not to say he should fight everyone in those weight classes), but his total dominance of light heavyweight kingpin Chad Dawson cemented Ward as the best fighter in the world not named Floyd Mayweather. Manny Pacquiao can no longer be considered as the #2 pound-for-pound fighter because his last two performances were anything but exceptional. Sergio Martinez didn't do anything wrong to still be at #3, but his level of competition has not been on the level of Ward's (to no fault of Martinez). Ward said it best after the fight when he stated he rises to the occasion in his biggest fights. Currently, there is not a fighter from the middleweight division to light heavyweight, possibly even cruiserweight, who can beat Andre Ward.


Julio Cesar Chavez Jr. is going to get a reality check on Saturday night. Last week, I thought Chavez looked a bit flabby just a few weeks away from his fight with Sergio Martinez. On Saturday night's installment of 24/7, Chavez looked better, but his attitude will be his undoing. It is 100% clear to me that Chavez does not have the mentality of a prizefighter. He has the mentality of a celebrity who fights. Chavez's lack of discipline and training will show mightily on Saturday night when he will be unable to catch Martinez in the ring. I fully expect Chavez to get beaten from pillar to post en route to a 12-round unanimous decision loss. I just hope Martinez doesn't get screwed out of a decision.


Freddie Roach is doing nothing except collecting a paycheck for working the Chavez Jr. fight. No trainer in his right mind would put up with the crap Chavez Jr. pulls on a consistent basis. Roach gets paid regardless of the outcome of the fight, but make no mistake about it, if Chavez Jr. was a mid-level club fighter, Roach would have dumped his ass a long time ago because he wouldn't tolerate the bullshit. The only reason Roach is sticking it out with Chavez Jr. is for the payday. Plain and simple.


Canelo Alvarez will wear down Josesito Lopez for a late round stoppage on Saturday night. I love Josesito Lopez, especially his attitude about boxing, but Canelo will be too much in the end. I expect this fight to be very competitive through the first six rounds because Lopez is never not competitive. However, in the latter half of the fight, Canelo's strength will take over and those shots to Lopez will systematically break him down, forcing a late round TKO. With that said, Lopez's stock will only go up, and I expect him to get a shot at a welterweight title in his next fight. However, should he pull off the upset, Lopez's next opponent might as well be set in stone. If Lopez beats Alvarez on Saturday night, Josesito Lopez will be the next opponent for Floyd Mayweather. Bank on it!


The Showtime main event will be more competitive than the HBO PPV main event Saturday night. That spells trouble for HBO because the Showtime undercard far and away shines brighter in comparison to HBO's. Top Rank's numbers may be lower than the 400,000 buys they expect from the Martinez vs. Chavez Jr. pay-per-view. The event is being promoted well, but Chavez Jr.'s behavior has not helped matters in making fans believe he is ready to fight someone with the skill set of Martinez. Josesito Lopez, on the other hand, is making fans believe he can make a competitive fight against Canelo Alvarez.


The Klitschko documentary on HBO was an excellent piece Saturday. Vitali's fight against Manuel Charr went about as expected. Even though the fight was stopped prematurely, the outcome would have been the same regardless, with Klitschko stopping Charr. The documentary, however, gave fans a look into the lives of two men who have been very secretive about their private endeavors. The Klitschko brothers are doing everything they can to gain fans all over the world, and they may be the two smartest fighters in boxing. If I were Wladimir or Vitali, I would never fight outside of Europe or Asia. What's the point? When you make eight figures every time out, why come to the United States to make less money. When they finally do step away from the fight game, the Klitschko brothers will go down as two of the top 10 greatest heavyweights of all time.


It's too bad nobody watched the Showtime main event on Saturday night. As expected, Showtime staged a wonderful main event in a slug-fest between Lucas Matthysse and relative unknown Olusegun Ajose. While Matthysse came out victorious via 10th round TKO, Ajose came out with just as much gained as Matthysse did. Everyone already knew what Matthysse could do, but Ajose's skills were mysterious. In the post-fight interview, Jim Gray stated he now knows why everyone has avoided fighting Ajose for years. Expect to see Ajose in a big fight against a name opponent his next time out. As for Matthysse, can we please set up an Argentine mega-fight between he and Marcos Maidana already? Make it happen, Richard Schaefer!


Antonio Demarco just earned himself a major payday against Adrien Broner. It's too bad he won't keep his title for very much longer. Demarco looked so impressive against John Molina Saturday, but by stopping him within a minute in the first round, Demarco may have just shot his expectations so high that he can choose nobody else to fight other than Broner. If that is the case, Broner should have no trouble handling the champion, and Demarco will suffer a beating. There just aren't many great lightweights out there. Demarco should probably take another fight, but he will most likely end up in the ring with Broner next and will lose his title. That is unless Broner decides to move up to welterweight to take on Robert Guerrero. There is some bad blood there.


Kathy Duva proved once again why she is one of the most innovative promoters in boxing. Duva put on a major heavyweight fight card on Polish pay-per-view Saturday for fans to watch Tomasz Adamek defeat Travis Walker by 5th round TKO. But, it was Duva's idea to show the fight on American television in the middle of the afternoon, which was innovative. There was no boxing on until late evening, and fight fans were able to watch some competitive action in the middle of the afternoon. If you remember some years ago, while Lou Dibella was working for HBO, he had an idea to feature prospects on HBO television in the middle of the afternoon. It's an idea that could work if done properly. Duva has just taken the first step. Most importantly to Duva and Main Events Promotions, they may have just setup a rematch between Adamek and Steve Cunningham. In 2008, the two men fought to a split decision victory for Adamek, in a cruiserweight title fight that was considered a Fight of the Year by many. Main Events may have just secured themselves an HBO or Showtime fight date for a heavyweight rematch after Cunningham's successful heavyweight debut as the Adamek co-feature.


Deontay Wilder needs to step up his level of opponent, and fast. I'm a HUGE fan of Wilder, and believe his trainer and manager, Jay Deas, is moving him along at a good pace, but at 25-0 with 25 knockouts, Wilder still has yet to be tested. His power is unmistakable, and I believe he can step in the ring with any heavyweight in the world right now and be competitive. Let him prove it. Pony up the money for a name opponent and take a small financial hit now, because the dividends will pay off very soon. Wilder is ready. He just needs the opportunity. I would LOVE to see a fight between Wilder and Bryant Jennings in the near future.


Tavoris Cloud may have just made the best decision of his career. On Sunday, news broke that the IBF light heavyweight champion had partnered with power manager James Prince. Prince has represented many fighters, such as Shane Mosley, Devon Alexander, and currently represents Andre Ward. It's not so important that Cloud signed with Prince because it's Prince. It's more important because Cloud's career is now out of the hands of Al Bonnani, who is Don King's matchmaker. Cloud has been held back in his career due to his management, and hopefully now, his career will get on the right track. Translation, hopefully we'll see Cloud fight more than once a year.


I like Luis Ramos Jr., but I'm not sold on him. Something about Ramos just doesn't seem quite right. I don't know what it is for me, and I hope I'm way off base, but Ramos doesn't seem to have the "It Factor" to be a great champion. Just an observation.


Each week, I feature an email from a fan on Observe and Fight. This week's email comes to us from Richard M. on potential Sergio Martinez vs. Gennady Golovkin showdown...


"I know boxing really really well. I've learned, studied and been around boxers for awhile. Watched numerous of fights on dvd, vhs, tv and attended a few boxing matches. So to say this Sergio wouldn't gain anything from fighting Gennady. It would be a gain for Gennady. I'm saying this Sergio would beat Gennady in a tough fight. Jr is over rated so I'm going to leave as that. He will get ko'd by Sergio and Gennady. Gennady has knocked out opponents because they stand in front of him with no movement. If Gennady faced a boxer with great lateral movement, power and a stiff ass jab he will lose! Right now he's walking thru everybody punches. Gennady is a beast and will reign for a long time in his division, but not until Sergio leaves or somebody moves up from 154 or someone from 168 moves down. Sergio has great side to side movement with power. That will give Gennady fits."


I agree with you, except for one thing. Sergio hasn't been hit by anyone like Gennady. Sergio isn't exactly a guy who doesn't get hit either. Just because he has great movement, he still takes quite a few unnecessary shots. Right now, I agree that Sergio gains nothing from a Golovkin fight. I never said he did. Gennady would be the one who gains everything. I think, maybe by the end of next year though, Gennady could give Sergio a run for his money. I never said Gennady would beat Sergio right now.

That's all I've got for this week. Email any questions or comments to
dkassel@fighthype.com
and I will answer them throughout the week. Your email may be featured in the next "Observe and Fight." Follow me on Twitter @BoxingObserver, and be sure to "Like" The Boxing Observer on Facebook.
[ Follow David Kassel on Twitter @BoxingObserver ]