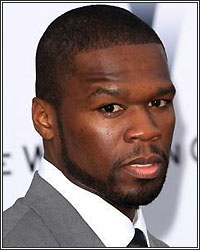 "I've had several conversations and meetings with 50. They approached us with an idea of forming a joint promotional company. I've discussed that with Manny; Manny is excited about it. We have MP Promotions, they have TMT Promotions," stated adviser Michael Koncz, who recently revealed that rapper turned boxing promoter 50 Cent has been in talks with him about the possibility of teaming up to form a joint promotional company between the newly formed TMT Promotions and Manny Pacquiao's MP Promotions. The news has fans and media alike extremely confused considering that, according to 50 Cent himself, TMT Promotions was originally supposed to be a joint venture between himself and close friend Floyd Mayweather.

That was until recently, when reports surfaced that the contract of IBF featherweight champion Billy Dib, who originally signed with TMT Promotions, was being transferred to Mayweather Promotions. Many speculated that the move meant 50 Cent would not be working with Floyd Mayweather, so therefore, he would no longer be involved in boxing. Apparently, Floyd Mayweather wasn't the only pay-per-view star that 50 Cent was sharing his ideas with. "Initially it was going to be 50 Cent, Manny and Floyd. But right now, I don't think Floyd is going to be a part of it," Koncz explained to Rick Reeno of Boxingscene.

That begs the question, was Pacquiao's promoter, Bob Arum, behind 50 Cent's involvement in boxing in the first place? More importantly, was 50 Cent being used as a pawn in an attempt to break up the working relationship between Floyd Mayweather and Al Haymon? That might explain why 50 Cent hired Sean Gibbons, a "former" matchmaker for Top Rank who was fired and essentially made the fall guy during the FBI's probe into the company's business activities, including possible fight fixing, medical document fraud, scale tampering and illegal transport of Mexican fighters to the United States. Numerous sources have confirmed that Gibbons has indeed been passing himself off as an employee of TMT Promotions, and if you truly think that he's no longer affiliated with Top Rank in any way, one simply needs to watch episode 2 of "24/7 Chavez Jr./Martinez", where Gibbons can be seen prominently hanging out with Team Chavez. In fact, you can also find Gibbons in the camps of other Top Rank fighters, like WBO featherweight champion Orlando Salido. In fact, that may also be why Top Rank so easily settled their contract dispute with former featherweight champion Yuriorkis Gamboa, who ended up signing with 50 Cent. Furthermore, FightHype.com has also learned that it was Michael Koncz who advised 50 Cent to have discussions with Miguel Cotto in an attempt to sign him to the company. Although the status of their friendship is currently unknown, that could explain why Floyd Mayweather has yet to reveal his involvement regarding TMT Promotions.

Nevertheless, it appears 50 Cent is still extremely interested in pursuing his interest in boxing, so he's said to be meeting with Koncz and Pacquiao this weekend to discuss his ideas on promoting events. "I think that it brings a different flavor with the connections that 50 Cent has in the entertainment industry, and with Manny's influence with boxers in the sport. Bringing that together, I think, is good for boxing. I'm hoping that this weekend we can finalize it," Koncz added during a conversation with Lem Satterfield of RingTV.com.

What does this mean for TMT Promotions fighters like Andre Dirrell and Yuriorkis Gamboa? I have absolutely no idea, but it will certainly be interesting to see how this will all play out if, and that's a big if, Manny Pacquiao and 50 Cent actually do form a joint promotional company. The good news for Pacquiao is that perhaps 50 Cent can get him a much better co-promotional deal with Top Rank than he currently has in place.
[ Follow Ben Thompson on Twitter @fighthype ]