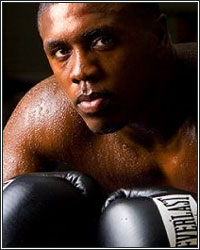 Sources have informed us that a deal has been reached for a showdown between former welterweight champion Andre Berto and current IBF jr. middleweight Cornelius "K9" Bundrage. Although full details have yet to be confirmed, the bout is expected to take place on November 24, with Berto moving up to the 154-pound division to challenge Bundrage for his title.

"Lol to be honest don't know who we got yet but Nov 24th is locked in as my date. So I don't care who it is all I know is WE EATTIN," Berto would post on his official Twitter page just two days ago. "Tell Berto Glove Up," Bundrage would reply yesterday evening on his own Twitter page. Today, our sources have confirmed it's all but official, with the only thing left to be done is the signing of the contracts.

Bundrage is coming off of an impressive 7th round TKO of former 2-division champion Cory Spinks back in June. Berto, on the other hand, hasn't fought in over year, scoring a 5th round stoppage of former welterweight champion Jan Zaveck in September of 2011. He was originally scheduled to face former welterweight champion Victor Ortiz this past July in a highly-anticipated rematch, but the bout was canceled after Berto tested positive for a banned substance.
[ Follow Ben Thompson on Twitter @fighthype ]