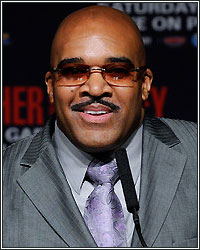 "Clearly this was an attempt to gain control over Floyd's business. Someone tried to take advantage of the kindness, friendship and loyalty that he extended in hopes of piggybacking and personally capitalizing on his success, but if anyone knows anything about Floyd, they know that the divide and conquer strategy will never work with him," stated Mayweather Promotions CEO Leonard Ellerbe, who commented on FightHype's recent news regarding an attempted coup to break up the working relationship between undefeated pound-for-pound champion Floyd Mayweather and his long-time influential advisor Al Haymon.

"After reading those ridiculous, absurd allegations, the only conclusion you can come away with is this had to come from someone who is unaware and unequipped to handle any kind of business. That's why you see this individual in numerous photographs simply carrying Floyd's bags, because clearly that's all that he was capable of doing. This is coming from a snaggletooth, rotten guy who doesn't have a pot to piss in and nowhere to throw it out," Ellerbe explained, referring to former Mayweather associate Tommy Summers, the author of the letter that was sent to Mayweather while he was incarcerated. Summers has reportedly been working alongside rapper turned promoter 50 Cent, helping him to sign fighters and learn the ins and outs of the boxing industry.

"Floyd is one of the smartest people I've ever met, and unbeknownst to some, Floyd already controls every aspect of his business. This is how he became the highest paid athlete in all sports," Ellerbe added. "The real truth is someone underestimated his intellect, knowledge, and loyalty, because Floyd is the one and only one who determines who he is going to work with."
[ Follow Ben Thompson on Twitter @fighthype ]