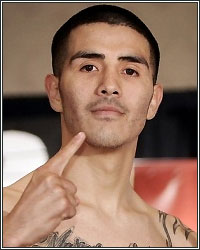 "You see what happened to Mike Alvarado. I think I could do it to him too," stated former lightweight champion Brandon Rios as he talked about a potential April 20 showdown with 8-division world champion Manny Pacquiao. Shortly after his crowd-pleasing war with Mike Alvarado, a fight he won via 7th round TKO, Rios was eager to state his case as being the next man to defeat Pacquiao.

"Mike Alvarado, I think he hits harder than him [Pacquiao]; he's more tougher. Pacquiao's an in and out guy," Rios explained when the question of fighting Pacqiuao was posed to him by Max Kellerman. "But you know what? Like I always do, Julio Cesar Chavez Sr. taught me very well, break the body, the head will fall down." Interestingly enough, prior to the victory on Saturday night, promoter Bob Arum had already pegged the winner of the fight as a potential opponent for Pacquiao's next fight in April.

Never mind the fact that Pacquiao has an extremely tough fight in his fourth encounter with Juan Manuel Marquez on December 8, Arum has already begun promoting a matchup between Pacquiao and Rios. "Bob Arum said short of Mayweather, Brandon Rios now front of line to fight Pacquiao should he beat Marquez Dec. 8," Lance Pugmire of the LA Times would post on his official Twitter page shortly after the fight. Let me be the first to tell you that a Mayweather vs. Pacquiao fight IS NOT happening, especially now that Pacquiao has extended his contract with Top Rank, so win or lose, expect Pacquiao to be standing across the ring from Rios at the MGM Grand Garden Arena on April 20, 2013.
[ Follow Ben Thompson on Twitter @fighthype ]