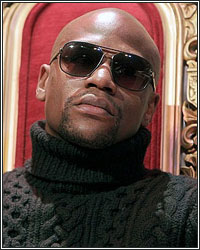 "It speaks for itself. I love Al Haymon. Of course, any friends are going to bump heads, but at the end of the day, I'm loyal to who I'm with," stated undefeated pound-for-pound champion Floyd Mayweather when asked for his thoughts on FightHype's recent news regarding an attempted coup to break up the working relationship between himself and his long-time influential advisor Al Haymon. Although Mayweather did not wish to comment too much on the subject, he made it crystal clear that he's 100% loyal to his team and regardless of any disagreements they may have on a subject, nothing and no one can come between them.

"Me and Leonard been through a lot of ups and downs together, but at the end of the day, he's in my corner. He ride with me and I ride with him. I stick with my team. I'm loyal to my team. When you're dealing with certain individuals, at least you know who you're dealing with," Mayweather continued. "You just go through up and downs. Me and Leonard never went through no hate relationship. Sometimes he sees things his way, sometimes I see things my way, but we always can iron things out and, at the end of the day, get the job done, in business or in our relationship. We don't always see eye to eye, me and Al don't always see eye to eye, but we get the business taken care of at the end of the day."

Although Mayweather never mentioned if the letter sent to him by Tommy Summers had any impact on his relationship with long-time friend 50 Cent, he did recall a story that one might think draws comparison's to the rapper's attempt to become a boxing promoter. "People try to keep the negative stuff going. Like I said before, I know they said there was a bunch of fighting going on at the Hip Hop Awards, but I just went there to watch the performers perform and that was it. I had fun, me and Earl Hayes. We're working on The Money Team Compilation album and it's some good music. Earl Hayes is an excellent artist. We bumped heads in the past because people got in his ear telling him certain things, but we're back together and we just want to have fun," he explained. "We're not saying we're here to take over the rap game or hip hop or the music business. We just want to have some fun and give the people good music. That's it. That's all we want to do. We're not greedy. We feel there's enough to go around."
[ Follow Ben Thompson on Twitter @fighthype ]