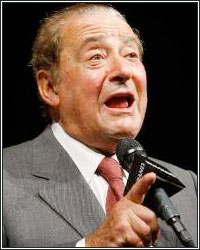 It's been brought to our attention that during a recent conversation, Hall of Fame promoter Bob Arum refuted a report by FightHype.com that revealed 50 Cent was in attendance for a meeting at the September 17 press conference held in Los Angeles, California to announce the upcoming December 8 fourth encounter between Manny Pacquiao and Juan Manuel Marquez. According to Arum, he's only met 50 Cent, who he once referred to as his "good friend Curtis", only once, and Pacquiao has never met him at all. In fact, Arum is so adamant about his claim that he's offering a reward if he can be proven wrong.

Well, according to our eyewitness source, both 50 Cent and former Mayweather associate Tommy Summers (A.K.A Tommy Smalls) were indeed in attendance and met with Pacquiao, as well as Bob Arum and Michael Koncz, behind-the-scenes, away from the prying eyes of the media. Although it is unclear as to exactly what was discussed, our source strongly believes that, with the help of 50 Cent and Summers, Pacquiao was convinced that an April showdown with Mayweather would indeed take place, which only strengthened his decision to sign a contract extension that will keep him under the Top Rank banner until 2014. Arum, however, insists that the story is "totally crazy" and just last week, he offered a $100,000 reward to anyone who can verify that 50 Cent was indeed seen at any Pacquiao press conference.

"It's totally made up. I've met Curtis Jackson, 50 Cents [and yes, that's plural], once at a party, once, and Manny Pacquiao has never met him. That's a totally made up story. Our contract with Manny went until December 31st, 2013, and now it's extended for one more year. It's a totally bullshit story," Arum quipped during a telephone conversation with a YouTube vlogger by the name of Kevin Davis. "It didn't end until the end of 2013 and now it doesn't end until the end of 2014, but that story is totally crazy. I would give $100,000 reward to anybody who can verify that they saw this 50 Cent at any Manny Pacquiao press conference on this tour. He wasn't there." Well, we here at FightHype.com can without a doubt verify that 50 Cent was at the Pacquiao-Marquez 4 LA press confernce, and we're eager to collect that reward.

Again, FightHype.com cannot confirm exactly what was discussed between all parties involved. Our source made it clear that it was their belief that the topic of an April clash with Floyd Mayweather was the main topic of discussion, hence the sole reason for the presence of both 50 Cent and Tommy Summers. However, our source also suggests that Pacquiao's political ambitions may have also been a motivating factor to extend his contract, in order to ensure he still had a major revenue stream coming in to help fund his re-election. That being said, there's is absolutely no denying that 50 Cent was indeed on location at the Beverly Hills Hotel on September 17 minutes before the Pacquiao vs. Marquez 4 press conference took place. How do we know?

Well, for starters, we have an eyewitness that was on hand who identified 50 Cent on the scene. As our sources previously explained, Dena duBoef, Vice President of Marketing and the daughter of Bob Arum, was acting as a makeshift bodyguard, preventing individuals from entering a room where Pacquiao and Koncz were meeting with 50 Cent and Tommy Summers. Later that day, a picture of Pacquiao, 50 Cent, and Summers would surface (see below), presumably taken some time during that encounter. Also in attendance was a gentleman by the name of Sean Gibbons, who reportedly has been working for 50 Cent's TMT Promotions in some capacity. To some, his name may sound familiar. Gibbons was once a matchmaker for Top Rank, until he was fired in 2004 following a 20-month undercover sting operation conducted by the FBI that resulted in Arum's Las Vegas office being raided. His name has been linked to prior fight-fixing allegations, including a 1999 Miami Herald investigation that alleged Gibbons asked two heavyweights to throw fights. Gibbons, however, denies those reports.

Nevertheless, Gibbons has now found himself back in the Top Rank fold in one way, shape, or form, working in some capacity with a number of their fighters, including Julio Cesar Chavez Jr. and Orlando Salido to name a few. It was in August when I personally learned of his involvement with TMT Promotions, a fact that 50 Cent himself confirmed to be true. In fact, as I previously stated, Gibbons was also on hand with 50 Cent and Tommy Summers during their meeting with Pacquiao at the LA press conference, as evidenced by the pictures that Gibbons himself posted on his Facebook page the very same day (see below). If all of that still isn't enough evidence for Arum to fork over his $100,000 reward, I'll be more than happy to provide him with further evidence that 50 Cent himself informed me that, yes, he was indeed at the press conference.

This begs the question, why would Arum deny something that, on the surface, seems harmless? The next time any of you "real" reporters speak to him, please, by all means, do some actual investigating and find out for us. Inquiring minds want to know. Me personally, I'm more concerned about collecting my reward than chasing down that story. So Mr. Arum, if you're reading this, or should I say, Mr. Koncz, if you're reading this to Mr. Arum, please ask him to make the check payable to FightHype LLC. You can also just place the cash in an envelope and hopefully I can pick it up from you on December 8 at the MGM Grand.


[ click image to enlarge ]
[ Follow Ben Thompson on Twitter @fighthype ]