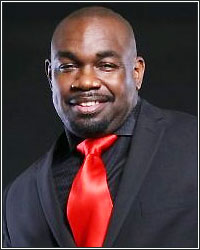 "A lot of us be on the undercard, but all of us don't get to be in the main event...I like the game now. The fight game is always a great game, but you see cats going out there and getting robbed and fights slipping out of people's hands on the scorecards and it always make me wonder what's happening to the game, man. It's like the replacement referees in football; it's like, at what point do you revamp the way we do business," stated comedian Rodney Perry, who talked about his love of the Sweet Science, his new show "Off the Chain", and much more. Check out what else he had to say!

PC: How have you been my man?

RP: Ah man, just working hard trying to take care of these babies.

PC: Same stuff, different day then.

RP: You know how we do it.

PC: Before we even talk about the new show, when we last spoke, you were getting your workout on and staying in shape. Have you been able to maintain that?

RP: Man, I'm trying to keep it together, man. I was working out…I knew I had the TV show booked, so I was trying to look real nice on TV. I kinda backslid, like the good Christians say, but I actually re-ignited my workouts just yesterday.

PC: We have Rodney Perry "Off the Chain" coming to Bounce TV. Tell us about it.

RP: You know, we premier on October 22nd on Bounce TV. Bounce TV is a brand new network, only 1 year old; the fastest growing network, especially amongst African American networks, and the only majority black owned network that's out there right now, so this is Bounce's first look at original programming. So it's a standup comedy show set up like Comic View except they got your boy Rodney Perry at the helm man hosting the show. And I wanted to bring back the days like Martin and Ced The Entertainer where you tuned in for the host. And that's one of the first things I said to them when I had my meeting with them. I wanted to have a situation to where people locked in to Rodney Perry so they could trust me to bring some quality comedy.

PC: I know what you're saying. You're not just a bring out guy. I see a lot of guys now that are just bring out guys, but you're going to get the mic warmed up before you bring 'em out.

RP: Man, you gotta give 'em something, dog, because you jump them in the deep in. You gotta walk them into that water real nice, and that's what I'm there for.

PC: Who presented you with this and what was your initial reaction to hosting this show?

RP: I actually had a conversation with the head of the network, man. They gave me the prospect of hosting the show. And you know me…you know my journey a little bit. I have been a co-host for a while. I been the brides maid a few times on "Who's Got Jokes" and "The Monique Show." So to get this opportunity to actually be at the top of the ticket; that's a big deal. A lot of us be on the undercard, but all of us don't get to be in the main event, you know, so this time, Rodney Perry get to be the main event.

PC: From the sound of it, it looks like you had some say in the title choice?

RP: To be honest, man, I could sit here and tell you it was my idea, but it wasn't. When I heard it, I felt like it was kind of an old phrase because that's what we used to say when we were coming up, man; that's off the chain. But it was so fitting that I couldn't deny it. Once we started shooting the show, the audience started saying it, so it was crazy and it was like it was meant to be, man. I think my steps have been guided by God, man, and God chose that name, I didn't. The network is grown and sexy. When I talked to Jon Katz, the head of the network, one of the things he said was, "Rod, we ain't trying to make you younger. Our demo is 25-40 and you right in the hook." So that's where we are, man. It's a great place to be. I told somebody the other day it's like if you had a chance to buy stock in Apple. I feel like I've gotten that opportunity with Bounce TV and "Off the Chain."

PC: When you are looking at young comedy talent, what traits are you looking for?

RP: You know what? I look for work ethic. When I got in the game, I wasn't…television wasn't even something I was aspiring towards. And nowadays, I gotta be honest, I wasn't even trying to get paid. I just wanted to make people laugh, and so I look for the essence in that because a lot of people get in the game now because they got a 20 year reference for the people making money. We have seen people get rich; Steve Harvey, Ced the Entertainer, and D.L. Hughley. So you got people that get in the game because this is now a viable profession, but what happens is you get people in the game that don't really love the art. I look for the love of the art more than anything because you can learn how to be funny, but you can't learn to love it.

PC: Comedy is an art like no other, because even though it has a deep history, you would think all of the jokes have been told and you have heard everything there is to hear to make you laugh, but yet, the pool gets deeper and you guys keep us laughing.

RP: This is the thing, dog; it's like this, it is always a necessity because the stress in the world predicates a need for comedy. You never know what a human being is going through when they walk in a comedy club, so we get to lighten their collective burden, which I look at is my bigger purpose. It's not hard to wrap my mind around the game because it's more important than Rodney Perry; it's helping somebody too at the same time, if that makes sense.

PC: You provide that on Twitter as well. If you're having a bad day or a down day, you can definitely go to Rodney Perry's Twitter page and get a good laugh.

RP: Yeah man, and we're very deliberate with that man, because if a person don't get one thing all day, you can count on Rodney Perry to get your giggle on, because you never know what I'm gonna have up there (laughing).

PC: Well one thing we spoke about the last time, and I think it's still probably the hottest subject in the sport although it's losing steam, unfortunately we still haven't gotten Mayweather/Pacquiao and quite frankly, I don't think we will.

RP: You know what, man? I'm starting to think that may never happen, and here is the thing people don't factor in. Athletes have these windows of opportunities physically. So I think we might be past Pacquiao's window, because his last couple of showings, I was like, "Whoa…okay." And Mayweather personally don't look to be losing a step. So I think the fight will be a great fight no matter what, but I'm gonna tell you what I think is really wrong with the fight game is the heavyweight division ain't what it was. You know, when we were growing up, the heavyweight division ran the fight game with Ali and all of those guys. Throughout history, we probably could name 15 great heavyweights, and over the last decade, I challenge you to name 5 great heavyweights. And see, people may criticize Mayweather for his style of fighting because they are trying to make him fight like a heavyweight. You got that man sitting up there taking punishment in that last fight because he tried to show y'all he can do it, but that's not his style and that's not good for him. The reason Mayweather has been around for as long as he has is because he is elusive. If you wanna watch this man get beat up and end up punch drunk like a lot of these fighters, you trying to damage his career. If I was in his camp, I would say, "Man, don't appease to these people. Fight like you fight." But I gotta say, that last one was great though.

PC: Oh yeah! I guess you have to do that from time to time. But you're right, I can't give you Steve Harvey's script and tell you to go on stage and perform it because then I'm taking away your strengths.

RP: Right, right! You are absolutely right, man, but I like the game now. The fight game is always a great game, but you see cats going out there and getting robbed and fights slipping out of people's hands on the scorecards and it always make me wonder what's happening to the game, man. It's like the replacement referees in football; it's like, at what point do you revamp the way we do business? It's gotta be a better way. Like we watching those Compubox numbers, they should be able to tabulate the scores after every round for the audience to see. You should be able to see real time who's winning.

PC: They tried that for a few fights in the past, but I think it took away from the corruption (laughing).

RP: (Laughing) They couldn't control the outcome.

PC: We touch on everything, so I will ask you about the NFL replacement refs when they were in place. It was kind of a gift and a curse, of course a curse for the Packers and a gift for us, the fans, because that game made the league get it together. What are your thoughts on that situation?

RP: I think you are absolutely right. I think it was the straw that broke the camel's back. This is the thing about the NFL. The NFL so gangsta man, they outlaw you saying anything about anything that's wrong. So I'm like, the NFL and Roger Goodell, they gangsta, man, but I think we are feeling the ripple effects from the lockout from last year, and I'm gonna tell you why. You got guys that were out of condition last year and got injured and still ain't back in the play completely. So I think that lockout…the owners are always gonna win in a lockout because they got the big money. Its big bank take little bank. I just watched this show on ESPN, the 30/30 where all of these guys end up broke. They make $100 million and they end up broke, man. So it really made me take an honest inventory of what these athletes go through, man. It's like…it's a terrible thing to see a guy who was sitting on $60, $70 or $80 million gotta file bankruptcy, man, or where his family should be good for the rest of their lives and they are not.

PC: Not just athletes, Rodney. You being in the entertainment field, did it make you be like, whoa! Not saying you are this crazy spender or anything, but did it make you re-evaluate a lot of things?

RP: Man, you know you couldn't have said it any better, man, because as I watch this show, I had to evaluate because they touched on so many topics. They touched on family, starting a business; they touched on making sound decisions and financial planning. So once you start looking at that, I mean I got people that ask me for money every month right now. They said something very powerful. They said, "Until I can take care of myself completely, you can't ask me to take care of you."

PC: Yes, because when people think or know you have money, favors turn into habit. It goes from can you do me this favor right now to it's the norm and you guys have to be careful.

RP: I had…at the height of the Monique Show, I had strangers asking me for money, dude. My closet friends, who I would have given my shirt to, didn't ask me for a quarter. I had strangers asking me for money, dude. People I met like yesterday was like, "You think I can hold like $500?" I was like, "Are you serious?" I couldn't believe it.

PC: I don't envy you at all my man. I know that's tough.

RP: I tell you what, when you ask me for $500, that's off the chain (laughing). I gotta ask you a question though. Have you seen the dude on the bus in Cleveland?

PC: (Laughing) Yeah, I did check that out.

RP: I need your thoughts on this. Was this the best uppercut you have ever seen in a street fight?

PC: I have never seen an uppercut thrown like that in a street fight to be honest. And I'm not an advocate for what he did to a female, but I tell you what, it's easy to say what you wouldn't do until someone spits on you.

RP: Dude, that's what I said, but man, who throws an uppercut in the middle of a street fight?

PC: That was a helluva uppercut, but that girl had a great chin. I think I would still be out.

RP: She got a pretty good chin because I tell you what, that would have knocked me out. I would still be sleep.

PC: Always a pleasure to speak with you. Keep us laughing my man, and before I let you go, tell us about the show again my man!

RP: Done deal, man. The network is Bounce TV at www.bouncetv.com, check your local listings where you can pick it up. It's free in most areas in the country. We debut October 22nd on Monday on Bounce TV at 9PM and 6 on the west coast. I gotta tell you man, I'm proud of this show and I'm glad to be a part of this network. I think it's going to be a big success, but you let me know. God bless Percy and I thank you for always having me on. I really appreciate it.
[ Follow Percy Crawford on Twitter @MrFighthype ]