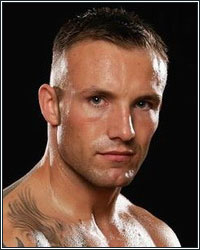 Mikkel Kessler (45-2, 34 KOs) travelled to Belfast today to promote his WBA Super-Middleweight World Title clash with Brian Magee (36-4-1, 25 KOs). Both fighters, who will collide at Jyske Bank BOXEN in Herning on December 8, and their promoters faced the media during a packed downtown press conference at the renowned Europa Hotel, which is the world´s most bombed hotel, according to Wikipedia. "This place certainly has a history," promoter Kalle Sauerland said. "Just like Brian Magee has a history with the Danish sports fans. He has come over to Denmark twice to eradicate two of their boxing heroes, Mads Larsen and Rudy Markussen. You have to give him credit for that. But twice is more than enough. Mikkel Kessler will put an end to his streak, set the record straight and win this fight for his country."

Kessler, a much sought-after interview partner, enjoyed the trip to the Northern Irish capital. Just ten minutes from where the press conference was held, the famous Titanic was built. "Well, I guess you can´t really compare the Titanic and Brian Magee," Kessler said. "Brian has already made a lot of successful trips abroad, and two of them have been to Denmark. But I will make sure that his third trip over will not be a good one for him. I have a lot of respect for Brian, he is a warrior. There are a lot of similarities between us. We are solid fighters and we are not scared to fight abroad. I have fought in Wales, Australia and the US, and Brian has also fought in a lot of places, including Denmark, of course. But I think I am the better boxer, I have much more power. I have never lost a fight in Denmark and it will be no different against Magee. With my fans behind me, nothing can stop me. It will be a great fight at Jyske Bank BOXEN."

Said Brian Magee: "Mikkel is a great fighter, he ranks right up there along with the all-time greats. We have mutual respect for each other, but once the bell goes, it will be all business and a hell of a fight. We both have a lot of power, so the fans can expect a great fight. I´ve beaten Larsen and Markussen and now I will beat Kessler."

Said Pat Magee, Brian Magee´s manager: "It´s not very often that you see one-punch knock-outs in boxing, but Brian took out Markussen with one shot and Mikkel took out Allan Green with one shot, so this will really be a special fight. We look forward to it."

Tickets are available at www.billetnet.dk.