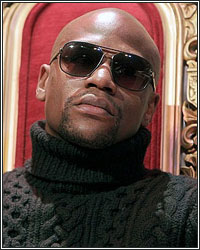 "You have to realize this, in my opinion, Manny Pacquiao is desperate. He doesn't make his own decisions, because Manny Pacquiao has a boss, his promoter, that makes his decisions. Once you take a loss and you're on the decline...listen, Manny Pacquiao, whether he got cheated or not, his stock drops enormously after taking a loss. No matter how you took a loss, you took an L," stated undefeated pound-for-pound champion Floyd Mayweather, who shared his thoughts on Manny Pacquiao's revelation that he's willing to take the smaller share of a 55/45 split. As far as Mayweather is concerned, Pacquiao is in no position to even make any offers, not only because he's coming off of a loss and has looked subpar in his last few performances, but also because he doesn't generate the same type of revenue.

"It's public record. Unless I'm mistaken, Manny Pacquiao received a check for 6 million dollars the night of his last fight, according to the bout agreement, so how can a 6 million dollar fighter, who don't even do the type of numbers that I do or bring in the type of revenue that I bring in, even offer me anything," Mayweather continued during a recent conversation with FightHype.com. "Like I said before, last fight, we don't even know what his numbers were. My fights, they're putting the official numbers out there. HBO always puts the official numbers out there, right? They don't show his numbers at all. Come on, man. Those are fake numbers."

In Mayweather's opinion, the only reason why his name was brought up during Pacquiao's appearance on ESPN First Take was to help promote the upcoming fourth encounter with Juan Manuel Marquez. "They're using my name to promote Marquez and Pacquiao. When I'm fighting a guy, all the talk is about me and my opponent. You'll hear Manny Pacquiao's name every once and while, but all the talk is about me and my opponent. Like when I was facing Cotto, all the talk was about me and Cotto," Mayweather added. "See, this kid, like I said before, he has to use Floyd Mayweather's name to sell fights."

Whether you agree with Mayweather or not, one thing is clear...Bob Arum and Todd DuBoef are the only two men authorized to negotiate on behalf of Top Rank, the promotional company that Manny Pacquiao recently signed a contract extension with. Until one of those men actually has a conversation with either Richard Schaefer or Al Haymon, the two men authorized to negotiate on behalf of Floyd Mayweather, we're no closer to seeing the mega-fight happen than we were back in late 2009.
[ Follow Ben Thompson on Twitter @fighthype ]