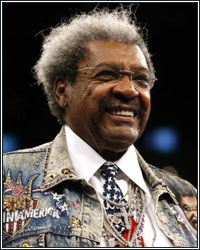 It's Monday. Welcome back for another edition of Observe and Fight, The Boxing Observer's compilation of observations and random thoughts from the week that was in boxing. Get caught up on some of the most recent events you may have missed out on, including the passing of Hall of Fame trainer Emanuel Steward, Don King trying to ruin another fighter's career, Carlos Abregu's upset of Thomas Dulorme, and much more. Without further ado, check out the latest observations from The Boxing Observer, David Kassel.

Emanuel Steward was not just a great trainer, he was a great man. By now, everyone has heard the news that Steward passed away Thursday. I cannot add anything that anyone else hasn't already said. The man was one of the greatest boxing minds, if not the greatest boxing mind, who ever lived. When news first broke of Steward's death, my phone blew up, from fighters, boxing people, and fans alike, wondering if I knew anything about the news or whether or not it was true. I did not have any reports, but the love I felt from all those people wishing Emanuel's family well showed me that the boxing world will never have another Emanuel Steward. He will truly be missed, and this is one where the sports world will be hurting for a long time. Rest in peace, Emanuel.

Boxing is a fickle industry, and Don King is prime example #1. King, who was once the greatest promoter in the history of the sport, is now a shell of his former self, yet he continues to try and impose his will where it does not belong. Last week, it was reported that King was trying to block one of his former fighters, Ryan Coyne, from getting the opportunity of a lifetime when he was to face Nathan Cleverly for a light heavyweight belt on November 10th. Whether or not Coyne would have won the fight is a moot point. It's the fact that Coyne, who has been openly critical of the way King handled his career, will probably be replaced by another fighter because Golden Boy Promotions (who is the lead promoter of the fight card), Frank Warren (Cleverly's promoter), and Showtime (who is airing the broadcast, and incidentally is airing a Don King promoted ShoBox card on November 16th featuring undefeated prospect Omar Henry) do not want to get involved in a legal battle with King. Coyne claims King breached their contract numerous times and the contract expired in September. King claims the contract was automatically renewed. King is now taking Coyne to court this week to settle the dispute. The thing I find funny is that Coyne is such a relative unknown, and King did not make any money off of Coyne, nor did he seem to try and make money off of him. Former bantamweight champion Joseph Agbeko is currently locked in a legal battle with King as well, and his career has taken a major detour. King's stable of fighters has diminished greatly, and various rumors are circulating that he has fired most of his staff at Don King Productions because the company is barely staying above water. He can barely get a television date because of all the bridges he has burned over the years. Plain and simple, nobody wants to work with Don King, and nobody wants to be associated with him in any way. I just hope that any other young fighter does not make the mistake of signing with King because his greed is everything that is wrong with boxing, and signing with him will most likely stall a fighter's career.

Carlos Abregu is a perfect example of why young prospects should be brought along slowly. Anyone claiming that guys like Canelo Alvarez or Julio Cesar Chavez Jr. were brought up too slowly need to watch tape of Saturday night's destruction of young Thomas Dulorme by Abregu. The Argentine, Abrgeu, is a seasoned veteran, whose only loss was against Timothy Bradley. Abregu may not be the prettiest guy in the ring, but he will be competitive. I don't really need to see a rematch with Bradley, but I would like to see Abregu in next with a guy like Carson Jones in the welterweight division. Now that would be a fight!

As for Dulorme, don't count the young Puerto Rican fighter out yet. Just remember, he's still very young, and plenty of fighters have bounced back from early losses to become stars. Dulorme has all the makings of a superstar: young, fast, good-looking, powerful, skillful. He just needs some more seasoning. I expect Dulorme to go back to the drawing board and regain some confidence. I also expect to see Dulorme back in a major fight by the time 2014 rolls around. Yes folks, I believe he can be that good.

The HBO Boxing After Dark undercard was a big flop. Karim Mayfield and Miguel Vazquez may be talented, but the performances they put out Saturday night reminded me of watching paint dry. BORING! Sometimes, it's better to win than to look good. This time, I think the opposite may have been true. Both guys won, but don't expect to see them on major television anytime soon. I actually think Vazquez's performance was so dull that he lost his chance to fight Mercito Gesta on the Pacquiao vs. Marquez IV undercard, December 8th. Both Vazquez and Mayfield are talented, but that was brutal to watch.

Regardless of how strong or weak 2012's fight cards have been, HBO still leads Showtime in the ratings war. Yahoo's Kevin Iole had an excellent article of the ratings battle between the two premier boxing networks. If you haven't had the chance to read it, make sure you do so.

Andre Ward vs. Kelly Pavlik is going to be the end of Pavlik's career. This fight, which is reportedly close to being finalized, is a death sentence for Pavlik. I believe Bob Arum is trying to cash out the former middleweight champion, and I'm afraid Pavlik is going to get seriously injured. Ward is going to destroy him, and I think Ward will ultimately determine the outcome of this fight. If Ward wants to take it easy and carry the fight, he will. If he wants to prove a point, then Pavlik may never lace up a pair of gloves again. This is going to get ugly.

Danny Garcia vs. Zab Judah, on the other hand, is a great match-up stylistically. The fight, which is reportedly close to being finalized for January 19th, will bring great interest to Brooklyn and the boxing world. There is no better place to hold that fight than the Barclays Center, and Zab, now the old, wily veteran, will have something to prove against the young champion Garcia. It's Old vs. New, and I think it will make for a great fight.

What the heck happened to Franklin Lawrence's scheduled fight on Saturday night on Wealth TV? One day we had a broadcast, and the next day it was gone. Poof. Like magic, it disappeared. Very strange.

I hope we have seen the last of Rafael Marquez. Christian Mijares' performance over Marquez proves that Rafael has nothing left in the tank. Marquez has given us so many great wars, including all four bouts with Israel Vazquez, but it's time to hang them up. I hope, for Marquez's sake, he truly calls it a career. Come to think of it, the same goes for Erik Morales.

Did anyone see Sadam Ali's pay-per-view victory Saturday night? Neither did I. I was just checking.

HBO's 2 Days with Seth Mitchell was very revealing, but I still have my doubts he is the next American heavyweight champion. Mitchell certainly has the power, but I believe he is still too far away from beating the likes of the Klitschko brothers. I'm not saying Mitchell will never win a heavyweight championship. I'm just saying I don't think he'll be the next one. I think Chris Arreola will beat him to it, and I think Deontay Wilder has more of an upside than Mitchell.

Each week, I feature an email from a fan on Observe and Fight. This week's email comes to us from Chip regarding Adrien Broner's status as an undefeated fighter...

"Broner can't carry the "undefeated" flag after Floyd. We all know (including Adrien) he lost to Ponce De Leon. Don't believe me? Shoot me an address and I'll burn you a copy."

I have YouTube. I can re-watch it there. I personally think Broner edged out Ponce, but it was close. Technically, he is still undefeated, just like technically, Pacquiao has never lost to Marquez. If you're going to use your theory, then Mayweather isn't undefeated either because some people believe he lost his first fight with Jose Luis Castillo. We can only go with the facts.

That's all I've got for this week. Email any questions or comments to dkassel@fighthype.com and I will answer them throughout the week. Your email may be featured in the next "Observe and Fight." Follow me on Twitter @BoxingObserver, and be sure to "Like" The Boxing Observer on Facebook.
[ Follow David Kassel on Twitter @BoxingObserver ]