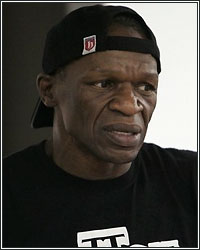 After a history of animosity towards each other, world-class trainers Floyd Mayweather Sr. and Emanuel Steward had set their differences aside and patched things up recently, even exchanged phone numbers. Unfortunately, that's as far as their amended relationship would get before Steward's untimely death last week. "We have had our arguments and disagreements in the past, but we saw each other recently and we patched things up and he gave me his phone number. When I heard he was sick, I tried to call him, but it said his voicemail was full and I was never able to talk to him," Mayweather Sr. revealed, explaining that he tried to get in contact with him.

Having dealt with his own illness [Sarcoidosis], Mayweather Sr. has learned to appreciate life much more as of late. "You just never know Percy, and when the man upstairs calls your number, that's it. But I just thank him each and every day I get up, and we should all thank him for giving us another day," he continued. "I tell you what man, it's been crazy the amount of boxing people we have lost this year, that's for sure!"

Again, FightHype.com sends its deepest condolences to the Steward family during this time.
[ Follow Percy Crawford on Twitter @MrFighthype ]