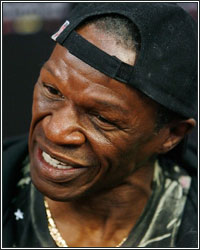 During a recent conversation with FightHype.com, world-class trainer Floyd Mayweather Sr. touched on several topics, but the one topic he kept coming back to was the comparisons between his son, Floyd Mayweather, and ring rival Manny Pacquiao. In particular, Mayweather Sr. discussed his son's latest performance against former champion Miguel Cotto, Not only does Sr. believe his son beat Cotto at his most comfortable weight, but he also believes he handed Cotto's his first legitimate loss. "Man, if you really look at things, my son beat an undefeated Cotto. If everything was in place, he would have been undefeated when he fought my son and I'm gonna leave it at that. I'll let everyone else connect the dots," Mayweather Sr. commented.

Of course Mayweather Sr. elaborated for those that may be connecting the wrong dots. "The Margarito situation was obvious and that's why Cotto whooped his ass in the rematch, and Pacquiao made the man suck down dry. Floyd fought him at 154, a weight he was undefeated at and was comfortable because he had no trouble making the weight," Sr. explained. In fact, he's convinced that if Pacquiao had fought Cotto at 154 pounds, the result would have been drastically different and he predicts Pacquiao wouldn't even be able to last 10 minutes with the naturally bigger man.

"If Pacquiao would have fought the same Cotto that my son fought, Cotto would have stopped him in 3 rounds. And the same thing goes for De La Hoya. A blind man could see that Floyd fought healthy versions of De La Hoya and Cotto and Pacquiao fought watered down and weight drained versions," Sr. added.
[ Follow Percy Crawford on Twitter @MrFighthype ]