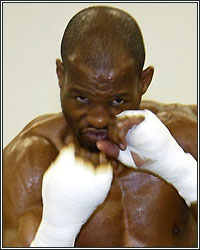 OSCAR DE LA HOYA wants Bernard Hopkins to face Nathan Cleverly in Britain next year.

The President of Golden Boy Promotions met Cleverly for the first time yesterday at an outdoor press conference at the Staples Center.

WBO World Light-Heavyweight champion Cleverly impressed the US media when he discussed Saturday's fourth title defence against Shawn Hawk at the world famous Los Angeles venue.

De La Hoya said: "What is very possible is Bernard Hopkins going to Britain to box Nathan.

"We feel that the UK fans are some of the most passionate and knowledgeable in the world when it comes to boxing.

"A lot of fighters in the United States are now realising they should go overseas and challenge the best."

Chad Dawson holds the WBC 175lb crown, Beibut Shumenov is WBA title holder and Tavoris Cloud is IBF champion.

But six-weight world champion, Oscar believes that the undefeated Welshman has the ability to top the lot.

He added: "Nathan can go far. He is a fan friendly fighter

"He has a great promoter in Frank Warren. Along with Frank we can come up with the big American fights and bring in the people.

"But, ultimately it is up to what Nathan does in the ring. It is in his hands whether he wants to make a big splash or not.

"As long as you can match him up with the right fighters there is no limit to how far he can go

"Nathan is that he a strong puncher, but he has good speed. That makes for a dangerous boxer-puncher – that is what I was.

"He looks motivated, ready to go but he has very tough fight against Hawk. It will be compelling viewing."