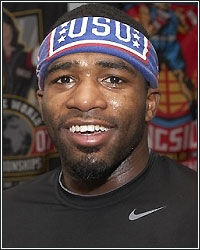 Boxing Scribe Vivek Wallace brings his Left-Hook Lounge mailbag to FightHype.com, answering questions for fans and giving his own unique perspective on all the latest current events in boxing. This week, check out his response to fans as they discuss last weekend's performances by Erislandy Lara, Abner Mares, and Alfredo Angulo, this Saturdays showdown between Adrien Broner and Antonio DeMarco, and much more.


---

Kevin N. (Orlando, FL): Adrien Broner is talking Mayweather/Corrales, but I think he's in for a tougher night than he realizes. What are your thoughts about this fight and how do you see it ending this weekend?

Vito W.: I won't get into how I see it going just yet, but I will say this: I hope Broner brings his A-game. I said from the day this fight was made that he's about to deal with something unlike anything we've seen him deal with thus far. It's one thing to talk big and do all the post fight shenanigans with the fake proposals and all of that stuff, but this is one time where he will literally need to let his skills do the talking. Anything else and he may end up humbled by the end of the night. I really think this is the type of stage that will answer any and all questions any of us have about him.

The best find a way to shine on every level leading up to the big stage. A few months ago many wondered how Andre Ward would handle Dawson on his biggest stage thus far. It would turn into a masterful performance and one of his easiest assignments to date. If Broner has that magic in him, he'll have to figure out a way to make it look just as masterful. I really think he has it in him, but what I think doesn't quite matter. Just ask Marquez, who has yet to get the nod despite me "thinking" he should have 3 other times! Broner will need to put his entire game on display. Offense, defense, ring generalship, toughness....you name it. DeMarco will test him in every way.

Many are focusing on Broner, but DeMarco is a very talented fighter who knows that he can crack the mainstream with a victory here too. That's what makes him dangerous. He will enter the ring fully aware that a solid performance over "the kid that fights and acts like Floyd" would take him to heights never before imagined. This is a big night and a big stage for him. A victory here totally changes his tax bracket. He will enter the ring as the underdog, but I always tell people, that's much better than entering a 'favorite' who many suddenly don't like!

The bravado and antics have done Mayweather well from a monetary and motivation standpoint, but this level of pressure is all new to Broner. And the level of pressure he will find in the ring this Saturday night will be as well, as clearly, DeMarco represents untested waters. In the end, I think he'll find a way to shine. With hundreds of amateur fights under his belt, I always remind fans that his skill level isn't a fluke. Trouble is, this Saturday night he'll have to back that up! I expect a very good fight. Not a one-sided one by any stretch. And if it is and he runs the table, I think people need to give him his full credit and acknowledge a job well done. It will be a defining moment. What exactly will be defined about him remains to be seen. That's why we watch the fights. Stay tuned!

Brandon G. (Washington D.C.): I think Erislandy Lara is far better than he proved. Do you think we'll see him start to surface in some of the bigger fights and become more of a household name?

Vito W.: To be quite frank, I don't feel nearly as high on Lara at this point as you seem to. I like his talent and I think he certainly has an upside. That being said, I really feel something remains missing. And he's not alone. When we look at the recent Cuban class of fighters, what we see is actually a very intriguing spectacle. Gamboa, Lara, Rigondeaux, and Solis each have incredible talent. Every last one of them have far more potential than most. Yet every last one of them also seems to appear so talented that they often produce non-talented results in snoozefest and poor outings. Gamboa is the only asterisk of the group, yet he's been so inactive for so long none of us truly know what product we'll get when he crosses the table next time out.

Similar to these other men, Lara seems to be very defensive minded and does only enough to keep himself within winning contention, yet not enough to truly snatch victory from the jaws of defeat. When Lara faced Williams I remember being heckled for falling in the minority that actually supported Williams getting the nod. If you look back at my thoughts then they parallel my thoughts now. He did "just enough" to keep himself close and in contention, but he did nothing to solidify victory in the minds of the judges. What I don't get is that he has the talent to take the fight to his opponents and actually tip the scales. He just won't do it. The cautious stuff simply does nothing to convince anyone but supporters.

Judges and neutral fans care very little for cautious fighters. People want to see action! The good thing is that Lara has it in him to perform on a greater level. The bad thing is that it will probably take a loss to bring it out. He seems to need that nudge. That one element that allows him to say "to hell with everything" and just go out and get busy! Hopefully it doesn't take a loss to reach that stage, but thus far, all of those victories haven't produced it. Guess this is a rare occasion where winning can still seem empty. Hope he gets it together. The kid is talented. Stay tuned.

Hector L. (Ontario, CA): I was pumped about last weekend because Mikey Garcia, Angulo, and Mares are three of my favorite fighters today. How would you rate their performances and what do you think comes next for each of them?

Vito W.: I thought each of them showed both upside for the most part, but nothing is perfect. Garcia looked decent overall, but in what was a bit surprising to me, he also seemed to look ordinary in spurts. There were times where I felt he was hit far more than I would like and even one point where I felt he wasn't taking it as well as I'd like. I thought his performance was OK at best, but certainly not something that did a whole lot to boost his stock. He took some shots but he went the distance and weathered the storm. Great heart, good power, little defense. Some would argue that's the great Mexican warrior style. I'd argue that that's also the great downfall of most warriors with it!

I'd love to see more Garcia and I think he has the pedigree to live up to the hype many associate with him. But no doubt, he remains a work in progress. The Angulo scenario is a totally different story. Prior to his jail stint I thought he got hit entirely too often. I know the layoff didn't help, but watching him in those few moment before the stoppage, I felt the exact same way. He just seemed very lethargic and very plodding. I like the shot he landed to close the show and I was happy he got that confidence defining victory, but I didn't like the little I saw and I think it would have strongly benefitted him to get in more rounds. I have to admit....I'm one of those guys who didn't quite understand the tandem of he and new trainer Virgil Hunter.

Hunter is a brilliant boxing mind, but that intelligence just doesn't seem on par with someone like Angulo. One fight didn't show us much, but I don't think any amount of fights would change who Angulo is. No matter who's at the helm. I look forward to the evolution, but I don't think it goes too well in hindsight when we look back in about a year from now. Some are orange, others are white, but can't no tiger lose his stripes! Angulo is a solid bulldog type fighter. But you're never going to get skills out of him, and I just don't know that I comprehend what Hunter will be able to bring out of him that Nacho couldn't. Hope I'm wrong, but only time will tell.

Regarding my thoughts on Mares, I'll just say it's been one helluva rollercoaster ride. After the first Agbeko fight I absolutely despised him for the dirty lowblows. The vidoe on Youtube with him demonstrating how to land them certainly didn't help, but it just wasn't a good look. After the second Agbeko fight I was totally impressed with him as he took the fight to Agbeko and did a very good job keeping it clean. Fast forward a little bit and once again, the guy spends the whole evening fouling his opponent and doing things that in any other state would have resulted in a points loss of his own! I love his heart, but I really can't support that type of uncontrolled aggression. It was very upsetting and it continues to worsen.

I found myself very disgusted by the end of the night and really didn't like the results at the end of the fight. That being said, those who continue to say Donaire makes "easy work" of him are absolutely lying. His pressure and durability would make him hell for anyone in his weight range. Bar none! I won't say he defeats Donaire, but honestly, I like his chances. I say that on the strength of the fact that I've never seen Donaire handle that type of power and toughness from a smothering fighter that won't let him get off. Anselmo was well conditioned and tough. It meant very little in the end. I hope we get to see the Donaire/Mares fight. It would be a beauty! Til then.....I'm a partial Mares hater! Definitely not feeling the consistent fouls!

Vivek "Vito" Wallace can be reached every Wednesday night on FightHypeRadio. Also at vivekwallace@ymail.com, Twitter (VivekWallace747), and Facebook.