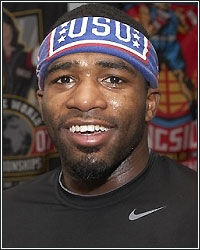 "He's definitely my best opponent so far on paper. I know it's the biggest fight of my career thus far," stated undefeated former super featherweight champion Adrien Broner, who spoke to the media during a conference call about his debut at lightweight this Saturday when he takes on Antonio DeMarco. Many are expecting DeMarco to be a difficult challenge for Broner, suggesting that the WBC lightweight champion will be his toughest test. Broner, however, see DeMarco as an opportunity to showcase all of his skills, but he hopes he gets the credit he deserves should he pass the test with flying colors.

"I'm ready. I'm just ready to show my talent because I think this fight, this will be a fight I will be able to show a lot more of my skills. In some of my last fights, you know, my opponents, even though they were ranked number 1 at the time, you know, they got downgraded because my skill level is so high, but this time, hopefully I'll get the credit," Broner explained. "I'm going to be able to show more of my skills because DeMarco has such talent they say. If good talent goes against another good talent, that just brings the better talent out of the elite fighter, so I'll get to show a lot."

In fact, despite the fact that he's the one moving up in weight, Broner believes that this fight will showcase his strength, as well as his speed and several other advantages he plans on enjoying in the lightweight division. "There's going to be a lot of differences, not only in speed, but, you know, I'm stronger that what a lot of people think, and Saturday you'll see that," he added. "This fight will really put me, like I said, is going to cross me over and put me outside of the box, so I'm looking forward to a great fight. DeMarco is a great champion and I'm ready, and I know he's going to be ready."
[ Follow Ben Thompson on Twitter @fighthype ]