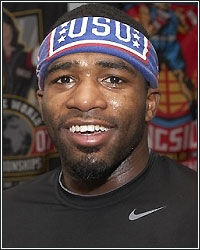 It's Monday. Welcome back for another edition of Observe and Fight, The Boxing Observer's compilation of observations and random thoughts from the week that was in boxing. Get caught up on some of the most recent events you may have missed out on, including a rumored meeting between Floyd Mayweather and Bob Arum, Pacquiao vs. Marquez 24/7 yet again, Adrien Broner's performance Saturday night, and much more. Without further ado, check out the latest observations from The Boxing Observer, David Kassel.



Adrien Broner is the closest thing to Floyd Mayweather that the boxing world has. I'm not just talking about his outside the ring antics either. Last week on Observe and Fight, I stated that Broner's fight with Antonio DeMarco would last as long as Broner would allow it to, and Broner came out true to form. Broner is as precise a puncher as Mayweather, yet the defensive technique and skill is not completely at Mayweather-level. In due time ladies and gentlemen. Broner's offensive skills are already at the top of the sport, but he took too many shots against DeMarco. As Broner continues to move up in weight, and he will, he must tighten up his defense. If he can do that, Broner will remain undefeated for a very long time. "Mr. HBO" may very well become "Mr. Boxing Billionaire." Side note: was anyone else thinking that Broner's HBO profile picture looked an awful lot like Lamont Peterson?


Don't believe the rumors that Floyd Mayweather had a face-to-face meeting with Bob Arum. Over the weekend, rumors swirled that Floyd Mayweather met with Top Rank CEO Bob Arum, whom he has had a long-standing feud with since his days under the Top Rank promotional banner. According to the rumors, Mayweather supposedly believes the only fights for him right now are Manny Pacquiao and Timothy Bradley. Both of those fighters are currently under contract with Top Rank. While the list may be accurate (there are other fighters such as Saul "Canelo" Alvarez and Sergio Martinez who could also make the case), it's highly unlikely that Mayweather was all of the sudden willing to just sit down with the man he has despised for years, in addition to claiming this same man owes him millions of dollars. All I'm saying is, unless it comes from the horse's mouth, don't buy into the horse's crap. Unless both Mayweather and Arum publicly confirm they had a sit down meeting to discuss a fight with Pacquiao or Bradley, it's 99% likely that the meeting didn't happen. Egos are not that easy to overcome.


Freddie Roach said it best, Pacquiao/Marquez IV 24/7 needs a new twist. Not that this fight doesn't deserve a 24/7 special, because it does, but HBO needs some new characters. With that being said, I thought HBO did a BRILLIANT job by not focusing as much on the fighters, Manny Pacquiao and Juan Manuel Marquez, but centering around Bob Arum and trainers Freddie Roach and Nacho Beristain instead. Also, focusing on the first 3 fights between the two fighters only helps to build the anticipation of a 4th fight, and possibly not the last fight, between the two legends. I said it when the fight was announced, the best option for Manny Pacquiao, besides Floyd Mayweather, was a 4th fight against Juan Manuel Marquez. Anyone who says otherwise is crazy. I could watch these two guys fight 10 times and I wouldn't get bored. I stated a few months ago that Marquez will win this fight. If that happens, don't be surprised to see a 5th fight between the two at the end of 2013. This rivalry is that great folks. Learn to appreciate it because we may never see anything like it again.


Is anyone in favor of an Adrien Broner vs. Danny Garcia fight in the summer of 2013? Golden Boy should try to make this fight happen at junior welterweight. The winner will truly be the next in line to succeed Floyd Mayweather into the next generation of boxing. Two undefeated American fighters, not even in the prime of their careers, could make for the beginning of a long-standing rivalry the likes of Pacquiao vs. Marquez.


Seth Mitchell proved that America is still a LONG way from having another heavyweight champion anytime soon. I expected Johnathon Banks to give Mitchell some difficulties before Mitchell would eventually finish him off in the late rounds. Golden Boy Promotions may have just proved why they should not try to match Canelo Alvarez with Floyd Mayweather just yet. I think matching Canelo with the winner of Austin Trout vs. Miguel Cotto may be an excellent idea, but not Mayweather. I know Canelo is a seasoned veteran, even at 22-years-old, but he is not ready to take on the #1 pound-for-pound fighter in the sport. America still has a ways to go before another heavyweight champion emerges.


Is anyone else giving Austin Trout a legitimate shot to beat Miguel Cotto? Just because he doesn't have the name doesn't mean he won't be competitive or even knock off the future Hall of Fame fighter, Cotto. Austin Trout is a slick boxer who is actually faster than Cotto. I wouldn't be surprised if Trout is a more powerful puncher as well. I know his last fight against Delvin Rodriguez was a dud, but don't let that be the barometer. Austin Trout is a legimiate candidate to beat Miguel Cotto, and I wouldn't be shocked if he does so. Cotto has openly discussed that boxing is not his full-time life anymore, while Trout is on the verge of stardom. A win over Cotto would burst him into the Canelo, Mayweather, Pacquiao, or Martinez sweepstakes.


Carl Froch's performance Saturday night proved just how great Andre Ward really is. Froch's dominant, 3rd round knockout victory over Yusaf Mack proved once again that "The Cobra" is the 2nd best super middleweight in the world. Ward's complete domination over Froch last December, followed up by Ward's knockout win over light heavyweight king Chad Dawson, shows the level Andre Ward is fighting at compared to everyone else. Ward, who is close to reaching a deal to fight Kelly Pavlik in January, does not currently have any serious competition. I hope someone emerges to give him a real fight soon because Ward is a guy who should be very marketable and is a true role model to youngsters everywhere. Boxing sure could use a few more guys like Andre Ward.


Does Ricky Hatton truly have a chance to regain a world title? I certainly hope so. Reports coming from Hatton's open workout for his fight against Vyacheslav Senchenko are not good. Hatton supposedly looked drained and slow. Hatton is a true character and one of boxing's most recognizable figures. Senchenko is a fighter coming off a bad loss to Paulie Malignaggi. Senchenko has something to prove. If Hatton is only fighting to collect a paycheck, it could be a very short comeback. It's nothing against Senchencko, but I hope Hatton is serious about revitalizing his career because his reputation as a fighter is too strong in the ring to be tarnished by an unnecessary attempt at a comeback.


The winner of Saturday night's Robert Guerrero vs. Andre Berto "championship" fight is NOT a credible opponent for Floyd Mayweather. No matter how much you hear the HBO commentators say it this Saturday night, don't believe the hype. Neither guy is ready, or worthy, of a shot against the best in the sport. On top of that, neither guy is marketable enough to draw any interest or bring more fight fans to the table against Mayweather. Both Guerrero and Berto are world-class fighters, and this Saturday night's HBO main event should be an all-out battle, but neither guy is ready for that kind of fight. The main event will be a good one, possibly a Fight of the Year candidate, but neither guy is on the pound-for-pound list.


Wealth TV's coverage of world class boxing is improving telecast by telecast. In one of the best fights so far in 2012, Brian Viloria's 10th round knockout victory over Hernan Marquez was not only very significant for the development of lower weight class boxing, but it showed that HBO and Showtime are not the only networks who can air quality boxing programming. ESPN and NBC Sports Network have shown, time and time again, that boxing has popularity that reaches beyond premium cable television. Wealth TV is making a major push to throw its name into the mix, and it is doing so with great success. After a few telecasts with some glitches, Saturday night's telecast was top notch. Airing a live event is never easy, but it is significant because the more boxing that airs on television, the easier it will become to make boxing one of the world's premier sports once again. Shout out goes to Wealth TV, and I hope the quality boxing programming continues. Same goes for ESPN, NBC Sports Network, Epix, and any other boxing network around the world. I hope the United States soon offers BoxNation television, as Europe is so fortunate to have. A 24/7 network dedicated to boxing might be exactly what the world needs. On another side note, I thought Larry Holmes did a hell of a job as a blow-by-blow man.


Thoughts go out to junior middleweight prospect Omar Henry. The man best known for being the chief sparring partner for Floyd Mayweather and Antonio Margarito as they prepared for their respectivie fights with Miguel Cotto was unfortunately forced to withdraw from his first opportunity as a headliner this past Friday on Shobox due to gallstones. Henry, who has a very loyal Twitter following, tweeted numerous times throughout the week about his various surgeries. Henry, who is only 25 years old, has still not reached the prime of his career, and his health, obviously, will always come first. He is one of boxing's most promising superstars. When he gets back in the ring, one can only hope his career doesn't get derailed and stalled because he is signed by Don King Productions. First thing first is Henry's health though.


Each week, I feature an email from a fan on Observe and Fight. This week's email comes to us from Lynell B. regarding a possible fight between Devon Alexander and Kell Brook...


"We just got word that Kell Brook will be fighting Devon Alexander on January 19th. I wanna know what do you think the outcome of the fight will be? All i know is that he hasn't faced a guy of Devon's level and i think Devon is better than most people give him credit for. What are your thoughts?"


I agree. I have seen Devon in training sessions, and I know what kind of fight plan he and Kevin Cunningham usually prepare. They are always prepared. I believe the fight with Bradley was an aberration, but people still haven't gotten over the way that fight ended. Brook is talented, but he hasn't been tested. A lot of people don't give Alexander credit for his punching power either. Truth be told, I don't believe Brook has the power to hurt Alexander, and I think that will be the deciding factor in the fight. Alexander has an excellent chin, and Brook has been in trouble before. Brook fades late in fights and I could see a late round stoppage by Alexander.

That's all I've got for this week. Email any questions or comments to
dkassel@fighthype.com
and I will answer them throughout the week. Your email may be featured in the next "Observe and Fight." Follow me on Twitter @BoxingObserver, and be sure to "Like" The Boxing Observer on Facebook.
[ Follow David Kassel on Twitter @BoxingObserver ]