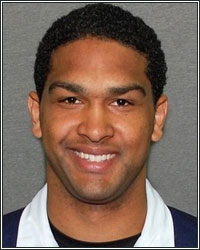 Just fifteen days after scoring a tremendous first round knockout, Dominic "Trouble" Breazeale (1-0-0, 1 KO) is returning to the ring to continue his quest for a world title. In his nationally televised professional debut, the super heavyweight Olympian made quick work of his opponent in an impressive fashion.

At the age of 27 years old, the former standout quarterback is on the fast track to climbing the ranks in the heavyweight division. As a result of his remarkable win, Breazeale will be fighting this Saturday on the under card of the Robert Guerrero vs. Andre Berto world title bout on HBO World Championship Boxing in Ontario, California.

Breazeale is appreciative of the opportunity to get back in the ring so quickly and is eager to make a statement. Taking a break from training at Pullman's Gym in Burbank, California, Breazeale stated the following, "I want to thank Al Haymon and Golden Boy Promotions for allowing me the opportunity to fight again so quickly. I'm excited to get in the ring and stay on pace with ending fights early. Hopefully, I keep getting the early knockouts and am able to fight every 15 to 20 days. Being as active as possible is my goal."

When his trainer John Bray was asked about Breazeale's quick turnaround, Bray indicated that, "Dominic was right back in the gym just two days after his fight ready to work. I'm impressed with Dominic's eagerness to get back in the ring so quickly on November 24th. This is the mentality and work ethic it takes to become heavyweight champion of the world."

This event is being promoted by Golden Boy Promotions. Tickets priced at $200, $100, $75, $50 and $25, plus applicable service charges and taxes, are available for purchase by calling Ticketmaster at (800) 736-1420 or AXS (888) 9AXS-TIX (888-929-7849) at the Citizens Business Bank Arena box office or online at www.ticketmaster.com, www.cbbankarena.com or www.axs.com.