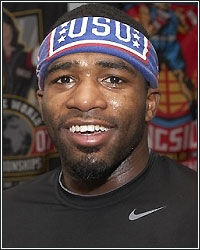 Boxing Scribe Vivek Wallace brings his Left-Hook Lounge mailbag to FightHype.com, answering questions for fans and giving his own unique perspective on all the latest current events in boxing. This week, check out his response to fans as they discuss last weekend's performances by Adrien Broner, how he would fare against the likes of Brandon Rios and Manny Pacquiao, and much more.


---

Miguel G. (Orlando, Fl): Talent in Boxing can be defined in many different ways. When you look at Donaire, Broner, and Rios, how would you grade them out compared to one another? And how why would you place one man ahead of the other in the P4P debate?

Vito W.: The most interesting thing about this trio at first glance is that much like you said, they've each reached their current levels of success in different ways. Donaire has above average talent, but his level of competition over the past few years hasn't quite shown us how talented he is. Even by his own standards he has been a bit boring to watch due to that level of subpar competition. Rios has shown us his heart and soul. He isn't nearly as talented as the other two, yet demonstrates an iron will that would allow him to compete with nearly anyone you could put him in against. Rios' resume isn't stellar, but it has tested him more than Donaire's in some respects.

Broner is a very interesting talent in comparison to the others, because he's so purely fundamental that it's hard to gauge whether he hasn't been tested or whether or not he's just so talented that he makes it look that way. He and Mayweather are known for saying that they "make the difficult look easy" and "make the impossible possible". I don't think we know if that's truly the case for Broner, but what intrigues me is that he just went up in weight and soundly defeated a man who certainly presented more of a test than anyone else on the lightweight level could have.

DeMarco was not only the established champ, but he was a southpaw and a much taller one. Everything about him was dangerous for an opponent moving up in weight, yet Broner made it look very simple. The scary part is that Broner is starting to evolve and become aware of his perceived greatness. People don't know how dangerous that can be. It's one thing to have confidence in yourself, but when you start to hear the masses say it and you have the type of dedication that prevents you from putting on those proverbial "silk pajamas", that can spell trouble for every opponent.

I don't do the whole mythical P4P thing. When I speak P4P, it's purely from a fundamental skills angle. The ability to put cheeks-in-seats is great, but it's also subjective. People will say, "Donaire should be ranked higher than Broner because Broner beat a guy who stood right in front of him". Guess what, Pacquiao ended up in the #1 spot (according to some) by facing a slew of men like that. And the one he faced that wasn't has tied him up in a 4 fight tug-of-war chronicling well over 5 years. Again, that whole slugging mentality is great for fans, but true P4P greatness should come down to overall skills. Rios is an iron-man and I love to watch him fight. If he fought a guy who could make him miss and make him pay, he loses 10 times out of 10.

Donaire is a great talent but we've never seen him hurt or truly tested because he hasn't faced the kind of talent that would bring that out of him. We've seen Broner hit. We've seen Broner challenged. We've seen him answer that call with flying colors, and it's safe to say his level of competition is on par, if not stiffer than Donaire's. I don't know where anyone would choose to rank them, but if I had to, I'd place Broner ahead of each based on pure talent. He has shown me more, and 300 amateur fights serve as a good enough reason to let me know it isn't a fluke. Let me see Donaire versus a Mares, or someone who represents the best of his class proximity. With or without that I just don't think he has the same set of skills and if he does they haven't always shown.

Jason G. (Bronx, NYC): Adrien Broner gets a lot of comparisons to Mayweather, but I don't think they're as similar as many seem to think. Who among the great African American fighters over the years would you compare Broner too the most?

Vito W.: I think it's much easier to agree that he isn't as much like Floyd as it is to figure out who he may be like from the long list of great African American fighters of the past. Roy Jones jr. was incredibly fast. Had cat like reflexes. Superior hand speed that remains unparalleled, with Leonard being the lone exception. Jones was incredibly gifted, but his defense was his reflexes and when they began to fade so did he. Hopkins had the superior defense and ring intelligence for the ages, but he had offensive liabilities in terms of hand speed and some of those other more obvious gifts. Tyson had the hand speed and power, but his defense was his offense.

At the end of the day there are too many African American greats of the past to try to narrow this down specifically. Truth be told, what makes Broner intriguing is that he's actually some odd kind of hybrid between many great African American fighters of the past. He has the mouth of Roy Jones, the get-down-and-dirty grit of James Toney, the in-fighting of B-Hop, a smooth operating mechanism which allows him to methodically pick an opponent apart like Mayweather, and the pop of Tyson, (albeit not nearly as destructive). Overall, I think there are just so many elements to his game that I think make him a very unique talent.

Fight fans are quick to say he reminds them of Mayweather because of his talk. Funny thing about that is when you look at all of the great ones who were African American, who didn't? That's the irony there! Ali, Tyson, Jones, Hopkins, now Mayweather; every last one of them had the gift to gab, and it was all centered around great confidence in their ability and the fact that they simply didn't care who was in front of them, their mission was to seek and destroy. Yeah, you had guys like Mosley and Leonard, or Bradley, but even they had it, they just didn't typically show it unless it was dragged out of them.

At the end of the day, I agree with a recent comment made by Broner. Broner is Broner. We need to all stop trying to parallel him with others before him. Call him the "Kobe" to Mawyeather's "Jordan", or whatever's clever. But let the comparisons stop, because this young man is on the brink of creating his own legacy. And when the books are printed his name will be the only one there, regardless of the results it produces.

Paige N. (Oklahoma City, OK): I don't expect many to totally agree here, but at this stage of their respective careers I like the ability of Broner in a bout against Pacquiao at 140 or 147. What chances would you give him?

Vito W.: Honestly, this is the type of 'fantasy' stuff that I don't care for. I've never been a big fan of the pendulum swinging where fans see a guy have a solid performance and suddenly turn him into the next best or in this case, actually thee best. I think that train of thought is typically fanatical and can only come from die hard fans who use very little discretion when it comes to accurately gauging the ability of one man over the next. That being said, I've always said that the one element about a fighter that will make me overlook all others with great consistency is pure fundamental skills. That, in and of itself makes the Broner topic very interesting because it leads me down paths I don't typically like to follow.

When you look at Broner, the scary thing about him is that he has a pure set of fundamental skills that make him very dangerous for anyone. Even though we've never seen the Mayweather/Pacquiao fight, it was common knowledge by most insiders was that Mayweather would have been the better fighter on fight night. Every time the fight looked like it would happen the opening betting lines showed the world who most would have put their money on. When I think about that, although Broner hasn't done nearly enough to suggest he could get the nod here, what does make it an interesting spectacle to ponder would be the fact that he boast certain elements that could one day place him above Floyd.

Mayweather had to be cautious early in his career out of fear of re-breaking his hands. Mayweather was aggressive in his early days but naturally fought with a defensive presence even when he decided to let his hands go. Once upon a time, Mayweather fights appeared vanilla in the sense that a true fight is when two men alternate hitting one another; and in his case, few men could ever actually hit him. Broner doesn't have hand problems, so he's able to drop bombs and never think twice. He also doesn't have the incredible reflexes, which allows him to get hit a bit more....which in turn makes him want to bang a little more......which happens to also make him more fan friendly. He's different, yet very Floyd-like. I say all that to say this:

Pacquiao isn't getting any younger. At the height of his progression he was able to be hit flush without question. His calling card was his ability to take a punch and land a punch. Broner, on the other hand has far more pop than any of the men we've seen hurt Pacquiao, and has a far greater defense than any of them. The fact that he has such speed to throw those dangerous hands at a distance that Pacquiao would have a hard time penetrating, combined with superior defense and what appears to be a granite chin would make him a very dangerous opponent for anyone right now. And yes, that would include Pacquiao. The kid has over 300 amateur fights. This isn't new to him. I won't say he'd win, but it's a fight I'd gladly sit and watch.

Vivek "Vito" Wallace can be reached on FightHypeRadio every Wednesday night. He can also be reached at vivekwallace@ymail.com, FaceBook, Twitter (VivekWallace747), and Skype (Vito-Boxing).