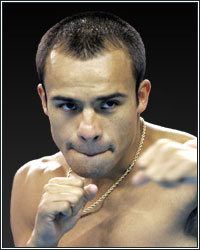 "If you believe that, then I have a bridge to sell you."

The concept of a "greater fool" is a straightforward one. Buy into an investment or idea, albeit a risky one, and sell it to someone else at a higher price. The initial buyer, or the "lesser fool", would need to be knowledgeable (how else would you know which risks to undertake), egocentric (you'd need a strong belief that you can move the high risk investment), and have some sense of idealism (how else could you believe another fool would come along). It's a term most commonly used in the investment sphere, but its concept is applicable across multiple realms.

On December 8, 2012, Manny Pacquiao (54-4-2) is set to face Juan Manuel Marquez (54-6-1) for the fourth time. The two fought to a draw in '04, and Manny closely edged out Marquez in '07 and most recently, '11. As I sat down to watch the hype machine, Pacquiao/Marquez 24/7 on HBO, I realized a few key points:

HBO and Top Rank are promoting and packaging Juan Marquez vs. Manny Pacquiao IV the exact same way they marketed and packaged Juan Marquez vs. Manny Pacquiao III, with Marquez as the underdog and rival who could/should have won any of the previous bouts.

Regardless of whether you believe Juan Marquez to be the best available candidate for a fourth fight with Manny next month, take a look at just a few of the phrases that have become popular in our society:



"..The luck of the third adventure is proverbial."


"..The third time's the charm."


"..Three strikes and you're out."

Marquez has never beaten Manny. Boxing has mistakenly allowed subjectivity to creep within its walls. Pundits, fans, writers, and critics openly state, "I had Marquez winning in '11 or '07." The only opinions that count are those of the three judges, who sat ringside, and keeping that in mind, Marquez is getting a fourth shot at something he hasn't obtained in three tries.
On December 8, more than likely at least 800,000 people will pay $59.99 to watch a fight that has played out the exact same way over 36 rounds.
After his loss to Manny in '11, Marquez stated that he believed a fourth fight had to take place in Mexico to be fair. This fight will once again take place in Las Vegas, Nevada.
Given all of the above, it's clear who the winner is in this scenario...
THE WINNER: MANNY PACQUIAO
Manny Pacquiao will rake in his usual 20+ million to fight a guy that he's already been in the ring with for 36 rounds. Best case scenario for Manny, he finally gets the knockout and closes the door on this chapter emphatically. Worst case scenario, he loses a close decision and has an option to fight Marquez for a fifth time (why stop at four), or he can move on knowing he's won the series 2-1-1 and look for other lucrative fights in the future. Manny, and his promoter Bob Arum for that matter, realize something that few other cross-over boxing stars ever do. The name is bigger than a loss. People will continue to purchase Manny Pacquaio fights because….he's Manny Pacquiao. Boxing's lack of marketable stars only aids and ups the price for the few we have (I.e. Mayweather, Pacquiao, Cotto). Manny, Top Rank, and HBO have bought into a venture (another fight with Marquez) that they're positive they can sell. Which then brings us to:
OBVIOUS FOOLS: BOXING FANS
We're fans, which is short for fanatic. Boxing differs from other sports in that you only get to see the "stars" compete once or twice a year. A Manny Pacquiao fight is an event. Think about this: 700,000 people purchased his pay-per view with the much lesser known Timothy Bradley, and after Manny lost a controversial decision, the general public has almost dismissed the idea that he lost. There is no reference to it in the marketing of this fight and Bradley has garnered little to no visibility from the win. Bradley just beat the second best fighter in the world and he's still largely unrecognizable? Buster Douglas knocked out Mike Tyson over 20 years ago, put on 200 pounds, and still pops up on television from time to time. The general public responded to Manny's loss to Bradley by just pretending it never happened. In our minds, you aren't going to beat Manny Pacquiao like that (controversial split decision), not like that.
It didn't matter who Manny chose to fight in December. We're paying to see Manny be Manny. We want to see Manny punch his gloves together, throw combinations at a furious pace, and try to knock people out. The boxing public may complain about the fights that Manny and Top Rank selects, but in the end, they KNOW come fight day, they will call up the cable provider and make the order. It's the price of being a boxing fan. You become enslaved by the bigger stars performances, even when they provide you with a fourth fight between two guys that everyone acknowledges won't differ from the previous three. Manny will be the aggressor while Marquez uses any opportunity he can to counter-punch. The rounds will be close and tough to call, and in the end, we'll likely dispute the judges' decision. The thing is, what separates us from the greater fool, is that we don't expect this to be different from the previous three. Which finally leads us to…
THE GREATER FOOL: JUAN MANUEL MARQUEZ
Marquez actually believes this time will be different. He's bought into the "venture" and even though he felt he won the previous three, he thinks he can convince a judging panel of three to award him the victory this time. Marquez believes he's the better fighter. How could you expect anything else? He should think he has an opportunity to win this fight, especially given the closeness of the previous three. Besides, what championship fighter doesn't have an ego?
There is some idealism in Marquez's sentiment, however. Fighters are most honest after a loss, and when he made the comment about "only getting a fair fight" in Mexico, it was a real statement. The fact that Manny lost to Bradley wasn't only shocking because, well, because in everyone's eyes he won the fight, but also because Vegas is as much Manny's town as it is Floyd Mayweather's. The thinking has always been Manny will win a close decision in Vegas because his name is Manny Pacquiao. What are the chances of Vegas going against Manny in another close decision? Slim? None? The odds aren't just stacked against Marquez; they're mountainous. Can he actually believe he can overcome Vegas, Manny, the odds, and history? And does thinking this equate Marquez with a fool?
A different take on the term Greater Fool came from HBO's original series The Newsroom. A character defined the term as "...someone with the perfect blend of self delusion and ego to think he can succeed where others have failed." That just sounds like a confident underdog to me. Seems like a perfect label for Juan Manuel Marquez.