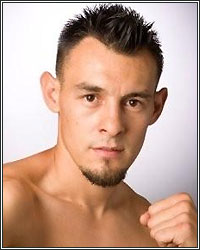 It's Monday. Welcome back for another edition of Observe and Fight, The Boxing Observer's compilation of observations and random thoughts from the week that was in boxing. Get caught up on some of the most recent events you may have missed out on, including Ricky Hatton's failed comeback attempt, Robert Guerrero's official stamp on the welterweight division, episode 2 of Pacquiao/Marquez IV 24/7, the loss of another boxing great, and much more. Without further ado, check out the latest observations from The Boxing Observer, David Kassel.



Ricky Hatton should be lauded for his spirited effort in his comeback loss Saturday night. I will be the first to admit that I was rooting for Hatton to make a successful comeback against Vyacheslav Senchenko. It's nothing against Senchenko, but he was not the draw. Hatton is one of the most colorful characters in the sport, and his personality radiates whenever he walks into a room. The fact Hatton admits he would have retired even had he been victorious Saturday night shows the kind of man he is. It would have been easy for him to earn a points decision and say he was rusty, but Hatton was open and honest, saying he didn't have it anymore. I truly hope Hatton stays in the sport and becomes a successful promoter. He will always be remembered for his fighting spirit and heart of a champion.


How pissed is Paulie Malignaggi right now? Malignaggi, who was ringside for Hatton's fight Saturday night, was hoping for him to come out victorious so he could land a rematch with Hatton. The fight would have produced a 7-figure payday for Malignaggi. Now, he may still make very good money for his next fight, but he certainly won't make the kind of money he would have received for a rematch with Hatton. Expect Malignaggi to face the winner of January 19th's IBF welterweight championship fight between Devon Alexander and Kell Brook.


Robert Guerrero has stamped his place amongst the top of the welterweight division. Not that Guerrero didn't announce his presence when he defeated Selcuk Aydin, but Guerrero proved he can take a punch from any of the world's top 147-lb fighters. Somehow, Guerrero has brought his chin up from 122-lbs to welterweight, but nobody expected him to bring his power all the way up as well. While he didn't take Andre Berto out, he busted Berto up to the point of making him look like a character from Ronald McDonald's Playhouse. While I don't believe Guerrero has a chance to knock off Floyd Mayweather, he is certainly a front-runner to face the world's #1 pound-for-pound fighter. The only question which remains is how well Guerrero will fair against a boxer rather than someone who comes to fight straight forward. That's what he'll get in Mayweather.


Guerrero is becoming more and more like a villain every day. He and his wife's backstory is enough to draw fans in (Guerrero's wife battled back from a life threatening disease), but every time "The Ghost" opens up his mouth lately, I really wish he was a ghost and just wasn't there. Guerrero is fighting with the spirit of someone who is looking to prove something, but he is also trying WAY too hard to let everyone know who he is. Guerrero interrupting Andre Berto's post-fight was straight up disrespectful considering Berto let Guerrero talk as if he wasn't in the ring standing next to him. Should Guerrero land a fight with Floyd Mayweather, his team needs to have a serious chat with him about being the good guy in this fight because we all know who the villain would be. If Guerrero doesn't land a fight with Mayweather next and is forced to take on another opponent, he better hope his mouth isn't writing checks his ass can't cash. Be careful what you wish for, Mr. Guerrero.


HBO is really up against it trying to produce 24/7 between Manny Pacquiao and Juan Manuel Marquez. What more can the network honestly show of these two fighters? Neither guy is a dynamic personality, Pacquiao has been featured on the show 7 times previously, and Marquez has been featured on the show twice before. HBO producers have limited the amount of in-ring activity for the two fighters, and instead are focusing on the fighter's lives outside the ring. It's really the only way to make this particular 24/7 watchable.


Hello Keith Thurman! Thurman's 4th round stoppage of Carlos Quintana Saturday night proved that he is no longer a prospect. Thurman is ready for just about any welterweight or junior middleweight in the world. Al Haymon has truly found himself a gem in this Florida native, and I think Thurman might have to stay put at junior middleweight because there is no 147-lb fighter in the world dumb enough to get in the ring with "One Time." I'm fully expecting Golden Boy Promotions to try and give Thurman a title shot in his next opportunity. Luckily for Golden Boy, they just signed the IBF junior middleweight champion, Cornelius Bundrage, to its growing stable. I would not be surprised at all to see Golden Boy try to setup that fight some time in February or March in either Bundrage's hometown of Detriot, or somewhere near Thurman's backyard in Florida. Money talks!


Since we're talking about the junior middleweight division, how about this Saturday night's main event between Miguel Cotto and Austin Trout? I think this fight could be one of Cotto's biggest challenges. Trout is a young, hungry, undefeated champion who should not be taken lightly. Trout has the speed and power to out-muscle Cotto, but he doesn't have the one intangible Cotto brings to the ring...experience. If Trout can keep from losing his composure on the biggest stage of his career, he could very well shock the world and retain his WBA junior middleweight title.


Adrien Broner should only do one thing inside the boxing ring and that's fight. If you saw his rap performance in the ring Saturday night, you would understand what I'm saying. Broner is best at boxing. "The Problem's" biggest problem may be his ambition for something he is just not very good at.


Tyson Fury needs a big-time performance this Saturday night against Kevin Johnson. If Fury wants a crack at Wladimir or Vitali Klitschko in 2013, all he has to do is ask. But what Fury really needs is a bit more seasoning. Fury should walk through Johnson, but then he should take a fight with David Price after. The winner would be a legitimate threat for either Klitschko brother.


The boxing world just lost another legend way too soon. Tuesday's breaking news that Hector "Macho" Camacho was shot and in critical condition (he was taken off life support Saturday and was pronounced dead) was another needless loss in a seemingly endless line of premature deaths in the world of boxing in 2012. I just hope that I don't have to write another R.I.P. for the rest of this calendar year. R.I.P. Macho.


Each week, I feature an email from a fan on Observe and Fight. This week's email comes to us from Phillip M. regarding Adrien Broner's future (this email was written before Hatton's loss to Senchenko on Saturday)...


"A showdown between Broner and Garcia would be huge but not in 2013. You have to make both fighters known to the public first. How? Broner vs Hatton on ppv, Garcia vs Rios on ppv. Give the fighters a chance to develop a large following before letting the two clash. As long as they both keep winning, a showdown between the two would be huge."


Broner vs. Hatton? At what weight class would that take place? 147? Come on, man. Garcia vs. Rios would be a great possibility, but that whole Golden Boy vs. Top Rank feud is getting in the way. I think Garcia is more likely to lose before Broner. Right now, Garcia is not unbeatable. Broner, IMO, looks like he may not lose for awhile.

That's all I've got for this week. Email any questions or comments to
dkassel@fighthype.com
and I will answer them throughout the week. Your email may be featured in the next "Observe and Fight." Follow me on Twitter @BoxingObserver, and be sure to "Like" The Boxing Observer on Facebook.
[ Follow David Kassel on Twitter @BoxingObserver ]