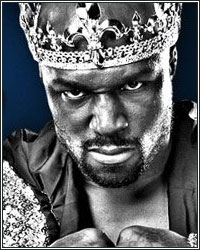 "They can expect me to come out to kill; knock them boys out. I'm looking for knockouts and to end fights in dramatic fashion. I'm looking for one-sided domination and they can look for me to have fun out there. I will be representin' OVW, AKA, Mike's Gym, TNA Wrestling, FightHype, MMA Elite, Dallas, Texas and the whole south. I'm out there representin' everybody. I'm out there trying to do my thang," stated Bellator light heavyweight King Mo Lawal, who talked about his upcoming return to the cage next month. Check out what else he had to say!

PC: Welcome back to the States. You love going to Holland to work on your standup. How was this trip?

KM: It was good, mayne. I worked on a lot of stuff. They have a lot of talented kickboxers out there, like Gokhan Saki, Murthel Groenhart, Arthur Kyshenko, my boy Maik Redan…man, I seen everybody out there. I seen Melvin Manhoef out there and Badr Hari was in there real quick one day. It was cool, man, and a good experience.

PC: What are some of the things you worked on this time around while you were out there?

KM: Just firing back, because they have a real aggressive style, so I was working on that and combos and letting your hands go more. See, I throw a big punch, but I want to be able to throw that big punch in bunches. That's what I want to do, so that's what I was there for, and to clean some things up and work on my standup overall.

PC: This was your first time training full steam since the ACL surgery and the staph battle. How did you feel?

KM: I felt good. I felt a little nervous at first because they known for banging out there, but I hung in there. I went to every practice just about. I missed a few days because I was sore, but I pretty much worked out 95% of the time I was out there. It was 6 hour days, dog. It started at 11:30 and then I would come back at 6:00.

PC: Mike Passenier was the one leading the charge. You worked with him in the past briefly, but this was your first time really working with him. How was the chemistry with him?

KM: Big Mike is my dog, man. It was real good. Like you said, I worked with him before, but this was my first time putting that time in with him, and as a matter of fact, he's hardcore, dog. Soon as I landed…the morning I landed, it was around 11:00. I was jetlag and at 6:00, he was at the gym waiting for me that following morning.

PC: You will make your Bellator debut on January 17th. What can we expect from you on that day?

KM: They can expect me to come out to kill; knock them boys out. I'm looking for knockouts and to end fights in dramatic fashion. I'm looking for one-sided domination and they can look for me to have fun out there. I will be representin' OVW, AKA, Mike's Gym, TNA Wrestling, FightHype, MMA Elite, Dallas, Texas and the whole south. I'm out there representin' everybody. I'm out there trying to do my thang, you know what I'm saying?

PC: Definitely. We appreciate it. Early in the year, things were not looking good for you. Now you will have the Spike TV audience to showcase your talents. How does that feel?

KM: It's good, mayne. Things just happen, dog, and I guess somebody looking out for me and I'm grateful for that. I'm back in the cage fighting and I'm happy. The year started off bad, but you know what? I wouldn't change it. I ended up in the place where I'm happy at, the people respect me, and I respect them, and now I can do my thang on Spike TV.

PC: They seem to cater to what you like. I know you have been in touch with Bjorn Rebney and he knows that you are into the music thing, so he's trying to line up something for you involving that. What are some of the things we can expect?

KM: I'm hoping that they can get some of these artist that I'm cool with, you know what I'm saying, involved in some of the shows, like BeatKingz, Fat Pimp, Delwin The Crazy Man, Level, and a bunch of artists that I'm cool with. I want Money Montana and people like that to get the shine too. I want their demographic that they represent to get exposed to Bellator. I want Bellator to be on their TV on Thursday night.

PC: While you were in Holland, there was a back and forth Twitter beef going on between Luke Rockhold and Larenz Larkin and your name got brought up. Did you ever address Larenz?

KM: Yeah, I hit him up on Twitter and it's all squashed. But I ain't even gonna worry about it. At first, someone hit me up and was like, "They talking about you bad down here." But then when I hit him up, I was like just keep it real and we hashed it out right there. I ain't even worried about it dog because I'm on Spike TV doing thangs now with Impact Wrestling and Bellator, so I'm not even gonna worry about any of that other stuff. Showtime and Espinoza and my boy Scott Coker, they were cool. Strikeforce is done now and I'm not with Strikeforce anymore, so they are not my concern. If someone is fighting and I don't know them, they are not my concern. If I know them, I want them to fight and do good and get paid…everybody else, if I don't know you, I don't give a damn! I'm all Bellator now!

PC: It's refreshing to hear you talk like this because at the beginning of the year when I spoke to you, you were an angry dude and you would have took this Larkin thing to heart. You seem like you're happy and in a great place right now in your life.

KM: Yeah mayne! I'm feeling good, man. I ain't been happy like this in a while and the old me would have tried to prank him or meet him somewhere, but that's stupid, you know what I'm saying? I still got that hot head in me, but now I pick my battles because I got people I'm trying to represent and I'm trying to make this cash. Me being hard headed and hot headed will make me lose cash and I ain't trying to lose nothing; all intake!

PC: You were keeping up with boxing while you were out there. I want to get your take on the last 3 big fights, which were Broner/Demarco, Berto/Guerrero and Cotto/Trout. What are your thoughts on those three fights?

KM: Adrien Broner is what's up dog; Mayweather 3.0. The reason why I say 3.0 instead of 2.0 is because he got the defense, he got the showmanship, he can rap somewhat, and he go out there and lay it on the line. He try to finish them fights. He is very outgoing and I think he will be the man of HBO soon. He is damn near there now. And then Berto/Guerrero was a good fight. I was surprised and thought Berto would fight smarter. But Guerrero had a game plan and stuck with it and all of my boxing coaches were telling me that Guerrero was going to win. I should have listened to them. Fareed Samad told me that and even Mike Passenier said the same thing. And I only watched some of Trout and Cotto and I'm surprised that Trout looked so damn good. I remember seeing some of Trout's fights and he looked alright, but he looked like he just didn't have it. There was some good back and forth sometimes, but he looked like he was in control the entire time. He was in control of the fight the whole time; he had no worries.

PC: You are headed out to Vegas. What you got going out there?

KM: I gotta do some filming out here for Spike and I'm going to get with Ron Frazier a little bit and Jeff Mayweather and work on some things. I'm gonna put some hands on Roy Nelson a little bit (laughing). I'm just gonna be here for a few days and put my hands on some people out here.

PC: I wanna ask you this because I was asked this. You concentrate a lot on your standup. Do you still work your wrestling or is it so second nature, you back away from it a little bit?

KM: I still work wrestling, but it is second nature because at AKA, we have wrestling days. But the thing is a lot of people out there work general combos and do a takedown. I can train wrestling with anybody. When I was at Mike's Gym, a guy from Poland was wrestling with me. I was actually sparring with Ishii and using my wrestling to take him down. Same thing with Melvin. I was using my wrestling techniques to take him down. I'm always using wrestling because I'm a wrestler by nature. But I stay focused on the techniques hard. A lot of the techniques I've mastered because I have used them over a thousand times, but I still use them when I'm fighting.

PC: Glad you made it back in one piece and Big Mike didn't kill you (laughing). Give me something in closing.

KM: Tune in on Spike TV for the new year because everybody trying to do something big, so y'all tune-in man!
[ Follow Percy Crawford on Twitter @MrFighthype ]