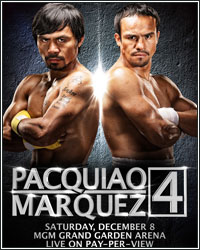 With the highly-anticipated fourth encounter between Manny Pacquiao and Juan Manuel Marquez right around the corner, FightHype.com reached out to the real experts to get their take on who they think will win. From world-class trainers to fighters in both boxing and mixed martial arts, get predictions from the people who actually do step inside the ring on a regular basis. Check it out!


---


Jeff Mayweather: I think it's going to pretty much be the same every time they fight, but for some reason, I feel that Marquez is finally gonna get his due. He's been robbed to me two of the three times they fought, and for some reason, I feel that they are gonna give him a fair shake this time.

Amir Khan: I think Manny because, I mean, I've seen Marquez training on 24/7 and I think Marquez has probably been training a lot harder, the way he's being trained and working and stuff, and having private sessions and not showing his sparring, not giving no game plan away already. I think already Manny's team has already given the game plan away in what they're gonna do and what they wanna do to Marquez. But I think it's going to be a tough fight. Like I said, I think it's going to be another 50/50 fight. It's all gonna show in the first couple of rounds. The first 5 rounds will tell us who will win the fight. I don't think there will be a knockout. I think it'll go the distance again because they both know exactly what to expect, but I reckon Manny will take it.

Henry Ramirez: Shit, this is the 4th fight to a great rivalry. I thought Marquez clearly won the 3rd fight, so let's see if Manny, whose camp claims he has no distractions, can put it all together on Saturday and win this fight. Or will Marquez, who is now 39 years of age, be able to keep up as the only one who can keep Manny in a real competitive fight with his counter punching and timing he has on Manny. I'll take Marquez by decision.

King Mo: I bought that last Ring Magazine and they say the forth fight never lives up to the first three, like Sandler/Pep wasn't good and Fullmer/Robinson wasn't that good. They had a couple of fights on that and I think this fight between Marquez and Pacquiao might follow suit. I don't think it's going to end like everyone wants it to. I think something controversial gonna happen; clash of heads or something stupid gonna happen and people gonna be mad.

Amir Mansour: When it comes to these decisions, I definitely think that Marquez has gotten the short end of the stick quite a few times with Pacquiao. I think he is going to have to do work to beat Pacquiao. But I think Pacquiao is going to come in there, obviously being the great fighter that he is, trying to prove that once and for all he is the better fighter. They are going to get it in. Both of these guys are veterans and both of these guys are warriors, so they are going to get it in. As far as the judges decisions, we never know because I don't know who is going to judge the fight or what they are looking for. I certainly anticipate seeing a great fight with these two guys. Honestly, I think both of them should be fighting someone else instead of each other, but that's just my personal thoughts.

James Ali Bashir: I don't think nothing is going to change with Pacquiao and Marquez. They will always compete in close fights and somebody is going to win it by the skin of their chinny chin chin. They can fight 50 times and it's going to be the same 50 times. What can they bring new? They are old fighters, so they are not going to do anything new.

Lanardo Tyner: Man, it's like the way Marquez has been in close fights with Pacquiao…how many chances are they gonna give Pacquiao to beat him? To me, now I think somehow Pacquiao gonna beat him easy. They should have gave Marquez the fights he won and I think the only one Pacquiao won was the first one. The other two they should have gave to Marquez. To me, I think somehow it's gonna be easy for Pacquiao. I mean, if you never played baseball before in your life and I throw you 100 pitches, eventually you gonna connect and hit it out of the park. Pacquiao done had so many swings at Marquez, he's bound to finally knock it out of the park. If you get that many chances, you're supposed to do something extraordinary. You gotta do something and if you don't, they better not even put that man in the ring with Floyd. I always felt like Floyd would beat him easy. I think Floyd will make him look like an amateur and the fact that he's fighting Marquez for a fourth time kind of solidifies that thought for me because Floyd beat Marquez easily one time.

Gabriel Rosado: That's a difficult fight to pick. You wanna believe that Pacquiao is really going to step it up and blow Marquez out, but I think Marquez has his number, man. I think it's just his style. I think Pacquiao hesitates when he fights Marquez and he just doesn't pull the trigger like he does with other guys. I think this time around, Marquez is gonna box a great technical fight and I think Marquez is going to get the victory this time.

Karl [Dynamite] Dargan: I like Marquez. I say this because Marquez knows the same strategy that my cousin Naazim taught Shane when he fought Pacman. I can never bet against Marquez when he's fighting Pacman. Pacman knows he hasn't really beat Marquez, that's the reason he keeps giving him a rematch. He knows deep down inside he doesn't have a legit win over Marquez. Marquez is very intelligent in the ring, as well as Mayweather. That fight with Mayweather and Pacman might be one of the easiest and/or non- entertaining fights of Mayweather's career.

Daniel Cormier: I'm gonna go with Marquez. He has made subtle changes and it doesn't seem like Manny has made any, and if he has changed, it's made him not as aggressive as he used to be, so he isn't as dangerous.

Ron Frazier: I think this fight is Juan Manuel Marquez's to lose. I think everybody knows that Marquez won the last fight. I think the judges will go out of their way to give Marquez the close rounds. I think Manny has to dominate or KO him to win.

Mike Rue: I think Manny will win this one because he's hungry to put an end to this Marquez saga. I'm sure he's really trained hard to put a stamp on this fight and finally get a decisive win over Juan Manuel Marquez.

Mickey Bey: I got Manny Pacquiao by decision; the most clear one out of all of the fights.

Jack Loew: Pacquiao by late stoppage.

Ishe Smith: It's almost at the point of who cares, but I'm rolling with Marquez. I think he finally breaks through these judges and gets a fair shake. Marquez looks sharper and better, and Manny has been fading in my opinion. He hasn't looked the same in quite some time. So with that being said, I'm rolling with Marquez to continue to confuse Manny with his counter punching abilities.

Lydell Rhodes: Marquez because neither fighter wants to leave it up to the judges after the first three fights and Pacquiao's last fight against Timothy Bradley. So I think Pacquiao is going back to his old style of non-stop aggression and Marquez will capitalize on that by letting him run into harder shots and get the W.

John David Jackson: I am leaning towards Marquez. I believe that he is hungrier than Pacquiao and he has better defense and with a few questionable decisions, he is due at least one. Pacquiao is all offense with very little to no defense, so Marquez has to offset Pacquiao's attack. If he is just a little successful in slowing Pacquiao attacks down, then he could win a clear cut decision, but if he can counter punch in between Pacman's combos, he could very easily stop Pacman or score a 10-count knockout!

Donte Strayhorn: I like Marquez because he's an excellent counter puncher, he has a great chin, and he's technically sound. I felt he won two out of the three bouts they fought in.
[ Follow Percy Crawford on Twitter @MrFighthype ]