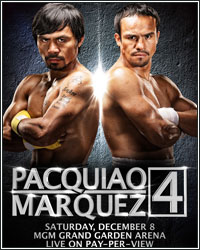 It's Monday. Welcome back for another edition of Observe and Fight, The Boxing Observer's compilation of observations and random thoughts from the week that was in boxing. Get caught up on some of the most recent events you may have missed out on, including the end of the Manny Pacquiao era, Floyd Mayweather's return to the ring, Juan Manuel Marquez announcing his claim to greatness, a preview of this weekend's fights, and much more. Without further ado, check out the latest observations from The Boxing Observer, David Kassel.



Juan Manuel Marquez and Manny Pacquiao produced both the Fight of the Year and Knockout of the Year. Marquez's knockout will almost certainly take Knockout of the Year in every major boxing poll, but the fight itself should merit Fight of the Year consideration as well. While it didn't have the action of Salido vs. Lopez or Rios vs. Alvarado, it did have plenty of heart-stopping moments, and it produced two clear knockdowns in 6 rounds before the inevitable ending that sent Pacquiao face first into the canvas. When you consider the magnitude of the event, the background story of the fighters, and the previous 3 fights with no clear winner, there is no way this fight doesn't deserve to be the Fight of the Year.


Can fans finally admit that Manny Pacquiao is not on the same level as Floyd Mayweather? Most boxing pugilists had already acknowledged that Pacquiao had fallen behind Mayweather and Andre Ward on their pound-for-pound lists. Some even ranked Sergio Martinez and Nonito Donaire ahead of Pacquiao. After Saturday night's shocking knockout loss to Juan Manuel Marquez, there is no doubt that Manny Pacquiao is no longer in the top 5 of the world's best boxers. I currently have Pacquiao rated behind (in no particular order) Mayweather, Ward, Martinez, Donaire, Marquez, Wladimir and Vitali Klitschko, and Timothy Bradley. While a clash with Floyd Mayweather is definitely not out of the question, because Pacquiao remains the 2nd biggest name in boxing, the demand for the fight will surely be diminished. I just hope fighters look at the tale of Mayweather vs. Pacquiao as a learning experience and don't become too greedy when trying to make a big fight.


Did anyone else notice Floyd Mayweather just happened to let a rumor about his return leak to the public during Pacquiao fight week? It kind of reminded of that time last May when Manny Pacquiao announced that his flight to Los Angeles from the Philippines just happened to be landing during the Mayweather vs. Miguel Cotto main event. Not that it made any difference in the grand scheme of fight week, but it just goes to show the petty nature that these two sides have developed over the years. Gee, I wonder why that fight never got made?


One man smiling from ear to ear must be Bob Arum. The "BobFather" reportedly wanted to match Pacquiao with Brandon Rios on April 20th. That may very well be the next viable option for both Rios and Pacquiao, and you better believe Rios will be a serious candidate to take that fight. Arum sees Pacquiao as nothing more than a cash cow in which he wants to milk every last cent out of. Why not build the name of Brandon Rios by giving him Manny Pacquiao? It will be an entertaining buildup to the fight, and it will sell big tickets in Cowboys Stadium.


Is there any doubt that Juan Manuel Marquez has exceeded Marco Antonio Barrera and Erik Morales? Jim Lampley proudly proclaimed Marquez's victory as a wonderful accomplishment, and it was almost as if he was throwing it in Mexican fans' faces. Marquez's victory put him back in the top 5 of the boxing world, and he will be as large as ever in the Mexican boxing community. Not many athletes can change their identity mid-career, but Marquez has done it and seemingly improved. He will certainly be a 1st ballot Hall of Famer, but I wouldn't expect to see Marquez step away from the sport anytime soon. He still has a few strong years left in the tank. He will make himself plenty of money in the meantime.


Juan Manuel Marquez will face Timothy Bradley in his next fight. It doesn't take a genius to figure out this one. It only makes sense to match the last two men to defeat Pacquiao, on pay-per-view, in Las Vegas or Los Angeles. Vegas is the fight capitol of the world, but L.A. would be the other perfect place to hold a Marquez vs. Bradley championship clash. There is a heavy Mexican population in L.A. who would support Marquez, and Bradley is from the Palm Springs area. I'm guessing the Staples Center would be the front runner, but don't rule out football stadiums such as the Rose Bowl or the L.A. Coliseum in another one of Top Rank's mega events.


Yuriorkis Gamboa vs. Adrien Broner needs to happen as soon as possible. Gamboa didn't look spectacular in his return on Saturday night, and he was anything but flawless, but his wild style, unmatched speed, and considerable power could give Broner problems. I don't think Gamboa can beat Broner, but it will be the greatest test of Broner's young career. It would also be highly entertaining in the lead up to the fight.


Bryant Jennings got exposed, then disposed, his opponent on Saturday night. I had been a bit skirmish to crown Jennings as the next great American heavyweight, but his resolve and will showed me that he may very well be on his way. Kathy Duva and Main Events Promotions should continue to move him along slowly because he is not ready for primetime, nor will he be in the next year or so. However, Jennings showed the one-punch knockout power that boxing fans crave for when he landed a thundering right uppercut on the chin of Bowie Topou Saturday night. After being hurt (and unofficially knocked down) in the 3rd round (Jennings even admitted it should have been ruled a knockdown), Jennings showed maturity by trying to hold and clench while regaining his equilibrium. Most young fighters would try to fight their way out, but Jennings showed maturity beyond his years and it paid big dividends later in the fight. If he can continue to progress, both mentally and technically, Jennings could very well be the next great American heavyweight. Let's just hope Kathy Duva and company don't rush him in to soon.


Will someone please beat Miguel Vazquez so we don't have to sit through another 12 rounds of his wretched style. I am actually getting bored while typing this because I'm thinking about how boring his fight with Mercito Gesta was on Saturday night. I'm not faulting Vazquez for winning, or for picking a style which suits him. I just want it to be over. Someone should convince him to have a mid-career style change ala his fellow countryman, Juan Manuel Marquez.


In case you forgot about him, Mikkel Kessler is once again a titleholder. Kessler demolished super middleweight titleholder Brian Magee in 3 rounds sending a message to 168-lb fighters around the world that he is still a force to be reckoned with. I would love to see a rematch between Kessler and Carl Froch. Unless, of course, Lucian Bute defeats Carl Froch in their scheduled rematch (assuming that fight gets made). One man who might think about taking a fight with Kessler is the recognized super middleweight champion, Andre Ward. When Ward defeats Kelly Pavlik (whenever their fight is rescheduled since Ward hurt his shoulder), Ward may want to think about going to Denmark and making a guaranteed seven figure payday to face a man he absolutely destroyed in California. It would be a great storyline for the fans in Denmark who would love to see Kessler get revenge after losing to Ward in Ward's hometown of Oakland.


There is another big night of exciting action coming our way again this weekend! Both HBO and Showtime have big-time name fighters in their main events, and they are sure to not disappoint. Don't expect either main event to go the distance either. On HBO, I fully expect Nonito Donaire to dispose of Jorge Arce in 8 rounds or less, while on Showtime, Amir Khan vs. Carlos Molina is supposed to be a rebirth for Khan. The Khan-Molina fight will go one of two ways, and it will end with somebody being knocked out. If Khan sticks to the game plan new trainer, Virgil Hunter, implements, it should lead to a mid-to-late round stoppage for Khan. If Khan strays away and comes out like he has to prove to the world he is a tough guy, Molina will record the knockout win of his young career. Either way, it should be explosive!


Don't forget that CBS is airing boxing for the first time in years, on Saturday, as well. To make it even better, IBF bantamweight champion Leo Santa Cruz will be headlining the main event. It doesn't matter who Santa Cruz fights (he is fighting Alberto Guevara for your information) because I would watch Santa Cruz fight a pillow. He is that entertaining!


Other former titlists and big names are back in action as well. Jean Pascal returns Friday night after a very lengthy layoff. On Saturday, Alfredo Angulo, Guillermo Rigondeaux, Arthur Abraham, Ricky Burns, Deontay Wilder, Omar Narvaez, and Glen Johnson all return to the ring. It will be an excellent weekend in boxing indeed!


The fight of the weekend definitely went to Ji-Hoon Kim vs. Ray Beltran! If you haven't had the chance to see it, I definitely recommend you log on to ESPN3.com and replay the fight. It was worth the price of admission.

That's all I've got for this week. Email any questions or comments to
dkassel@fighthype.com
and I will answer them throughout the week. Your email may be featured in the next "Observe and Fight." Follow me on Twitter @BoxingObserver, and be sure to "Like" The Boxing Observer on Facebook.
[ Follow David Kassel on Twitter @BoxingObserver ]