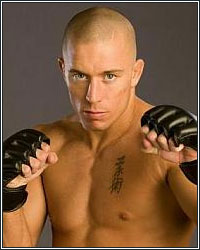 I think Nick absolutely has earned a title shot. I think he has done more than his share in this business to earn a title shot. I think it makes perfect sense. It makes sense to the fans and it makes sense to everybody. The only person it doesn't make sense to is Johny Hendricks. It sucks to be in his position; it really does. He feels like he has done everything that he needs to do to get a title shot, and he has, but he won't get his chance yet.There are people who have done it earlier and have done it ahead of you. Sometimes that's the way the game goes and you just have to wait your turn. It's a bigger fight and the fight that makes more sense from all-around fan interest, PPV perspective, and everything.

Ultimately, it's fruit for everybody. A lot of times, I don't think that all of these fighters fully understand that somebody's gotta pay the bills. Sometimes you just have to make fights that make sense. It may not be the most fair thing to everybody, but they make sense and they make sense financially. The UFC has to continue to generate revenue from pay-per-views, and obviously a Diaz/GSP fight will be a huge pay-per-view draw. People have to pay bills. That's just a part of professional sports and there is nothing you can do about it.

If I was a betting man, Johny Hendricks is on a pretty good winning streak and he's got some momentum going, so I don't think he would want to sit out to wait for the winner of Diaz/GSP to get his title shot. I think that would be stupid for a number of reasons. If you think you can beat the #1 guy, you should be able to beat everyone else in your division. People are like, "Well, he could lose and lose his chance." Well, if he's going to lose to somebody other than the champion, then he didn't belong there in the first place. If you are the #1 contender and you say you are the #1 contender, then everyone else is 2 through 100 and you need to be whoopin their asses if you want to stay the #1 contender, so if I'm Johnny Hendricks, I would take another fight against somebody else to stay active and stay in shape and see how things play out, then fight the winner if the UFC offers it to him.