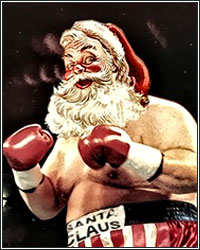 It's Monday. Welcome back for another edition of Observe and Fight, The Boxing Observer's compilation of observations and random thoughts from the week that was in boxing. It's Christmas Eve and I've got a few requests for jolly ole St. Nick. Hopefully, when I wake up Christmas morning, Santa Claus will grant me all my wishes for 2013 in boxing. Without further ado, check out the latest observations from The Boxing Observer, David Kassel.

During this holiday season, I have a few wishes for Santa Claus. 2013 could be a great year in boxing if all my wishes come true. Let's see if Kris Kringle can make it happen.



50 Cent to change his name to 50 million. That's the number 50 should be trying to reach in his promotional venture. With fighters like Yuriorkis Gamboa and Andre Dirrell in his stable, 50 could very easily not make more than 50 cents. However, those two fighters have the capability to make big bucks in the future. 50 needs to set lofty goals if he is going to make it in this sport as a big time promoter.


A casualty-less 2013 in boxing. While I know this is a very unlikely wish, 2012 saw way too many premature boxing deaths, whether it was health or other problems. Unfortunately, 2012 will not be remembered in a positive light in the sport of boxing.


Abner Mares vs. Leo Santa Cruz in a junior featherweight showdown. CompuBox might actually blow up during that fight.


Abner Mares vs. Nonito Donaire. Duh!


Adrien Broner vs. Amir Khan. I believe that Khan, under the continued guidance of Virgil Hunter, will defeat Danny Garcia in a rematch. Should that happen, I would love to see Khan vs. Broner in a junior welterweight mega-fight in Las Vegas.


Al Haymon to conduct a public interview. I just want to read comments that come out of this man's mouth. I feel like anything he says can make millions, so I just want to make some extra dough.


Alexander Povetkin to defend his "championship" belt against a legitimate heavyweight. Povetkin defended his belt twice in 2012, but his two opponents were jokes. Marco Huck was a cruiserweight whom Povetkin earned a very debatable split-decision win against. Hasim Rahman was 10 years past his prime and did not deserve a title shot. Rumors have Povetkin and Wladimir Klitschko negotiating a fight because it was ordered by the WBA, but does anyone actually believe it's going to happen? I have serious doubts that Povetkin wants any part of either Klitschko brother.


Amateur boxing to move to a professional scoring system. If the 2012 Olympic Games in London taught us anything, it's that judges cannot be asked to try and calculate the amount of landed punches because it's difficult to keep track of, especially when punches are thrown in combinations. Amateur boxing needs to switch to the 10-point scoring system. We will then get a true measure of who actually wins a fight.


Andre Ward receives a worthy challenge in the ring. I don't think there is any fighter on the planet from middleweight to cruiserweight who can challenge the world's #2 pound-for-pound fighter. Ward will demolish Kelly Pavlik in his next fight, but where does he go from there? He already beat the best light heavyweight in the world, and there isn't a cruiserweight out there who can match Ward's skills. I'm not sure if we will see Ward in a truly difficult fight until at least 2014.


Austin Trout vs. Canelo Alvarez. There is no fighter more deserving of a shot against Canelo than Trout. Golden Boy Promotions has been matching Canelo with fighters who are smaller and come straight forward. Canelo has looked great against all those guys. Let's see how he does against a fighter who won't come looking for Canelo, and who can match his size, speed, and power. If Canelo can beat Trout (how about on May 4th?), then I'll believe Canelo is ready for Floyd Mayweather. I think Canelo can knock Trout out, but I also believe Trout can put Canelo on the canvas. That would be a Fight of the Year candidate.


Bernard Hopkins wins another world title. Some of you might be tired of the old man's antics, but I find it fascinating that a man pushing 50 can be at the top of a combat sport. I think he might actually knock off Tavoris Cloud if the two square off as rumored. Cloud was exposed against Gabriel Campillo, and Hopkins is the master of exposing weaknesses.


Boxing writers and reporters to stick to writing and reporting. Yes, reporting is a cutthroat business, and it is important to try to be first with a story, but too often writers are bashing one another and challenging each other to a fight via Twitter. I know of too many instances when reporters got in each others faces because of something someone else wrote. Just because we write about boxing, it doesn't mean we are the professional fighters. Reporters needs to stick to reporting and let the fighters stick to fighting. Unless, of course, HBO or Showtime is willing to put together a boxing reporter elimination tournament.


Brandon Rios vs. Mike Alvarado II. Top Rank has discussed making the match-up again in March or April. Let's hope it happens.


Danny Jacobs to return to top form. There is no better comeback story in boxing than Jacobs, and his skills are still there. Hopefully, Jacobs can return to championship level and earn a title shot in 2014.


David Price vs. Tyson Fury. Price will win, but let's settle this feud once and for all.


Duane Ford retires as a boxing judge. After listening to Ford explain his reasoning for scoring Pacquiao vs. Bradley in favor of Bradley, I knew Ford had developed mental arthritis from writing down too many 10-9 rounds over the years. Larry Merchant hung up his microphone in 2012. I hope Ford hangs up his scorecard.


ESPN to air a weekly half hour boxing show. They already have MMA Live. ESPN Deportes has Golpe a Golpe. Why hasn't ESPN put something together for boxing yet?


Floyd Mayweather to face Sergio Martinez. I know Mayweather's fight map has him most likely fighting Robert Guerrero on May 4th followed by a September 14th showdown with Canelo Alvarez, but Mayweather's best potential opponent is Martinez. "Maravilla" may be the only fighter in the business who can match Mayweather's stamina. Martinez would make Mayweather work for every punch landed. It would be a competitive fight, but in the end, Mayweather would come out victorious.


Golden Boy and Top Rank to make nice. Easier said than done. I'm not going to hold my breath on this wish. Even I know that Santa is not a miracle worker.


Jermain Taylor to retire. Taylor is going to be seriously injured in the ring if he continues his professional career.


Jim Lampley's "The Fight Game" to become a monthly show. The show is far from flawless, and Lampley's delivery is much smoother during blow-by-blow action than it is on his show. Lampley is the best in the business at what he does, but his show would be much better served in a studio where fighters can come in and conduct 1-on-1, taped interviews. The show could be conducted much like "Real Sports with Bryant Gumbel" as well. Feature pieces on fighters could build fighter names better than putting them on meaningless undercards.


Julio Cesar Chavez Jr. vs. Carl Froch. Chavez Jr. is slated for a rematch with Sergio Martinez around September, but that fight will be another dud (with the exception of the exciting 12th round). Chavez Jr. will continue to have trouble making middleweight and Froch is the kind of action fighter who will make for a great fight. It's big money for all parties involved. Don't expect it to happen, but remember that this is nothing more than a wish list. Chavez Jr. vs. Kelly Pavlik is the more likely match-up.


Lucas Matthysse vs. Marcos Maidana. Come on people. This is a no-brainer!


Max Kellerman to tell a fighter he wishes he were 5 years younger so he can kick his ass. With Larry Merchant retiring, someone has to take over as HBO's bad ass.


More tournaments in different weight classes. Golden Boy Promotions has discussed the possibility of tournaments at 140, 147, & 154 pounds, but nothing has come of it. Look at the success the bantamweight and super middleweight divisions achieved by putting together elimination tournaments. For struggling, non-glorified weight classes, such as flyweight, junior lightweight, lightweight, or cruiserweight, tournaments could work wonders to give these fighters a platform and raise awareness in each division.


Network television to become a consistent force in boxing programming. Just look at the success that CBS and NBC had airing boxing on back-to-back Saturdays. The more boxing, the better. Viewers like action sports and viewers like violence. Boxing encompasses both. It's only a matter of time until one of these networks realizes that there is more money to be made in advertising revenue than from receiving a fee from a cable network.


No 5th fight between Manny Pacquiao and Juan Manuel Marquez. Four times was enough. The 5th fight would end up with the same result as the 4th.


Paulie Malignaggi to earn a full-time commentating job. The "Magic Man" is still a world champion, but he has already cemented a place ringside for expert commentary. Malignaggi brings a unique perspective to the sport, and he speaks in a clear, concise voice. That's more than can be said about some other so-called "experts."


Random drug testing year-round for all professional fighters. Nonito Donaire is the only fighter in the sport who subjects himself to random drug testing year round. If fighters want to keep zero doubt in sports fans minds, everyone should follow suit. As more than one person has reminded me, in baseball, the goal is to hit a ball. In boxing, the goal is to hit another human being.


The end of either Wladimir or Vitali Klitschko's title reign. It's time for somebody to knock off one of the two future Hall of Fame brothers. They have had their grasp on the heavyweight crown for long enough. It's time to pass the torch.


Timothy Bradley gets another big payday. Whether or not you believe Bradley beat Pacquiao (which I don't think he did), the record shows Bradley won the fight. Bradley deserves to get a noteworthy opponent in his next fight (and I'm not talking about a rematch against Lamont Peterson). I would like to see Bradley matched up against Juan Manuel Marquez. What a fight that could be.


Twitter to go away. I am not a fan of the social networking site because too many people "leak" false or incorrect information. While it is nice for fans to personally interact with their favorite fighters, Twitter needs to be regulated in some way, shape, or form. Too many times, someone comes out with "breaking news" that turns out to be fabricated. Twitter needs to go away.


WBA President Gilberto Mendoza and WBC President Jose Sulaiman to retire. All sanctioning bodies are corrupt in my opinion, but no two men embody what is wrong with boxing more than these two. Every division should have one champion, not three. Quit inventing title belts just so you can collect your 3% sanctioning fee.


Wilder vs. Jennings. Deontay Wilder and Bryant Jennings are the top two American heavyweight prospects and are still over a year away from being ready for a major title shot, but the two have engaged in a war of words, and both fighters have dynamic personalities. The winner could market himself as the next big thing because a fight between these two would not go the distance.

That's my boxing wish list for 2013. What's on your list? Send your thoughts to
dkassel@fighthype.com
, follow me on Twitter @BoxingObserver, and "Like" The Boxing Observer on Facebook.
[ Follow David Kassel on Twitter @BoxingObserver ]