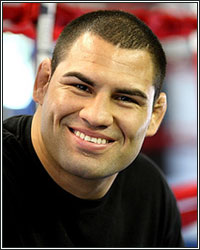 "The first fight, I stayed back too long. I threw a couple of kicks, but that's it. I didn't really use my style of fighting. I wouldn't say I got caught. He threw the punch he wanted to throw and he got me. This time, my style of fighting is being aggressive and that's what I need to do…. I'm going to do what I want to do. I'm going to beat him.," stated former UFC heavyweight champion Cain Velasquez, who talked about his upcoming rematch with current UFC heavyweight champion Junior Dos Santos this weekend at UFC 155. Check it out!

SWD: Thanks for taking the time both away from training camp and during the holidays to speak with me?

CV: No problem.

SWD: How tough is it training for a fight this important, being that your such a family man and it's Christmas? Does it create distractions at all?

CV: You know what? I just discussed it with my wife and we decided I'm going to train right through and do the whole Christmas thing afterwards. I fight, come back home and open our presents, and have the whole day. It kind of makes it easier.

SWD: That will kind of keep you focused on the task at hand all week then.

CV: Yeah, because we leave the day after Christmas, so I still have to go to the gym that day.

SWD: I hear ya. Let's go back to UFC 146 last May. You dismantle Antonio Silva in devastating fashion with a first round KO. You've never looked more intense. If someone would have turned on the TV right after the fight, when Bruce Buffer announced you as the winner, and they looked at your facial expression, there's no way that anyone could tell that you won. You didn't seem happy. Why?

C V: You know, with every win, I guess I do enjoy it, but it's not the fight that I want. I guess I want the fight with Junior. I'm looking for that belt. I got into this sport to be the Champion and now that I'm not the champion, it's looking for that fight that I'm going to have with Junior.

SWD: You went right out of college and started training at AKA. How long had you known that you wanted to be an MMA fighter, and having wrestled with some guys in college that were in MMA already, did that sway your decision?

CV: At the time, not everyone was into it. Ryan Bader and CB Dollaway were on my team and CB was kind of thinking about it, but for me, it was already a given. As soon as I graduated, I was going to drive up to AKA and start training. That was it for me. I knew what I was going to do and where I was going to go.

SWD: You're a 2-time D-1 All-America Wrestler, 2-time Pac 10 Champ, and a JUCO National Champ, but you've won 9 fights by KO. Did you have any boxing or striking experience when you came into MMA? And how do you explain that rapid transition?

CV: No, I never had any previous training. I've always loved the striking aspect of it. In college, that's the reason that I started doing this sport, because wrestling wasn't enough for me. I needed the striking aspect.

SWD: How's this training camp been and how's your health?

CV: As far as my body goes, it feels great to go into a hard training camp and be 100% and come out of it the same way. I'm just happy about that.

SWD: Who have you been sparring with in this camp and have you brought in anyone to simulate the boxing of Dos Santos.

CV: Well, Daniel Cormier as far as wrestling, and Todd Duffy and Mike Kyle, which is the closest to his (Dos Santos) boxing style, which is really good hands, fast hands.

SWD: You went into the first fight with Dos Santos with a banged up knee and rotator cuff. How does that compare to the way that you're training for this fight?

CV: The thing is, when you're 100%, then you can train to do everything you want to do without limiting your body. If not, then you can't train the way you want to. Now that I'm 100%, I can train for everything, for every situation, and no matter where the fight goes, I'm going to be fine.

SWD: Perfect, got it. Okay, it's obvious that you are on a mission. This is the only guy that beat you and many people say that you just got caught. What's different in your preparation this time and this is probably the question you're not going to answer…what's your game plan?

CV: You know, the thing I learned from the first fight was to go in there with a stronger sense of urgency and have a purpose for everything I do.

SWD: How so?

CV: The first fight, I stayed back too long. I threw a couple of kicks, but that's it. I didn't really use my style of fighting. I wouldn't say I got caught. He threw the punch he wanted to throw and he got me. This time, my style of fighting is being aggressive and that's what I need to do.

SWD: More of imposing your will like you did against so many other fighters?

CV: Yeah, more offense, and we can't sit back and let him get comfortable and do what we know he wants to do.

SWD: Speaking of that, we know Junior is going to want to keep it standing, but he doesn't throw a lot of kicks. You tend to use them more. Is that part of your arsenal that we may see you use?

CV: Definitely. If he wants to just throw hands, which he usually does, it's not going to be just hands and hands. He's so good, we need to throw kicks in there. If the takedown is there, then look for that, but we're super prepared to keep the fight standing because he's good at takedown defense and keeping the fight on the feet.

SWD: When Junior first came into the UFC, he was a purple belt in Jiu jitsu. Now he's a black belt under the Nogueira brothers. He said recently that he's ready to submit someone. If the fight goes to the ground, how much do you think that improvement in his Jiu Jitsu will be a factor.

CV: I've fought black belts. I train with guys that have black belts all the time. I just know I'm that much better on the ground than a lot of people out there. If it goes there, then I'm going to do what I want to do. I'm going to beat him.

SWD: You are both class acts and neither one of you talks trash. Do you prefer to fight a guy that is just a pro and will come at you only in the Octagon, or a guy like Brock Lesnar that talk's trash about everyone?

CV: It doesn't matter. I want to fight the top guy. Just so you know, I have respect for him; the way he carries himself outside the Octagon and inside as well. But when we go in there and fight, we're fighting and I'm going to do everything I can to beat him.

SWD: His takedown defense sets up his offense, both by wearing fighters out and setting up his boxing. How do you combat that?

CV: I just think he hasn't fought someone with my style of wrestling yet. It's a thing of combinations. In boxing, you throw combinations and in wrestling, it's the same thing. You can't just go in there and throw one shot. You throw one shot, if he stuffs it, then you just chain wrestle from there. We need to throw ones, twos, and threes at him.

SWD: Brown Pride and your Mexican Heritage is something very important to you. You are an exemplary role model for Mexicans and Mexican Americans. Is that a tougher thing for you to contend with when you do have a set back, or is it more motivation?

CV: Definitely more motivation. It helps to put things behind me. It's good to have that.

SWD: Okay, so every time I watch you fight, I come away with the same vibe. You seem to be one of the most serious and focused fighter that I've ever seen. What do you do to unwind and have a good time?

CV: Hang out with my family, my wife, and my daughter. I like a lot of food stuff. The Travel channel and the Food Network, and I like a lot of car stuff. Basically cars and motorcycles; anything with an engine. I've got a few projects on cars at home and I love cooking stuff and trying new recipes.

SWD: Do you do the cooking yourself?

CV: Yeah, and watching it on TV. Seriously! I could watch that stuff all day.

SWD: Wow! Who would have thought that? Is there anything else that you would like to share with our FightHfype readers?

CV: Just for all the fans and all the sponsors, thank you for standing behind me and I'm gonna get this one!

SWD: Thanks so much for taking the time Cain.

CV: Thank you.