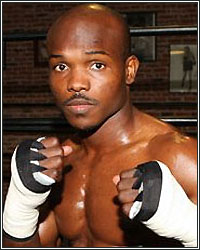 It's Monday. Welcome back for another edition of Observe and Fight, The Boxing Observer's compilation of observations and random thoughts from the week that was in boxing. Get caught up on some of the most recent events you may have missed out on, including Timothy Bradley's next move, Nonito Donaire's future, Tyson Fury's bold challenge, the first screw job of 2013, and much more. Without further ado, check out the latest observations from The Boxing Observer, David Kassel.



Will Timothy Bradley earn himself another meaningful payday in 2013? Based on the events that have transpired since Bradley won a controversial split decision over Manny Pacquiao in June, I would venture to say no. Bradley expected to earn a rematch with Pacquiao in November, but Bob Arum saw the dollars signs (and rightly so) in a 4th fight between Pacquiao and Marquez. It would have made sense for Bradley to face Pacquiao again in April or May, or for Bradley to face Marquez, but it doesn't seem that Top Rank is in any hurry to make either one of those fights happen. In Bradley's last two fights, he has made $6.2 million (Pacquiao and Joel Casamayor). He was offered $2.3 million for a rematch with Lamont Peterson, which Bradley turned down in hopes of a bigger fight. While Bradley may deserve a bigger fight, he may not get one in 2013. While this is purely speculation, I expect to see Bradley fight again in late spring or early summer, and I expect him to defend his title against Mike Jones or Jessie Vargas. One other possibility, and nothing is ever out of the question when it comes to Bob Arum and money, is for Antonio Margarito to come out of retirement to face Bradley for one final payday. Margarito generates big numbers and would make Bradley look like an unbeatable fighter. Brandon Rios is one name always floating around, but I think he will be protected by Arum in hopes of a Rios vs. Pacquiao showdown in 2014. Either way, unless an injury occurs to Marquez or Pacquiao along the way, Bradley will not earn a meaningful fight in 2013. Big payday, yes. Big time opponent, no.


Nonito Donaire should be demanding to face Guillermo Rigondeaux and Abner Mares. I'm not going to say I blame him either. As we all know, boxing is a business, and Top Rank fighters who go up against Bob Arum's wishes generally are not treated well or compensated appropriately. Donaire made well over $2 million in purses for his 4 fights in 2012, including $1 million for his 3rd round knockout of Jorge Arce on December 15th. Let's forget about Donarie vs. Mares because it's not going to happen. Top Rank and Golden Boy are not going to work together anytime soon. Donaire vs. Rigondeaux is going to happen in 2013. I expect Donaire to rest until the summer to allow his hand to heal. That should give Rigondeaux enough time to rest if, and when, he makes a title defense in between. After a summer fight between Donaire and Rigondeaux, don't be surprised to see Donaire head to Asia to face longtime featherweight titlist Chris John (who holds a victory over Juan Manuel Marquez) in a fight which would easily earn both guys seven figures. Don't think for one second that Top Rank doesn't already have a plan, and don't think for one second that Donaire isn't going to follow that plan to a tee. As the old saying goes, don't bite the hand that feeds you.


Heavyweight Tyson Fury may be the most unstable fighter in boxing, and that is saying a lot considering he already beat the man whom most people think is certifiably insane, Dereck Chisora. Fury, who admitted battling manic depression and suicidal tendencies in the past, took to Twitter recently and openly challenged UFC heavyweight champion Cain Velasquez and middleweight contender Michael Bisping to a MMA style fight. Fury says he could beat them both at the same time. While I don't believe Fury is serious about beating both guys simultaneously, I do think Fury believes he can win a fight with either guy. Maybe he is trying to build his name worldwide, but let's not get carried away, Tyson. While I am a boxing fan first and foremost, I do respect MMA fighters, and I do believe that any MMA fighter would beat any boxer in an MMA style fight. Boxers only use their hands. MMA fighters are as deadly with their feet as they are with their hands. Boxers are useless once they are put on the ground. Ask James Toney, Art Jimmerson, or Ray Mercer how easy it is to transition to MMA. Truth of the matter is that Fury would have no chance against an MMA fighter unless he keeps the fight from going to the ground. Fury needs to be more focused on getting a fight with David Price rather than trying to pick fights with MMA superstars.


New year, same ole thing. Another boxing screw job to begin 2013. Did anyone catch the premiere edition of ESPN Friday Night Fights? Arash Usmanee was in total control against Rances Barthelemy, but in the end, Barthelemy earned a unanimous decision victory. Anybody who watched that fight saw that it was a fixed fight. Makes me sick. Barthelemy should not be rewarded with a bigger fight just because his undefeated record stayed intact. I would love to see a rematch between the two.


ESPN Friday Night Fights has a nice slew of fights to begin 2012. Friday night's main event, though controversial, featured two undefeated prospects in an exciting fight. This Friday features another action packed fight between John Molina Jr. and Dannie Williams. Two weeks later, we have former world champion Sergiy Dzinzurik taking on well-known contender Bryan Vera. The first week in February brings about a main event featuring former world champion Cory Spinks taking on hard-luck contender Carlos Molina. That card also features Jose Luis Castillo and Donovan George. The rest of February features fighters like David Lemieux, Delvin Rodriguez, and an outstanding main event between world champion Lamont Peterson and former world champion Kendall Holt. Kudos to the ESPN programming department for putting together high-quality programming for boxing fans everywhere.


Is anyone surprised that WBC President Jose Sulaiman would reward Julio Cesar Chavez Jr. for smoking marijuana? The Nevada State Athletic Commission is expected to hand down a lengthy suspension to Chavez Jr., retroactive to September 15th when he faced Sergio Martinez, after a positive, post-fight drug test. Sulaiman says he would allow Chavez Jr. to fight anywhere in the world if Nevada, or other states, would stand behind the NSAC's ruling. Nobody can really be surprised at this point. After all, it was Sulaiman who stated that "beating a lady is highly critical, (but) it is not a major sin or crime" after Floyd Mayweather was sentenced to prison for a domestic dispute. Sulaiman is everything that is wrong with boxing.


A Carl Froch vs. Mikkel Kessler rematch is a Fight of the Year contender. Anyone who watched the first fight between these two during the Super Six Tournament saw an absolute classic. I'm glad Froch is willing to vacate his title in hopes of earning another big payday against Kessler. I'm not interested in watching Froch face Adonis Stevenson. I'm very excited to see Froch take on Kessler again. Let's hope the IBF does the right thing and allows this fight to take place for Froch's title.


Hats off to Gabriel Rosado for not accepting a catch-weight in his fight against Gennady Golovkin. I don't think Rosado has much of a chance against Golovkin, but Rosado has won me over with this move. Rosado's style is crowd-pleasing, and he will come to fight against the middleweight titlist. Should Rosado have a decent showing against Golovkin, he deserves to get a title shot at junior middleweight. If, somehow, Rosado stuns Golovkin, he will be the hottest name in boxing and will have his pick of any opponent between 154 and 160 lbs.


Austin Trout's new year didn't start the way he would have hoped. On New Year's Day, in the early morning, Trout was arrested on suspicion of public intoxication. Trout claims he was trying to break up a fight at a restaurant, but was set free on bail two hours later. While I don't know enough about the case, all indications point to a misunderstanding between police and Trout. I hope this incident doesn't affect Trout's future because he is set to get married in April, and he hopes to land a fight with Canelo Alvarez in May. This unfortunate incident should not have any bearing on Trout's upcoming schedule. Let's hope it doesn't.


Each week, I feature an email from a fan on Observe and Fight. This week's email comes to us from Gunna H. regarding his dream fights of 2013...


Mayweather vs Saul Alavrez
Adrien Broner vs Yuriorkis Gamboa
Adrien Broner vs Amir Khan
Nonito Donaire vs Abner Mares
Guillermo Rigondeux vs Nonito Donaire
Lucus Matthysse vs Danny Garcia
Danny Garcia vs Ajose Olusegun
Sergio Martinez vs Gennady Golovkin
Andre Ward vs Jean Pascal
Devon Alexander vs Keith Thurman
Wladimir Klitschko vs Johnathan Banks
Gary Russel Jr vs ANYBODY


This is a great list and any one of these fights is an open invitation from my wallet to purchase a ringside seat, but some of these fights just will not happen for one reason or another.


Forget about Donaire vs. Mares (because of Golden Boy vs. Top Rank feud), Martinez vs. Golovkin (because Martinez has nothing to gain and everything to lose in this fight), Broner vs. Khan (which might be a possibility in 2014, but not 2013), and Alexander vs. Thurman won't happen because I believe Thurman will campaign at 154 due to lack of fights at 147.


Mayweather vs. Canelo is most likely headed for Sept. 14, Broner vs. Gamboa could happen in the summer or fall of 2013, Donaire vs. Rigondeaux will happen in 2013 unless one guy gets upset along the way, Matthysse vs. Garcia could happen, but I doubt it until 2014, I like Garcia vs. Olusegun, Ward vs. Pascal is a definite possibility if Pascal beats Dawson, Klitschko vs. Banks is a possibility if Banks beats Mitchell again, but that fight is a laugher, and Gary Russell Jr. will step up his competition in 2013. Bet on that.

That's all I've got for this week. Email any questions or comments to
dkassel@fighthype.com
and I will answer them throughout the week. Your email may be featured in the next "Observe and Fight." Follow me on Twitter @BoxingObserver, and be sure to "Like" The Boxing Observer on Facebook.
[ Follow David Kassel on Twitter @BoxingObserver ]