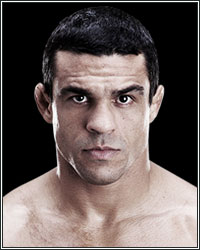 "There's nothing Bisping can do to me that I haven't already seen. I've fought guys 360 pounds, 240 pounds, and I've been in all kinds of situations in life. Nothing's going to happen in that cage that I'm not ready for," stated former UFC light heavyweight champion Victor Belfort, who discussed his upcoming January 19 showdown with Michael Bisping. Check out what else he had to say!

SWD: Thanks for taking the time. How are you feeling through this training camp?

VB : No problem. I'm good, man. I'm happy; having a great time.

SWD: You recently moved to South Florida and you've made the Blackzillions your home base training camp. Why make that switch form Xtreme Couture and what's different or better about training here?

VB: I loved training at Extreme Couture. I love Randy, but I needed to find some different partners and I need to be close to Brazil, so everything fits pretty good. My life is not just fighting. There are other things, so it's about where God wants me to go. We have great training partners, great K-1 Trainers…it's pretty perfect. God spoke to my heart and this is a good place for my family and there are good schools here.

SWD: I've heard from other fighters that there is tremendous structure there. Would you say that's true?

VB: Sure, man. It's a great gym. We have great trainers their, like Henry Hooft.

SWD: What's it like working with Henry Hooft?

VB: He's great and he's helped me a lot. He motivates me every day. Henry's a great coach. We have a great jiu Jitsu coach and great fighters here. Rashad is a great wrestler. We have a lot of knowledge here and we're all together.

SWD: Your opponent, Michael Bisping, has said that he thinks he'll wear you out with his cardio and turn you into a human punching bag, as well as a few other personal comments. You don't talk trash; in fact, you've referred to him as a warrior and given him much respect. When you hear comments like that, do you think he's just trying to sell the fight?

VB: That's a question only Bisping can answer. You have to ask him. I'm not going to talk about him. The only thing I can say is that he's fought a lot of good guys, good competition, and I'm looking forward to beating him on the 19th.

SWD: He fought and lost to Rashad Evans back in '07. He's a much different fighter now than then. Does having Rashad in your camp give you any insight on how to beat him considering how long ago it was that they fought?

VB: When Rashad fought him, he [Rashad] was a different fighter, so not really. Rashad has helped me a lot with his wrestling and he's a great training partner. There's nothing Bisping can do to me that I haven't already seen. I've fought guys 360 pounds, 240 pounds, and I've been in all kinds of situations in life. Nothing's going to happen in that cage that I'm not ready for.

SWD: He's come a long ways with his ground game, and middleweight is definitely more suited for his style of fighting. He loves to stick and move, get in and get out. How does he match up with your style?

VB: You'll have to watch the fight and see on the 19th.

SWD: (Laughing) So you're not going to give me that, huh?

VB: I'm not going to give you anything, man. If you want to get something, then get this, I'm waiting, I'm waiting. I want to fight every day. Nothing, nothing, nothing I'm going to face in the Octagon I haven't faced in training, so I'm very comfortable there. The pressure is not on me. No pressure; just joy.

SWD: Speaking of striking, you did one professional fight as a boxer and you had a first round KO. Did you contemplate going in that direction and leaving MMA?

VB: At the time, yes, but not now. I love boxing. I just love it. But right now, I fight for ZUFFA and ZUFFA doesn't have boxing.

SWD: You're 35 years old and have been in the sport as a pro for 16 years and you're still one of the top fighters in the world at 205 or 185. Most fighters are on the down side of their careers by their mid 30's. Many people would say that you're still getting better. How have you been able to do that?

VB: First of all, I just thank God every day for giving me the strength, mind, spirit and body. I try and live my life honest and healthy and I'm just very thankful God gave me this opportunity and I honor that. That's how I do it.

SWD: Most guys move up in weight when they reach their 30's. You've moved down and that's arguably much tougher to do as your body matures. How hard is that weight cut and are you planning on staying at middleweight for the remainder of your carrier?

VB: As you get older, it's actually harder on your joints if you're carrying more weight. I believe it's easier on your body if you can stay lighter and keep the fat off. A lot of guys don't want to make the sacrifice of eating right, so they have to drop a lot of weight. I have a great guy that helps me with my nutrition and I like to learn about that. I'm a good student.

SWD: So you're keeping your body close to where it should be as opposed to going up and down in weight.

VB: Exactly. I'll give you an example. Some people say what type of diet do you do? I don't diet. I have a lifestyle. That lifestyle includes how I eat, how I treat my family, how I treat the fans.

SWD: You were a heavy underdog to Jon Jones, but you are the only guy that's come close to beating him with that armbar in the first round. You earned even more respect from the MMA community and fans for taking the fight on short notice and competing that way. Does that mean much after a loss? Is that relevant at all?

VB: Yes. In the 4th round, I listened to my body. I really believed I could have won by knockout also. I was doing better with my striking and I pulled guard. I listened to my body and I should have listened to my corner and gone for a knockout. Jones was in better shape and he overcame, but you know, it is what it is. A lot of people say, "You shouldn't have lost like that, you almost won." I had a chance to prepare, sure it would be different. You just don't show up for a title fight on 2 1/2 weeks of training. But you know, I got a lot of respect for that and it shows me that I can go and compete with the best guys in their prime and I'm giving the fans what they want. I'm not going to entertain with my mouth. I'm going to entertain with my skill. That's what the sport's about.

SWD: You fought Tank Abbot and you've fought Anderson Silva and Jon Jones. Does it ever hit you that you were part of this sport when it was just a fringe freak show and that you're still a big part of it today as it's become mainstream? Does it resonate with you that you're an icon in the sport and how much a part of its growth that you are?

VB: Nah. You know, how I live is to try and be the best that I can. I'm just this Brazilian guy with a lot of dreams and a lot of respect for the fans, because the foundation of the sport is the fans. Without the fans, we don't have anyone to buy tickets and to support us. The thing that annoys me is when you see guys use their mouth and talk trash to promote the fights. I don't like that. I like the one UFC saying, "As real as it gets!" That's what the sport's about. My dream is to see the fans get educated and understand this is a mainstream sport, like baseball. I want to see fathers with their sons; I want to see families at the fights. I don't believe we've achieved that yet. We haven't achieved 10% of that. But let's see, man…let's see how far we can go with this.

SWD: I've interviewed 2 fighters in the last 6 month, Marvin "the Convict" Skipper and Mike Wolverine Rio, and they both talked about sparring with you and what an honor it was to get punched in the face by you and get their ass kicked by Vitor. Does that trip you out to hear that?

VB: It's an honor for them and it's an honor for me. It's great to be able to train with these young guys. I remember Georges St-Pierre coming up to me and saying, "Man, I used to watch you in high school when you were a UFC Champion and you inspired me to be like you and get into MMA." That makes my heart feel good. That's so cool. So it's these guys that give me a sense of responsibility

SWD: Speaking of that, this is the first time that you've fought in San Paulo in 14 years and the first time under the UFC banner. What's it going to be like fighting in your home country?

VB: It's a joy; a dream. I worked so hard for this sport in my country, well, actually in many countries, so I'm ready to go there and do my job and have fun.

SWD: Why did you get into this sport at 19 years old and why are you still fighting now?

VB: First of all, I believe that every man and every woman has a gift given to them by God. We have to understand how to apply that gift and once you apply and you see the results, man, that inspires you to do more and more and that's why I fight today. And the reason I got into it was I love the competition, I love the sport, and my challenge throughout my career was to make this a sport. That's where we are today. This is a sport!

SWD: What's the toughest part about the sport? Is it the training?

VB: When you're 19 years old and you go to your first fight and you have to travel, and you have to travel all over the world because you're sport isn't even legal in some places. You could see porn on Pay-Per-View but we couldn't be on Pay-Per-View. That's ridiculous. Now we're on Fox. That's big.

SWD: Anything else that you would like to share with our FightHype.com readers?

VB: Thank you for all of the support and I'm looking forward to next Saturday. Tune in and let's have fun.

SWD: Thanks Vitor.

VB: My pleasure.