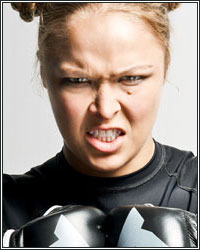 I wouldn't say it was inevitable and it would have eventually happened, because I don't believe so. I believe, and I'm not jumping on the Ronda Rousey bandwagon because that fucking thing is full and I really don't want to be on the Ronda Rousey bandwagon, but she did open up the door for the girls to go to the UFC; the ones that will go to the UFC. Whether they want to admit it or not, that's the truth of the matter. She showed the UFC that she has enough star power and has generated enough momentum to at least jump start the division. What's going to happen if she loses or she goes away or whatever, who knows?

The truth of the matter is people are fans of Ronda Rousey, and I don't think it's because she's such a good fighter. Her fights weren't long enough for us to get emotionally attached and be like, "Wow! What a war!" A perfect example is Miesha Tate's last fight. I became a huge Miesha Tate fan and I wasn't a Miesha Tate fan before that. Her last fight with Julie Kedzie is how you win the fans by your fighting ability. She was getting her ass whooped for 2 rounds, getting beat all to hell and stayed focused and stayed determined and was looking for that submission and finally got it and won the fight. In my opinion, that's how you win the fans by fighting. Ronda Rousey's fights, not saying anything negative about them, but they are just too damn short. She is just too dominant. She just whoops your ass in 30 seconds and she's out of there.

I think it's her presence outside of the ring that makes her a star inside of it. If she loses, so what? Chael Sonnen lost and look at him. He's fighting for a whole other title in a totally different fucking weight class. If you got the gift of gab and people want to fucking here you, then you're going to be around. When her time comes to go, I mean, she's still young, so who the fuck knows what's going to happen then. It will get figured out then, but at least for now, she's opened the door to get women into the UFC. I think it's a great thing. You're talking about an organization that flat out said there will never be any women in the UFC, and now they are having her headline a card defending her title.