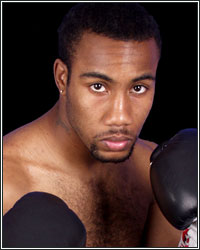 "Probably four times because you know we gonna step it up and get into the big leagues and the highest level possible. I'm sure we will be on HBO or something next, but first things first. I'm going to go in here and do what I do on the 2nd, and after that, it will be great things lined up. I can guarantee there will be some great things from me this year," stated undefelated lightweight contender Mickey Bey, who talked about his upcoming February 2 return to the ring and much more. Check it out!

PC: February 2nd is right around the corner and it will mark your ring return. How do you feel?

MB: I feel good, man. I'm just happy to be with a great team now and I'm happy to be getting back in there and doing what I love.

PC: You didn't fight at all last year, but you always say the layoffs don't affect you like it would affect a fighter that doesn't take his craft as serious as you do. Do you still feel that way or do you feel some rust?

MB: Nah, none at all. I feel great. Of course I'm going to get sharper and sharper after one or two fights, but I'm gonna be on point. I stay on my craft and I got a great trainer that taught me the game, so it's embedded in me. That's all I know pretty much, whereas most people…people don't understand that every fight in my career has been like a one or two week notice, so if anybody thought I could halfway fight, then this year, they gonna see some real throwback boxing from here to the rest of my career.

PC: The Mayweather Boxing Club is getting crowded with new talent. Does that alter the way you train or when you train at all?

MB: I'm in tunnel vision. I don't even talk. I go in there and do what I gotta do and my antennas are up. I'm just worrying about what my trainer tells me to do and that's it. I'm just in there to work, just like it's a job because it is a job. I'm going in there, putting my work in, and listening to Big Floyd and working on whatever he want me to do and that's it. So nah, it don't change for me.

PC: Tell us a little bit about your fight on the 2nd.

MB: It's going to be a cool show. It's out here in Vegas where I live now. I been living here; I'm back and forth between here and Cleveland. I been in Vegas living out here for about 6 to 7 years now, so that's cool. I'm just excited to get back in there and show the world what I can do.

PC: Does the opponent even matter or do you feel as long as you are on your game, you will be successful?

MB: Yeah, that's it. That's not really up to me because I don't even really know who I'm fighting yet. That's what Leonard Ellerbe and The Money Team staff is for, to take care of that. My job is just to listen to Big Floyd and come in and do what I do.

PC: Next month is your first date. How often would you like to go this year?

MB: Probably four times because you know we gonna step it up and get into the big leagues and the highest level possible. I'm sure we will be on HBO or something next, but first things first. I'm going to go in here and do what I do on the 2nd, and after that, it will be great things lined up. I can guarantee there will be some great things from me this year.

PC: You are an amazing talent and very skilled boxer. You sat out this year because of the politics of the sport. What was that like to be sidelined and not really be bitter towards anyone for it?

MB: Man, I'm glad you asked me that because that was one of the best questions that I ever got. People don't understand that being a dedicated athlete with the talent I got, it was hard because my whole career been like that. From the general person perspective, they don't understand from the outside looking in; my trainer and the people that have been with me throughout my career know because they see it. They see that I'm always ready to do what I'm supposed to do, but I might just been dealing with a bitter person as far as the manager goes trying to blackball me. That's been happening for years and it's been super frustrating, but I finally feel free of that now. It just feels good. I don't care and I'm not bitter towards them because at the end of the day, I learned a lot of things during the process of that happening and it made me a stronger person. It made me really get my spiritual game up and made my knowledge. I'm smarter than a lot of cats think on a lot of levels. I'm on my spiritual and historical events every day. It's all about boxing, spiritual growth, and studying history. I do that on a daily basis pretty much for hours or so out of the day. I love boxing and it's my life, but its part of life. I got a calm spirit and we have eternal spirit, so there is evil energy in the world and there is positive. To me, I feel like I met the devil through boxing people. I don't believe in the fictional devil with horns on his head, but I seen that an evil force exists in the world. It made my spiritual side grow so strong and see that they have some people in this world that's just natural evil. There are just evil people in this world. I love overcoming stuff like that and defeating that. That's why I stayed in the gym the way I did because it was like, if these dudes think the little stuff they doing like blackballing me is gonna make me stop, I'm just gonna go harder. That was frustrating though because I was putting miles in and training like I was preparing for a title fight, but no fight. And then as soon as I sit down for a minute, because I couldn't keep training like I had a fight without no fight, so I take a little time off and then boom, here comes a fight in a week. It wasn't a coincidence. Of course I was supposed to be knocked off a few times. Good thing it never happened, but it is what it is. I don't ever dwell on it or nothing like that. It's all over now and now I get to showcase my talent. I'm dealing with a positive group of people now that want to see me win, so it's all good now.

PC: What are you looking forward to this year?

MB: Man, I think the sport of boxing is in a great position. There is so much talent out here. You got people like myself that the whole world don't know yet, but will be getting introduced to the world this year. I think there is so much talents with these fighters now to where it can be possibly a great fight every week on HBO and Showtime, if not every other week. I think 3 weeks out of every month there should be good televised cards. You have so many good fighters that can provide great fights, upsets and rematches that live up to the action of the first fights. You got guys like me that's gonna be coming in knocking people off the top and other fighters that's gonna be doing the same thing. You got a new wave of fighters. You got a whole lot of guys out here with talent. This is probably gonna be the best years of fights in 2013 in many years.

PC: When you see a guy like Adrien Broner break out like he did last year, you have known he's been that talented for quite some time now as to where some people are just seeing it.

MB: Yeah! He was a good fighter since he was literally 55 pounds. He's always had the talent. He was born to fight. He's from my neck of the woods and we got a lot of good fighters from that area and other areas that can fight. That's what it's all about, being with the right people and doing the right thing and shining at the right time. I'm excited to be able to do that this year.

PC: A lot of people have been hitting me up about you and waiting to see big things, so give me some closing thoughts to those fans.

MB: Thanks for the support and this year is going to be a great year for me. I'm going to put on some great shows for everybody and some real live throwback performances. When I get in there, you gonna see it all. I'm just excited to get back in the ring and I thank them for their support.
[ Follow Percy Crawford on Twitter @MrFighthype ]