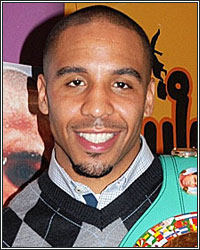 "On the flip side, not only is the division below me [160 pounds] and above me [175 pounds] kind of getting shaken up, at the same time, my fire is blazing and it's making me hungrier. I'm not just sitting around waiting for somebody to arrive. Trust me, when you get held back from doing something against your will that you want to do, the way I am and the way I'm wired, I'm gonna come back a different animal," stated super middleweight king Andre Ward, who gave us an update on his rehabilitation, his future plans, and much more. Check it out!

BT: What's up, Dre? How's rehab going?

AW: It's going good, man. I'm taking slow right now. I'm still in the healing process, so hopefully in the next week or so, I'll be full-fledged 3 days a week getting it in. I tend to be a quick healer just generally speaking, so I'm looking forward to healing fast. It's going to be work to get back, but like I've been saying, I'm going to be stronger than I was when I left, so I'm excited.

BT: Where would you say the arm is right now percentage-wise as you start rehabilitation?

AW: I mean, it's hard to say right now because I'm not throwing it. I'm in the healing the process, so the least amount of movement is the best. As you saw the other night, I don't have to wear the sling, but another week in the sling is good because it allows me to heal a little bit faster before we start tugging on it, working it, and pulling on it. I couldn't give you a percentage right now. I gotta actually get to work and see how it feels.

BT: To some, it probably seems like this injury came out of nowhere. How difficult was it for you to make the decision to have the surgery as opposed to just moving forward and trying to squeeze in another fight?

AW: I had the option to see if the shoulder capsule situation healed on it's own, but the way I looked at it was based on the advice I was given from multiple doctors and different things like that; even just talking to my team, you know, Goossen and J. We ran the risk of it not healing on it's own and then we would've wasted another 4, 5, 6 weeks. When people ask where the injury came from, it came from 20 years of boxing; that's where it came from. It's just wear and tear, and eventually, something gives. I keep saying that I'm going to be better than I was because not only did we fix the injury, but I tightened everything up. Everything is secure and it's just healing, and then from there, we can go back to strengthening the area that needs to be strengthened. So I look at it, you know, it's not a good that I'm having a layoff, but ultimately, I think it's going to preserve my career, allow me to come back a lot stronger, and not have an issue down the road. I mean, if I wouldn't have got it done, then you're looking at, okay, maybe I'm good for another month or so, and then if something happens, I have another setback, and we just can't afford that.

BT: I know it probably wasn't part of your plans to take a layoff, but do you think it could be a blessing in disguise? I mean, it seems like a lot of other fights in and around your division are starting to shape up, so imagine you're going to have a lot of options when you do come back.

AW: I definitely see that point. That's true. There's always options. They're finding options for other guys, so there's always an option for me. Regardless of what the weight class is, an opponent can be found. At the end of the day, we always got a fight on the table. There's never no option, but I think it is interesting because it does allow things to kind of get mixed up a little bit, and I'm not going to allow myself to be penalized for doing what we did in the Super Six. I mean, there's always someone to fight. We just need to make it happen. On the flip side, not only is the division below me [160 pounds] and above me [175 pounds] kind of getting shaken up, at the same time, my fire is blazing and it's making me hungrier. I'm not just sitting around waiting for somebody to arrive. Trust me, when you get held back from doing something against your will that you want to do, the way I am and the way I'm wired, I'm gonna come back a different animal.

BT: As far as I know, this was probably one of the most serious injuries that you've ever had. Mentally, is it frustrating not being able to get in the gym and get work done like you want to?

AW: Well, I'm past that part of it. That was more in the beginning when I was trying to identify what was wrong, and then you initially get the news and you reschedule the fight that's 8 weeks away. You know, I went through that stage where there was frustration and I shed a few tears, man, because I love the sport and I love what I do. Initially, when you get the news, it's like, man, it's being taken from you. Not only that, but I gotta go in here and go through the process of surgery. It wasn't something that I was happy about at all, but I'm past that. I'm just excited because I'm getting a chance to rest my body, rest my mind. People don't understand the toll that this sport takes sometimes; not just the fights, but the training camps. Again, this could be a blessing in disguise where not only I come back and my shoulder has more pop and more umph in it because I got certain things fixed, but it also preserves my career, man. I get a chance to sit down for a second and rest. That's not a bad thing because me being around the sport, whether it's broadcasting, watching fights, going to fights, those are my mental reps and I don't take those reps lightly. And when it's time to get physical, my mind is up to par with where my body is getting ready to be. For me, I just look at it from that standpoint. It's a time for me to take my mental reps and really focus on the game, analyze the game, and just, you know, when it's time to do the physical, just come back with a new passion, man.

BT: You just mentioned broadcasting. Obviously, this past Saturday, you had a chance to call the action in Gennady Golovkin's clash against Gabriel Rosado. Maybe I'm reading too much into it, but to me, it seems like HBO is already starting to beat the drums for a potential showdown between yourself and GGG. Being an active fighter, what's it like to sit ringside and commentate on a fight that one of your potential future opponents is in?

AW: I mean, I got the best seat in the house, so I'm gonna see everything that I need to see. It's twofold; two things are going on. One, you know, I have a job to do first and foremost and that's to call the fight; that's to call Golovkin and Rosado. It's not to inject myself into the situation unless I'm asked about it. From there, in my mind, oh, I'm taking mental notes. Absolutely. Yeah, I'm taking mental notes. And I don't know if it's so much a network pushing the fight. I mean, I think that could potentially be a good fight down the road. I just think...they keep bringing my name up, but once you scratch beneath the surface and really ask them, I think they're clear that they want to wait awhile, whether it's the end of 2013 or the beginning of 2014. But what guys gotta understand, whether it's Froch and his people, Kessler, or even the Golovkin situation, they don't get to dictate when we fighting, where we fighting, what time we fighting. You know, it just don't work like that.

BT: Do you approach commentating the same way you approach fights. I mean, do you do your research and have all the info ready before you guys come on, or do you just wing it?

AW: No, I don't wing it. I think that's the wrong thing to do, I mean, for me. Again, I can't speak for anybody else. They guys that have mentored me in the broadcast thing and guys that I've watched and kind of learned from, that's one thing that I was always told was just because you're a fighter, don't take this lightly. Really do your due diligence to do your homework because you can tell the difference. 5 out of the 6 main event fighters, I knew 'em, you know, I've seen them fight, but I still had to dig deep and crunch the numbers, from their stats to their background to the actual matchups. So I prepared just like it was a fight. I got to New York mid-day Thursday. I was in my room all day, all night that night. Friday, I got up and it was all work, from the production meeting, fighter meeting, weigh-in, and then I'm back in my room and while I'm eating, I'm back studying, and then all day Saturday up until it's time to actually go to the venue. So yeah, I'm grinding, man. I want to sound good and look good, and I want to represent HBO the right way and I also want to represent the card the right way. I want to know what I'm talking about, so I take it very seriously, Ben. I don't look at it like this is a one-off for me. This is something that I want to do. This is going to be a career for me, God-willing, and not when I'm retired, but when I'm active.

BT: When you're live and on air, I know you have to have good chemistry with the people you're working with in order to avoid those awkward silences. Was it difficult for you to find that chemistry?

AW: Well, it's not easy. I mean, it's different because everybody is different. I'm thankful I had a great team the other night with Max and Bob and Lederman, and just all the producers and everybody that made me feel at home and got me whatever I needed to be prepared for the event. It worked out good. I had no complaints. I'm just motivated to keep working and to keep sharpening up my skills, whether it's pre and post comments when we're standing with the sticks, whether it's during the fight, whether it's timing, am I talking enough, am I not talking enough; all those things just come with repetition and I'm just looking forward to getting more reps.

BT: No doubt. Well I know we're going to have you on the site more as you keep the fans up to date on your rehabilitation, but is there anything else you want to say before I let you go?

AW: I'm just taking advantage of the time. I got opportunities that I'm working on, whether it's appearances or going to these fights. I just want to take this time to be around the fans and stay around the sport, whether it's ringside broadcasting or sitting ringside watching the fight. It's a just a good time for me. I'm not just a fighter. I'm not just a champion. I'm a fan of the sport. It's good to keep my fire burning by being around it. Just leaving the fights in New York, I'm fired up. Not just because the show came off good, but because I'm excited about getting in there when it's my time.
[ Follow Ben Thompson on Twitter @fighthype ]