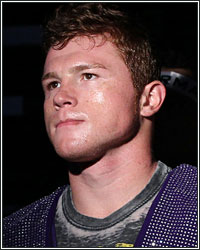 Boxing Scribe Vivek Wallace brings his Left-Hook Lounge mailbag to FightHype.com, answering questions for fans and giving his own unique perspective on all the latest current events in boxing. This week, check out his response to fans as they discuss Lucas Matthysse's recent performance, Saul Alvarez, Floyd Mayweather, Sergio Martinez, Gennady Golovkin, and much more.


---

Alexander G. (Covina, CA): Lucas Matthyssee has proven to be the best 140lb'er in the sport. Few people seemed to give him his props until now. How did you rate his performance and who do you think presents the biggest risk to him in the division?

Vivek W.: For starters, I'd like to congratulate Matthyssee on his stellar victory. I think his performance was as solid as one could ask for, and I think he definitely engraved his name in the minds and mouths of those who didn't feel a need to bring him up before. As incredible as his performance was, I've said many times in the past that we have to caution ourselves before jumping on that proverbial 'swinging pendulum' that we often see fans jump on after a solid performance. In no way do I mean that to take away from Matthyssee's performance. But I do say that we should analyze a few things on the front end to know what possibilities exist on the back end.

When we look at the resume of Matthyssee, there are roughly 5 fighters that the average fight fan has basic knowledge of. Beyond the names Judah, Alexander, Soto, Corley, and Harris, recollection begins to thin out quite a bit. Take it a step further and when you realize that 31 of the 33 who failed to see the final bell were relative nobodies, suddenly, the air of true perspective blows credibility clear out the window in the mind of most. Granted, one could argue that his only two losses came in the backyard of his opponents, (Alexander/St. Louis & Judah/NJ); but that doesn't change the fact that more than 3 quarters of his 30 plus fight resume came against men we don't quite give much merit to.

What I love about Matthyssee is that he's a young lion who has the heart, the power, and the ability to really etch his name in the sport in a mighty way. You have to love that in an up and coming spartan! But most who have followed my work over the years know that I'm very cautious about a fighter who has practically stopped every fighter he has faced. There's always that lingering question of what happens when he faces a fighter tough enough to outlast him, conditioned enough to outwork him, and intelligent enough to outbox him.

Categorically, Judah and Alexander came close enough in each of those areas to stop him from getting the nod in closely contested bouts. Neither has true pop! What happens when he faces someone with those qualities who does? That's my question. Surely he appears well on his way. So did Kelly Pavlik before he met a "grumpy old man". I give the hard-charging Argentine two thumbs up! Where he goes from here will determine whether or not those thumbs remain upright. Rios....Garcia....Alvarado....Khan....(yes, Khan). I'd love to see him against some of these guys. Hopefully 2013 serves as his launching pad. Stay tuned.

Mario N. (Charleston, SC): I saw your Facebook post last week about Saul Alvarez and his demand to get Mayweather in September, win, lose, or draw in the pending Cinco de Mayo card. You have been a big supporter of his in the past. Can you elaborate on your thoughts about this?

Vivek W.: Honestly, I don't think there's a whole lot to say more than I said on Facebook and on FightHype Radio last week. I'm a big fan of Alvarez and love his star power, heart, and attitude in the ring. Outside of it, I think he's behaving like a primadonna and to be quite frank, he hasn't done anything to deserve the accolades he seems to feel entitled to at this stage. In an article I saw posted last week, he spoke of not wanting to be on the undercard for Mayweather, feeling that he should be headlining any card he fights on. I found that to be nothing short of ridiculous.

I understand he's a huge phenomenon over in Mexico, but last time I checked, the mecca for Boxing is in the U.S., and it takes a bit more than a few Tecate promotions in some local bull ring in Tijuana to earn top billing in Vegas. I don't say that to be funny. I do say that to say this: Alvarez has been coined "the next Goldenboy". But Alvarez is not yet the next Goldenboy. There's a ton of work left to be done. There's a ton of opposition left to build his name with. An old Mosley, a small Lopez, and Matthew Hatton doesn't exactly place a fighter at the top of the list to face the P4P best....or receive the wealth that comes along with it.

Bottomline, I don't think this should even be on the table as an option. I think he needs to defeat Trout in a sound and uncontested fashion to even be considered. He may balk at that.....but I'm sure he'd rather roll the dice at these odds than land in the ring against these other guys without a possibility of facing Mayweather, the money differential is night and day. Goldenboy Promotions will probably push this nonsense since he is one of their bigger cash-cows trying to fight the other. Trouble with that is Mayweather is his own boss. And if he chooses not to sign off, Alvarez will have to step off. It's that simple.

Robert E. (Facebook): Promoter Lou DiBella said "No Way" to Gennady vs Martinez because (in his words) "Gennady doesn't draw a dime". He went on to say that "Cotto and Pacquiao would never be asked [to do] this". What are your thoughts?

Vivek W.: Lou (DiBella) is a promoter and businessman I've always respected on many levels.....and will continue to do so. That being said, I really can't give him a free pass on this one. I do hold reservations towards these statements for several reasons. I consider myself a fan of Martinez and always have been. But I've never been shy about the fact that he wanted a shot at the cash cows (Mayweather & Pacquiao) without ever truly warranting one. I say that on the strength of DiBella's very own comment regarding Gennady, because we basically have the same scenario at play. Martinez has feasted on international figures in the sport that few hold with any pure acclaim.

The Paul Williams victory was a solid one, but despite his heart, even he wasn't measured along the lines of a perennial player of that super-elite echelon in the sport. The reality is that Martinez barely holds any cards at the (negotiating) table when it comes to star power. His biggest victories were against Paul Williams - whom many had their own questions about; and Chavez Jr., who had name recognition, but none from any effort he himself produced in the ring. It was all from his Father who was three times the fighter Jr. is at his absolute worse.

I think Martinez is an awesome talent and a very great guy away from the ring. But when we narrow things down to putting cheeks-in-seats, Martinez is no bigger draw right now than a Nonito Donaire, or a Timothy Bradley. These are all very good fighters, but somewhat regional warriors. They simply don't command the same level of attention outside of certain circles.....mainly the hardcore fight fan. What's so funny about this is that many of the names mentioned in this article all stand in the same space, as it relates to a sense of entitlement without totally deserving the entitlements they feel they should receive.

Alvarez, Martinez, Matthyssee. All of these guys need better opposition to build themselves to that superstar level. Sergio Martinez and Saul Alvarez are two guys who would benefit greatly by defeating someone like Gennady. And even though there's not a ton of money to be made, there's more benefit in defeating someone credible like him over names like Macklin and Josesito Lopez. Solid victories in this fight and you have credibility to add to a few of those other 'stocking stuffers'. I can't agree DiBella on this one. Sure he won't agree with me either, but hey, we keep an open mic over at FightHypeRadio every Wednesday night. I'd love to have him on to discuss. Lou, if you're reading......consider this an open invitation, brother! Lets talk!

Vivek "Vito" Wallace can be reached at FightHypeRadio every Wednesday night. Also at www.vivekwallace@ymail.com, FaceBook, Twitter (@vivekwallace747), and Instagram (viveksview).