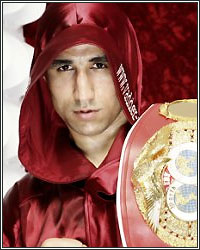 As a new year gets progressively underway, so do the fights. European promotional powerhouse Sauerland Event has made some interesting announcements over the last week, including a WBO world title rematch between Arthur Abraham and Robert Stieglitz and an interesting female title clash between the queen of boxing, Cecilia Braekhaus, and Mia St. John.

First off, it was recently announced that an intriguing rematch between top Super Middleweights Arthur Abraham (36-3-0 28 KO's) and Robert Stieglitz (43-3-0 28 KO's) is done for March 23rd at the GETEC Arena in Magdeburg, Germany. It was penciled in for this Spring ever since their razor thin battle in May of last year. Stieglitz had to win a stay busy fight in Spain last Friday, which he looked sharp in a 3 round smashing of Michal Nieroda, before the news was broke. Abraham also for the record beat down fringe contender Mehdi Bouadla in December to retain his strap in a German homecoming. ARD will televise this terrific twelve-rounder.

Team Sauerland is enraged at the rumors of Wladimir Klitschko facing off against Cuban-based contender Odlanier Solis in his next fight. They want Wladimir Klitschko to honor his WBA mandatory and face their fighter, Alexander Povetkin, next. Since Povetkin's WBA "Regular" strap victory over Ruslan Chagaev in August 2011, he has been stuck in line waiting for his big Klitschko opportunity. Sadly, negotiations haven't seemed to break out well. Most observers are hoping to see this fight happen very soon. Seeing the unwillingness of the Klitschko brothers to face each other, this may well be the biggest accomplishable fight in the thriving Heavyweight division, seeing the dominance Europeans have within it.

A massive "Nordic Fight Night" event is also scheduled for April 13th at the Arena Nord in Frederikshavn, Denmark. A crossroads doubleheader in which female "Pound For Pound" queen Cecilia Brækhaus will face experienced 45-year-old contender Mia St. John in a respective test, plus Knockout artist Rudy Markussen will scrap with undefeated Brit Luke Blackledge.

Mia St. John (47-12-2 18 KO's) is a 16-year career veteran, coming off a tough defeat to WBC female beltholder Tiffany Junot. She is determined to go out with a bang. But a tough Norweigian gal named Cecilia Braekhaus (21-0-0 5 KO's) isn't ready to give up supremency just yet. Proclaimed by many as the best lady boxer in the world, she should be a stern favorite against her more experienced opponent.

Rudy Markussen (38-3-0 25 KO's) will look to avenge his fellow countryman Mads Larsen, who was flunked by the British brawler Luke Blackledge (12-0-1 4 KO's) just months ago in his shortened comeback. Markussen is actually on his own return to the Sweet Science. He was defeated in a four-round throwdown with Brian Magee earlier last year. Aside from that, he has picked up 5 wins, including an astonishing 5 knockouts in his return. This is a great crossroads fight.

Follow Fighthype for more.