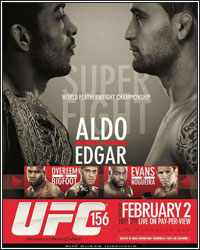 UFC 156 Aldo vs. Edgar is coming to you this Saturday night at the Mandalay Bay Events Center in Las Vegas, Nevada, and it boasts one of the most stacked cards in recent UFC history. The long-awaited return of one of the most dangerous strikers to ever compete in the heavyweight division, Alister Overeem, takes on the man with fists the size of sledgehammers, Bigfoot Silva. Possibly the greatest lightweight fighter in MMA history to never win a title, Antonio "Little Nog" Nogueira, clashes with former light heavyweight champion and top contender "Suga" Rashad Evans. And in the main event, current UFC featherweight champion Jose Aldo looks to defend his title for the 6th time as he embarks on a potential 5-round melee against former lightweight champion Frankie "The Answer" Edgar in a bout for the ages. The outcomes are uncertain, the drama is real, and the event just may prove to be surreal. Let's take a closer look.

Jose "Junior" Aldo (21-1) vs. Frankie "The Answer" Edgar (14-3-1)

He's had 1 defeat in his career. He's on a 14-fight win streak and about to enter into his 6th straight title defense. His knees, elbows, fists, and kicks come from all angles at any given moment and in rapid fire succession. His Jiu Jitsu is world-class, although he doesn't reference it as often because by the time his opponents go to the ground, they ain't getting back up again. So what makes Frankie Edgar, the former UFC lightweight champion, think that he can step down to the kingdom of the world's greatest featherweight and dethrone him? For one thing, like Edgar says, he's heard it all before. He heard it when he fought the greatest lightweight champion in MMA history, B.J. Penn, who he soundly beat twice. He heard how the bigger stronger Bully, Grey Maynard, was going to overpower him. Yet in three classic fights, Edgar came out on top twice, winning the last one by a decisive K.O. The man has always been underrated, over-dogged, and consistently fought bigger, stronger opponents. So for him, the drop to a weight class where he's fighting guys that are actually his size should prove beneficial. However, a 5-round title fight against the guy that's always in any conversation when speaking about the best pound-for-pound fighters in the world may not be the easiest way to broach the weight class. This is the UFC, however, and not boxing. The fans get what the fans want (most of the time) and both of these warriors want to fight the best there is.

Aldo says that Edgar won't be as strong because of the weight cut, he won't be fast enough to keep up, and while acknowledging The Answer's formidable boxing skill, he still remains firmly confident that the newcomer cannot compete with his kicking or knees.

For Edgar's part, he has fought the best, and even his two losses to current UFC lightweight champion Benson Henderson have been close and controversial. Gray Maynard dropped him hard on more than one occasion and he had to be knocked out, yet he wasn't, and the Answer did just that. He came back stronger and more effective in garnering victory and retaining his title. To say this is a match-up for the ages and possibly the two best featherweights ever in MMA history may not be an over-exaggeration. To say this fight will be dynamic is a fact.

The Pick: I'm going to go with the underdog here in the upset of the night, although I look for this to be a close, hard-fought battle. Aldo's never faced a fighter with Edgars foot speed, boxing, wrestling, and chin. Edgar will get hit and take punishment for sure, but he'll endure that and this fight should go all 5 rounds with Edgar gradually taking control with effective boxing and takedowns (yes, I said takedowns) in the last 2 rounds.

The X Factor: In this case, there are two of them. The first one is simply Jose Aldo and everything that he brings. His weapons are multiple and omnipresent and his desire is just as strong. This guy was born to fight and his explosiveness can end any bout at any moment. The other factor here is the weight cut and how a fighter's body responds to that. For Edgar, this is still an unknown and 5 rounds can be very telling on energy and strength after dropping 10 LBS.

"Suga" Rashad Evans (22-2-1) vs. Antonio Rogerio Nogueira (20-5)

At first glance, you might think that Evans, who is possibly the best light heavyweight in the world not named Jon Jones,can easily handle Nogueira. Not so fast there Skippy. Lest we forget Little Nog is still 50% of the two brothers that certify belts in BJJ under "The Nogueira Brothers" and that's right up there with a Gracie certification. So, there's some world-class Jiu Jitsu against some world-class wrestling. He's also one of the best pure boxers in the division, having been the Brazilian National Champion. His footwork and style are more classic boxing, straight in, angle in and angle out. Evans sports a college wrestling pedigree and super fast hands with more circular footwork. There isn't much trash talk here or bad blood. Both men respect each other. Both are professionals that are completely focused on getting into, or in Rashad's case, back into title contention. Expect a great display of the highest level of MMA skill.

The Pick: Rashad Evans is just too fast, too strong, and too athletic. It may go the distance, but Rashad will come out in a decisive win that will combine both striking and takedowns.

The X Factor: Little Nog's ground game is still underrated by many and Evans just might not take it seriously enough, especially if he's in a dominant position on the ground. That's when the Nogueira jiu jitsu can take over and win a fight with spectacular fashion.

Alister Overeem "The Reem" (36-11-1) vs. Antonio "Bigfoot" Silva (17-4)

The return of "The Reem" after a 9-month suspension for an elevated testosterone level is anticipated by some and loathed by others. One person that definitively wanted to welcome the Dutchman back to the UFC was his opponent, Bigfoot Silva, who called him out shortly after he defeated Travis Browne last October on UFC on Fox. Silva has had some spectacular moments in his career, most notably finishing the Emperor, Fedor Emelianeako, in 2011 via knockout. He's dangerous on all levels and his unique and sometimes awkward style allows him to still be considered one of the top level contenders in the deeper and deeper heavyweight division, as he's currently ranked #6.

Just before his suspension, Overeem, on the other hand, was poised to fight for the championship after demolishing Brock Lesnar at UFC 141 in December of 2011 with brutal knees and kicks. If Junior Dos Santos may be the best pure boxer the division has ever seen, then Alister Overeem may be the best kickboxer the division has ever seen, which leaves all of these guys trying to get a shot at the best Mixed Martial Artist in the division and the current Champ, Cain Velazquez. Overeem says that he's not looking past Silva, yet in the same conversation, he calls this a warm-up fight. He's confident for sure, but too confident? Probably not as the Blackzillions, their training camp, and the talent they have in their coaches have quickly risen to become one of the most formidable gyms in the entire MMA world. And word out of Boca Raton is that The Reem is a monster! He's fit, focused, and on fire.

The Pick: Overeem! It's seldom that you can see a heavily muscled 265-pound man with truly high level technique in his kicking game. Overeem has that, along with all the other tools that a great striker needs, and Silva's not fast enough nor does he have good enough footwork to avoid the knockout.

The X Factor: Silva's hands are the size of phone books and when he lands, it can feel like a phone booth (remember those). One punch and it can be over and Overeem has been knocked out 6 times in his career. Even more realistic is one punch leading to a takedown, and from their, Silva's Jiu Jitsu could easily prove superior.

John Fitch (27-4-1-1NC) vs. Demian Maia (17-4)

Fitch is always at the top of the welterweight division and Maia seems to have found his niche since dropping down from middleweight. The Brazilian is undefeated at 170, having won 2 in a row. Fitch is riding a 1-fight win streak after manhandling rising star Eric Silva at UFC 153. That fight spoke to evidence of a heeled knee and his potential return to dominance in the division after ending the year with a knockout loss to Johny Hendricks. Don't expect a pretty kickboxing, striking dynamic fight here, even though this bout features the 4th (Fitch) and 10th (Maia) ranked welterweights in the world. This will be a grind of wrestling, Jiu Jitsu, and dirty boxing.

Fitch is mentally one of the toughest men to ever enter the Octagon and thrives on taking his opponents into deep water with a cage grinding, dirty boxing, elbow throwing, and relentless takedown mauling of an offense.

Maia's stand up has gone from uncomfortable to solid, along with his power, and he's still one of the top Jiu Jitsu specialists in the world. He may start the fight with some good kickboxing, but he's already spoken to his dream of taking Fitch down in the first and submitting him. The development of his boxing and striking overall has demanded that his striking be respected by his opponents, and that allowed him to focus more training on his roots by improving his submission game…if that's possible. Fitch too is on a solid comeback trail, having ended 2011 with a nasty knockout loss to Ricky Henderson while fighting on a bum knee. For either man, a win here is vital and moves them just 1 or 2 fights closer to current champ GSP and welterweight glory.

The Pick: Look for this fight to start against the cage and then go to ground more than once. When it's all over, Fitch will grind out a 3-round, ugly win punctuated with some nasty elbows.

The X Factor: At any moment, Maia's limbs can trap any opponent with snake-like proficiency and the submission or ensuing injury is a given.

And to round out the evening's prognostications:


Evan Dunham (13-3) wins over Gleison Tibau (35-8)
Tyron Woodley " The Chosen One" (10-1) beats Jay "The Thoroughbred" Hieron (23-6)
Thanks for reading and supporting.
Have a powerful day!