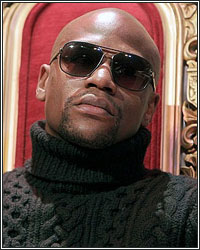 It's Monday. Welcome back for another edition of Observe and Fight, The Boxing Observer's compilation of observations and random thoughts from the week that was in boxing. Get caught up on some of the most recent events you may have missed out on, including the passing of young boxing star Omar Henry, Golden Boy Promotions $3 million offer to Top Rank, Yuriorkis Gamboa linked to PEDs, Timothy Bradley's next fight, a former world champion calling it quits, and much more. Without further ado, check out the latest observations from The Boxing Observer, David Kassel.



Each week, I usually feature an email from a fan toward the end of Observe and Fight. This week, I have decided to kick things off by saying a few words about a young man whom I got to know very well over the last few years, and a man I came to know as a friend as time went on. I first met Omar Henry in June of 2011 after he successfully knocked out Chris Tyler in the 1st round in St. Charles, Missouri. It wasn't backstage in the press area I met Henry. It was in line at the concession stand. I was standing in what I thought was a line, and Henry was standing in the line next to me. When we were both at the counter ready to order, the lady working behind the concession stand looked at me and told me she was now closed. Henry, who saw what was going on, looked at me and asked what I was going to order. I told him I was going to get a beer and hot dog. He said, "Don't worry about it. I got you." At that moment, I knew Omar Henry was not your everyday individual. Having already watched him fight earlier that evening, I knew who he was, and I generously declined his offer. He looked at me and said, "Too late. I already ordered it," as he looked at the concession stand worker and said, "He wants a beer and hot dog." (Eventually, Henry took my money because I refused to let him pay for me.) We chatted about his fight for a few minutes, and we exchanged contact information. A couple months later, on September 6, 2011, I conducted my first interview with Henry on FightHype. During that conversation, Henry and I spoke for quite awhile, finding out that we had a lot in common, mostly that he spent some time visiting Miami, Florida (my hometown), and even more odd was that we shared the same birthday, February 8th. Every so often after that, Henry and I would exchange the occasional text message or phone call to see how each other was doing. Low and behold, on February 8th, 2012, one of the first people to send birthday wishes was Henry since we shared the same birthday. Over the course of the several months, we conducted a few interviews, but we spoke and texted more often than not just to check in. Henry was elated when he received the news that he would headline a Showtime televised card in November. When that fight didn't happen because of an illness, I wished him well and told him it was just a bump in the road. Turns out, I was wrong. On December 12, Henry called me to chat. That's when I realized how serious the situation was. He had kept a pretty tight lid on what was going on, but was sharing Facebook status messages indicating that all was not right with his situation. He was going into surgery the next day and muttered the words, "I could literally be dead tomorrow." I had never heard Henry sound so scared, understandably so. I called him two days later and didn't get a strong report. He wanted to keep the diagnosis out of the press because he wanted to stay positive. The doctors told him, three months to two years tops. He told me, "I'll be back. I'm going to beat this." Omar Henry lived life full of positivity and certainly lived to the fullest. The outpouring of emails I received from fans after my interview with Henry asking me to update them on his status was overwhelming. I declined to give any information out of respect to Omar. He told me we would do another interview when he was ready because he wanted to stay positive. The day after Christmas, I called Henry to wish him a belated Merry Christmas and to check in. It was difficult to understand him speaking because he sounded weak. He had already begun chemotherapy, but in traditional Omar Henry fashion, he stayed positive. He told me he would be ready to conduct an interview in a couple of days when he felt stronger. That was the last time I spoke with Omar Henry. On Friday morning, I received a text message from my editor informing me of his passing. I literally stopped what I was doing and checked Facebook and Twitter to see if it was true. Unfortunately, it was. As I look back on the numerous conversations I had with Henry, I remember speaking to him and asking, "Where are you at today?" His answers varied, from places such as Houston, L.A., Miami, Puerto Rico, Chicago, Oakland, and Vegas. The 25-year-old, just shy of his 26th birthday, certainly lived a life most 80-year-olds never dream of. He traveled all over the world, rubbed elbows with celebrities, and even met the President of the United States. How many people can honestly say they've done all that in a lifetime? Omar Henry did it in just 25 years, 359 days of life. When I wake up Friday morning, February 8th, and realize my 29th birthday has arrived, I will be joyous, but my heart will be saddened a bit. I know my thoughts will stray toward Omar's passing, however, I refuse to let negativity enter into my mind. Omar Henry lived his life to the fullest, and I aim to do the same thing. I will kiss my wife, tell her I love her, and I will still do what I had planned on doing Friday morning. I am still going to send a "Happy Birthday" text message to Omar Henry's cell phone because I want to remember him for the good times. That's how I believe Henry will want to be remembered, positively. Rest in Peace, my friend, Omar Henry. Your presence and personality will most certainly be missed, but will never be forgotten.


Floyd Mayweather remained coy about his opponent on May 4th. Unless you've been living under a rock, you know that the favorite to land the Cinco de Mayo Mayweather fight is Robert Guerrero. On Saturday night, Mayweather stated he, "doesn't know that much about Robert Guerrero, but obviously he's done some things..." to be mentioned as a possible opponent. Duh! It's no secret that the Nevada State Athletic Commission always likes to be the first to know who anyone is fighting, and their next meeting is scheduled for the end of February. Don't be surprised if the Guerrero announcement comes at that meeting on the 28th. Then, we can expect a worldwide media tour.


I love the fact that Golden Boy Promotions publicly displayed the contract offer of $3 million for the services of Nonito Donaire. While it goes against the norm, Richard Schaefer must be fed up with the antics of Bob Arum and Top Rank Promotions, who refuse to work with Golden Boy. The world wants to see Donaire vs. Abner Mares, but the two promotional companies cannot work out any sort of agreement to work together. Call it greed. Call it ego. Lay blame wherever you see fit, but one thing is for certain...no matter which side you believe, it's very clear that Golden Boy Promotions is trying find a solution to make the best fights possible for the fans. The ball is now in Top Rank's court. Your move, Bob Arum.


Abner Mares claims he is moving up to 126 pounds. The former bantamweight and current junior featherweight titlist has stated he is moving up to featherweight because he couldn't secure the Nonito Donaire fight. While I love Mares' ambition, the more I think about it, the less I like the move. Not that I don't believe Mares can compete at 126. I think he'll do just fine at that weight. It's the fact that Mares might be lacking strong opponents. Mikey Garcia and Orlando Salido are both promoted by Top Rank. Billy Dib is promoted by 50 Cent, who has a working relationship with Top Rank and who has not played nice with Golden Boy Promotions. Chris John refuses to leave Asia to fight (and I can't blame him because he makes more fighting over there than he would fighting in the United States). Titlist Daniel Ponce de Leon is a possibility should he get past Jayson Velez on March 2nd. So too is Johnny Gonzalez. Javier Fortuna is probably out. As you can see, the list of names at 126 is not large. I doubt Golden Boy would risk losing a star in the making by putting Mares in the ring with Gary Russell Jr. anytime soon. Both fighters have huge future earning potential and the loser of the fight could wind up costing Golden Boy millions. The undefeated Ronny Rios is another possibility, but he is still a young, undefeated fighter whom Golden Boy is trying to build up. Hopefully, Mares can land a big name and earn himself a title opportunity at featherweight. I'm just not so sure this is the right move.


Another boxer linked to performance-enhancing drugs. Yuriorkis Gamboa's name was linked to the Alex Rodriguez PED scandal coming out of a medical center in Miami, Florida. Gamboa, who frequently trains in Miami, continues to let out of the ring problems, whether they be promotional disputes or otherwise, get in the way of his ring development. If this guy could actually stay busy, his potential is limitless. The 31-year-old continues to be his biggest enemy and sets back his own career in what should be his prime. Gamboa is headed for a major payday and major disappointment. I believe, because he will not be mentally ready, when Gamboa steps up in a big fight, he will be knocked out. It's a shame because he has all the physical tools. As they say though, boxing is 90% mental, 10% physical. Gamboa has yet to understand that.


Speaking of a fighter throwing away the prime of his career, hello Timothy Bradley. The "Desert Storm" passed up a $2.3 million payday in December because he did not want a rematch with a man he had previously dominated in Lamont Peterson. Rumors are Bradley will now take a much smaller payday against a lesser known opponent in Ruslan Provodnikov in March. Should the fight go off as planned, it will mark just the 3rd time in 26 months that Bradley has been in the ring. Following his January 2011 win over Devon Alexander, everyone expected to see Bradley in big fights. Since then, he has been in one big fight, his controversial split decision victory over Manny Pacquiao in June. While Bradley earned a career high payday, these spurts of inactivity will eventually catch up with him. While I don't believe Provodnikov will be the man to defeat Bradley, this fight will do nothing for the development of the welterweight champion. Bradley is headed down a bad path. If Juan Manuel Marquez doesn't fight Manny Pacquiao for a 5th time, which Marquez has publicly stated he sees no reason for another fight, we may see Bradley face Marquez in the fall. To be honest, I don't like Bradley's chances right now against Marquez.


Gennady Golovkin is one fighter who wants to stay busy. Golovkin will be back in the ring on March 30th against former world champion Nobuhiro Ishida in hopes of landing a big fight in the summer. Who that big fight will be in the summer remains to be seen, but no matter what, any GGG fight is one worth watching!


Does anyone believe that either Klitschko vs. Alexander Povetkin will actually happen? Yeah, me neither.


I know it's my job to remain neutral, but Anthony Mundine just chaps my ass. In the Australian mega-fight last Wednesday, middleweight titlist Daniel Geale easily outworked, in my opinion, Mundine by landing the harder shots and was the clear victor. In typical Mundine fashion, he screamed robbery and continued to make himself look like a fool. Another sign of true class by a guy who stated he has the tools to beat Floyd Mayweather. The only tools Mundine has to beat Floyd Mayweather are a hammer and shovel because his fists just won't cut it. Do us all a favor, Anthony Mundine, and go away. Please and thank you! Also, I would like to thank Daniel Geale for proving that Mundine is nothing more than a never-was.


Rumor has it that Leo Santa Cruz could face Anselmo Moreno next. UMMMM.......YES PLEASE!


I don't think Demarcus "Chop Chop" Corley will be invited back to Danny Garcia's camp anytime soon. Corley, who was a chief sparring partner for Garcia in preparation for Garcia's fight with Zab Judah, took to Facebook and Twitter to claim he didn't believe that Garcia's rib injury was legitimate. Corley claimed it was Garcia's thumb that was bothering him. Just like Vegas, it's an unwritten rule in boxing that "what happens in training camp stays in training camp." Corley violated that rite of passage and will probably not be asked back by Angel Garcia. "Chop Chop" is begging for a world title shot, but I don't think he'll get one. While he has proven that he is still a dangerous fighter, he doesn't bring anything to the table for any world champion except a high-risk, low-reward scenario. That's not a strong combination for a fighter looking for a big fight.


Frankie Gomez is the truth. Physically, he resembles former world champion Juan Diaz. Gomez has the ability to achieve even greater than Diaz achieved. In the toughest test of his career Saturday night, in front of pound-for-pound kingpin, Floyd Mayweather, Gomez thoroughly handled the game Lanard Lane over 10 rounds. While Gomez still has a ways to go, he is only going to get better, and having gone 10 rounds in just his 15th professional fight indicates that Gomez, should he continue winning, will be a world title shot in his next 4 or 5 fights. It's no wonder why Golden Boy Promotions did not give up on the 20-year-old who has had his struggles outside the ring. If he can keep his life together, we could be watching something very special in Frankie Gomez.


Jose Luis Castillo needs to retire. Castillo looked well beyond his years during ESPN's Friday Night Fights this past Friday. I don't mean past his prime either. Castillo looks much older than 39 years old, and he has been in so many wars that it's hard to imagine the long-term health effects he will suffer. If he's fighting because he needs the money, let it be a lesson to young fighters everywhere to invest your money wisely because you don't want to end up having to fight for peanuts just to make ends meet. If Castillo believes he has one last run in him, I hope someone close to him sits him down and forces him to watch his performance from Friday night. I don't think it will ever get much better than it was. Castillo has given so much to the sport. He gave Floyd Mayweather everything he could handle, and he followed that up with the greatest fight I have ever seen, and probably will ever see, in his 2005 epic with Diego Corrales. Enough is enough. Ride off into the sunset and don't take any more punishment along the way. I'm sure Castillo can remain in the sport and would make an excellent trainer. He has probably forgotten more than most of us will ever know about boxing. Castillo needs to try making a mark in boxing that way from now on rather than allowing other fighters to continue marking and destroying his face and legacy.


One fighter who is stepping away from the sport is former undisputed welterweight champion Cory Spinks. After Spinks's loss Friday night to Carlos Molina, his wife, Christy, issued the following statement to FightHype, "Friday, Feb 1,2013 was Spinks' last fight. NO MORE. As a wife, I knew some fights ago that my husband wasn't himself. Anytime you let K9 Bundrage beat you twice something is DEFINITELY wrong because K9 Bundrage has absolutely NO talent... My husband has given all that he could to his boxing career. As a wife, I will not allow him to Put himself through this again. I'm stepping up because we have a beautiful 4 year old daughter that adores him and while he still has his health to play with my baby, I have to keep it that way. The Spinks family has nothing to prove anymore. Everybody knows our name and our history. We will forever have boxing in our hearts. Cory will have to leave that to the younger guys and I'm so happy that he realizes this now. We thank everyone that gave us support and showed us love. God has a different plan and I know it's something good because he has never failed my family. I am happy that my husband is retiring because NOTHING is worth your speech, brain and body malfunctioning. Life does go on. Love all you guys and Take care." I commend Spinks' wife for stepping up to the plate and for Spinks accepting. Spinks' last few outings have been less than adequate and it was clear that he doesn't have the ability to keep up with boxing's elite. I'm glad to see the former champion stepping away from the sport while he still can. Spinks' legacy will be remembered for winning world titles and fighting some of the best boxing has to offer. He certainly succeeded by stepping out of the shadows of both Leon and Michael, by defeating the likes of Zab Judah, Ricardo Mayorga, and Roman Karmazin, and competing with the likes of Bundrage, Molina, and Jermain Taylor. Cory represented himself and family's name well throughout his career, and his contributions to the sport of boxing cannot be overlooked.

That's all I've got for this week. Email any questions or comments to
dkassel@fighthype.com
and I will answer them throughout the week. Your email may be featured in the next "Observe and Fight." Follow me on Twitter @BoxingObserver, and be sure to "Like" The Boxing Observer on Facebook.
[ Follow David Kassel on Twitter @BoxingObserver ]