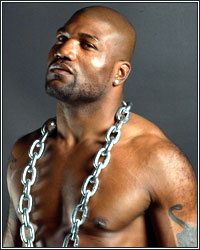 Given the surge in Rampage's celebrity, it only made sense to have him coach a season of The Ultimate Fighter. His rival coach would be Forrest Griffin, the season one TUF champion, a can-do guy, an indefatigable bruiser, who loved fighting. Griffin is one of my favorite fighters to watch; not only are his fights exciting, he has a true love of the sport that comes through when he competes, and you can't help but root for him.

Rampage and Griffin would face off at the conclusion of The Ultimate Fighter Season Seven. Their fight was at UFC 86, on July 5th, 2008.

Rampage hounded Griffin from the beginning, showing time and time again his power and ferocity. Griffin maintained the pace; in classic Griffin-style he ate lots of punches and refused to go down, increasing the intensity of the fight with every round, getting stronger-it seemed-with every punch Rampage landed.

In the end, Griffin would earn a decision victory over the champion. Rampage's stint as title-holder had ended, and his losing would send the light-heavyweight division into an ever-changing montage of single-shot champions-no one could hold onto the belt, as if it had been cursed. A cycle that would continue until John Jones staked his claim. A fighter Rampage would have dealings with in the future.

Blood into a Sink: the Downward Spiral

It was around the time of his coaching TUF-as fans at home were given glimpses into the human side of Rampage-that he began to take his acting career more seriously. He started to appear in television shows and films and documentaries… All of which were summarily ignored by me. The moment I saw his face on the trailer for The A-Team I knew: the End was nigh. I don't know why, but fighters nearing the twilight of their careers seem to have an affinity for acting. It didn't work for Ali, it didn't work for Couture (The Expendables was an hour or so I'll never get back), and it didn't work for Rampage.

The appearance of ex-champ on cheesy film credits didn't bode well for me. It felt as if the first steps that would lead inexorably down a path of defeat and frustration were being taken.

Also at this time, following his loss to Griffin, Rampage was involved in a hit and run incident, as well as a high-speed police pursuit.

I shook my head. Oh well, I thought. There were other fighters, other fights, to watch and follow.

The name of Rampage Jackson left my thoughts for a while. Until the night of December 27, 2008, when I was at a party, drunk and eating peanuts, and this buddy of mine came up to me and said:

"Dude there's a fight on tonight."

"Who?" I asked.

"Rampage and Silva!" he said. "It's on right now."

We ordered the bout just in time to watch Wanderlei Silva and Rampage come together. Silva's the only man to defeat Rampage twice in his career, and he was determined to preserve the legacy. Rampage had been dreaming of this moment since Pride. He was hell-bent on vengeance.

A vicious scuffle ensued and Rampage knocked out the aging, punchy Brazilian. It was like the last coffin nail being driven into the crypt of Silva's career. Rampage followed up with two or three punches to his downed opponent, just for good measure.

The Axe Murderer had been silenced. Finally, Rampage had his vindication. We drank and ate long into the night.

He then beat gnarled slugger Keith Jardine at UFC 96. Seemingly on an upswing, Rampage was again asked to coach a season of The Ultimate Fighter; this time against mouthy rival Rashad Evans, on what would be the tenth season of the show.

I didn't like Evans. I liked that he was a wrestler slowly making himself into a somewhat above average striker, and I enjoyed watching him kick Sean Salmon cold. But I've always found him to be a rather dull fighter, and full of himself, and far too vocal.

The Ultimate Fighter didn't improve my opinions.

I came to eagerly anticipate the fight between him and Rampage. I wanted Evans to be shut up, and I thought Rampage had the fists to do it. However, I'd be forced to wait. For a number of reasons, the fight was postponed and changed. Evans fought Lyoto Machida, and Rampage publicly decried the UFC, stating in his blog that he was "done fighting."

Meanwhile, the smack talk continued.

I'd be forced to wait until May 29, 2010, to see Rampage and Evans fight, at UFC 114. And I'd be disappointed in the results; Evans defeated Rampage via a unanimous decision. Rampage just didn't look like the same fighter, and he hadn't fought with the fire I'd expected. But that's the nature of the beast: Fights hardly ever go the way you want. It's what makes them so exciting. Evans would continue to confound my hopes of seeing him crumble in his next fights, against Tito Ortiz and Phil Davis. Not until he met champion John Jones, who'd made a habit of bloodying up past title-holders, would those hopes come to fruition.

Rampage wasn't down for the count. On November 20, 2010, he fought former-champion Lyoto Machida, surprising everyone when he managed to eke out a controversial spilt-decision victory. Then he won a unanimous decision against deaf wrestler Matt Hamill, at UFC 130. The momentum was in his corner; Dana White felt this and approved. And he gave Rampage what he'd been asking for:

A chance for his belt back.

Jones

At UFC 135, on September 24, 2011, Rampage faced off against John "Bones" Jones, for the light-heavyweight championship of the world. Jones is a young fighter. But his youth and his abilities are not proportional. He casts a large shadow, one that touches every facet of the division (as well as the divisions below him). He's one of those fighters you see once in a lifetime-a pinnacle of drive, athleticism, and raw talent. He'd been forging a name for himself, beating up up-and-comers, savaging Shogun Rua, choking Lyoto Machida unconscious. He was the toughest fighter of Rampage's career. Rampage was prepared for war.

The opening rounds showcased Jones's frustrating reach and outlandish striking. Rampage's attempts to engage the champion were continually foiled by spinning elbows and short, painful kicks to the shin and knee.

Still, Rampage fought on. And in the championship rounds he succumbed. It wasn't Jones's reach or style that did it; it was his versatility as a mixed martial artist. He choked Rampage out in the fourth round via rear-naked-choke, forcing him to tap, moments eerily reminiscent of his fight with Sakuraba those many years ago.

It was the first time throughout his tenure with the UFC that he'd been finished.

Rampage picked himself up and dusted himself off and moved on. His next opponent was Ryan Bader, also a victim of Jones's, on February 26, 2012, at UFC 144. Rampage didn't make weight-another sign of the coming Doom-and he lost a unanimous decision to Bader. This marked the first back-to-back losses of his illustrious career. Just under a year would pass before his next fight-this time against Glover Teixeira, at UFC on Fox 6.

In a Bar on Main Street…

I sit, watching the fights. What was once one of my favorite fighters to watch-Rampage Jackson-is battling it out with Glover Teixeira of Brazil. The fight isn't going well. Rampage seems tired, not the banger of his past, outclassed by this newer generation of mixed martial artists, storming the sport. He looks decent, but a semblance of what he was, and as the final bell rings, I know the results won't be good.

Your winner by unanimous decision: Glover Teixeira.

I stare into my beer glass, thinking. The beer is all gone, and I gaze at the collection of suds at the bottom. Three losses in a row. Rampage's career with the UFC seems at an end. Perhaps he has a fight left in him. Perhaps he'll even take it.

It's sad to watch the wave-like progression all great fighters undergo-the rising and falling, the peak and the crash. Because fighting is addictive, and more so for the greats than for the others (it's what makes them great in the first place), fighters just can't let go. They cling to the sport like sailors to the railing of a sinking ship, even as the boat plummets to the depths.

Rampage is one of the greats. In a career that has spanned over a decade, he's fought and beat a who's who list of fighters. He was the champion of the world-and in a sport that the bottom of which is so far down, a rise to the top is incredible. He was the Sherdog "Fighter of the Year" in 2007, and he's been awarded "Fight of the Night" accolades three times, and "Knockout of the Night" twice.

But those days have come to an end. Like a shooting star, Rampage blazed his way across the sphere of mixed martial arts. And, like a shooting star, he's begun to fade.

On the television above the bar, Rampage Jackson is exiting the cage. I watch him, swirl the slow-dissolving suds in my glass a bit, then pay my bill and leave.