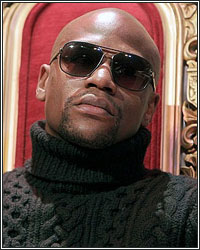 It's Monday. Welcome back for another edition of Observe and Fight, The Boxing Observer's compilation of observations and random thoughts from the week that was in boxing. Get caught up on some of the most recent events you may have missed out on, including the the soap opera that is Floyd Mayweather, more Golden Boy vs. Top Rank nonsense, thoughts on Timothy Bradley vs. Ruslan Provodnikov, the return of Adrien Broner, and much more. Without further ado, check out the latest observations from The Boxing Observer, David Kassel.



Floyd Mayweather WILL be fighting Robert Guerrero on May 4th. Don't let the soap opera fool you. Mayweather's tweet about fighting Devon Alexander was a very good ploy in hopes of getting the world to believe he is ducking Guerrero. While Alexander is certainly more worthy of a shot against Mayweather based on his resume, the fact is that Devon Alexander's name came from absolutely nowhere. That may have been the most random tweet of the year. Guerrero, who has been "rumored' to want $4 million for the Mayweather fight, has been awfully quiet since his win over Andre Berto in November. Both Guerrero and his publicist, Mario Serrano, had not been shy about being outspoken that they have the formula to beat Mayweather. Serrano even had a brief period where he would send out a press release every time Guerrero's name was mentioned in the same solar system as Mayweather. Guerrero is the guy being worked on. No question about it. He is part Mexican, and Mayweather fighting someone with Mexican heritage only adds to the storyline on Cinco de Mayo. Also, since Guerrero beat Berto, we have not heard a peep from "The Ghost." That usually means the fighter has been told to keep his mouth shut while details are being worked out. The Nevada State Athletic Commission meets at the end of the month. I expect an announcement to come right around that time that Mayweather vs. Guerrero is official. Then, Guerrero has his ammunition for 24/7 to say Mayweather was scared of him. Don't get me wrong, I think Mayweather vs. Alexander is a much better fight. Alexander is slicker and would cause a few more problems than the straight-forward style of Guerrero. However, with Alexander already under contract to fight Kell Brook, there could be some major legal implications, or some serious money to change hands for Brook to step aside, and it is probably not worth the amount of money Guerrero is asking for. When the dust settles, we will see Mayweather vs. Guerrero on May 4th, and the fight will resemble what was Mayweather vs. Victor Ortiz in 2011, a completely dominant performance by Floyd Mayweather.


Saul Alvarez is officially on the Floyd Mayweather co-feature, but against who? A few weeks ago, I put my money on Miguel Cotto. I can now officially say I was wrong. Cotto is not going to be the opponent according to a statement he issued. The best fight all along for Canelo is Austin Trout, who knocked off Cotto in December, but that is also by far the most dangerous fight for Canelo. Not only is Trout the most dangerous opponent, but he has a true chance to beat Alvarez. Canelo wants the fight. Trout wants the fight. The world wants the fight. Seemingly everyone wants that fight to be made except Golden Boy Promotions. GBP knows that if Trout beats Canelo (which, again, is a serious possibility), the possibility of a Mayweather vs. Canelo showdown on Mexican Independence Day weekend in September goes out the window. Reports are that Trout is the front-runner for the Alvarez fight, but you better believe that Golden Boy is exploring all possible options not named Austin Trout. There is too much money involved to risk that type of challenge, but if Canelo beats Trout, it only solidifies the fact that Canelo is ready for Mayweather. In the case of Canelo vs. Trout, the risk and reward are equal. Let's see if Golden Boy takes the path of the boxing fan. I certainly hope so.


Will the Golden Boy vs. Top Rank feud ever end? Last week, BoxingScene.com obtained a copy of the contract Golden Boy sent to the Top Rank offices for the services of Nonito Donaire for a match-up with Abner Mares. This week, we get word that Top Rank claims they never got the contract, nor has anyone from Golden Boy reached out to them. Come on, man! How stupid do you think the fans are? All you have to do is go to the article and print out the contract if that's truly the case. Now, both sides say it is impossible to work with the other. Can we all agree that this is what's wrong with boxing? Until Bob Arum leaves boxing, we will all still have this problem. The BOBFather is still going strong at 80 years old, and is not showing signs of slowing down. I would doubt that Golden Boy and Top Rank work together anytime in 2013, and most likely, even 2014. I don't see a solution to the problem anytime soon. Unless the federal government wants to step in...nevermind, they have enough to worry about.


Watching the Carl Frampton vs. Kiko Martinez fight in the U.K. on Saturday makes me wonder why American fighters are not built up anymore. The Frampton fight drew a huge, what looked like a sellout crowd. Frampton has only 16 fights under his belt. Why is it that fighters and fight fans in Europe seem to support their own fighters early on, while young, up-and-coming American fighters can't draw peanuts? Timothy Bradley still can't draw 3,000 fans in his own hometown, and he "beat" Manny Pacquiao. There are only a handful of fighters in America who have the support of their hometown fans and have a significant following. Maybe promoters and fighters should take a page from European promoters to understand how a fighter is truly built up.


Timothy Bradley will walk over Ruslan Provodnikov in March. Bradley may soon regret passing on the $2.3 million offer for a rematch with Lamont Peterson. Now, he must settle for Provodnikov in hopes of landing a big welterweight fight in the summer or early fall. We all know that Top Rank wants to makes Pacquiao vs. Marquez V, but Bradley will be the backup plan for either man if the fight cannot be made. Will that put Bradley in another meaningless fight say against, Jessie Vargas? Probably. Bradley's best hope at this point to advance his career is to roll through Provodnikov and hope that Marquez decides not to take the Pacquiao fight again. That would all but guarantee Bradley a date with Marquez in a fight that is pay-per-view worthy. Timothy has an idea for the way he wants his career to go, but when he signed with Top Rank, he gave up those rights because Bob Arum's plan is the one that always goes.


Supposedly, Nonito Donaire vs. Guillermo Rigondeaux is a done deal. Yeah right. Let's just wait until April 13th when they are both in the ring across from one another. If I was Vic Darchinyan, I would keep my phone on the loudest ringtone possible for the next few days.


"The Problem" will have zero problems Saturday night with Gavin Rees. Rees won't last 6 rounds with Adrien Broner. Broner will toy with him for a bit, and he will end the fight in spectacular fashion. This fight will show the lack of talent in the lightweight division.


Will Sakio Bika's fight for Andre Ward's interim title be moved into the televised co-feature slot on HBO? Since Johnathon Banks broke his thumb postponing the rematch with Seth Mitchell in what was supposed to be the co-feature, HBO may think about filling the slot with Bika, a man who gave Ward a tough fight. I doubt it will happen as HBO will probably focus all of its energy on who they believe is Mayweather's heir apparent, but this card speaks to the lack of depth fans receive in undercard bouts. I hope we get another fight on HBO because I want more boxing.


ESPN Friday Night Fights main event should be a good one. Delvin Rodriguez is looking to make one last push at a world title shot against an untested, yet undefeated George Tahdooahnippah. We know what Rodriguez brings to the table, and it's now time for Tahdooahnippah to show the fight fans his worth.


How disappointing is the month of February in boxing? I'm not saying it's as bad as August of 2012 was, but with all the cancellations of main events, it's certainly close. At least we still have HBO and Showtime fight cards in consecutive weekends, along with Lamont Peterson vs. Kendall Holt on ESPN, but it's still disappointing to not see Garcia vs. Judah, Banks vs. Mitchell II, and Alexander vs. Brook. Tough month in boxing.


Each week, I feature an email from a fan on Observe and Fight. This week's email comes to us from L.T., and it's a simple, yet easy to understand email...


"David, you want to take a friendly bet with me? I say Mayweather-Pacquiao WILL happen in September 2013!"


Deal accepted! It will not happen in 2013. Pacquiao is still under contract with Top Rank. Plain and simple. I wish this was more than a friendly bet.

That's all I've got for this week. Email any questions or comments to
dkassel@fighthype.com
and I will answer them throughout the week. Your email may be featured in the next "Observe and Fight." Follow me on Twitter @BoxingObserver, and be sure to "Like" The Boxing Observer on Facebook.
[ Follow David Kassel on Twitter @BoxingObserver ]