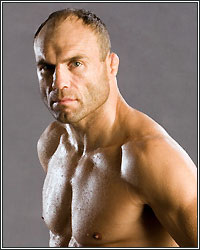 On February 5th, Randy Couture officially announced a deal with Viacom and Spike TV to be involved with a Bellator-based reality show that would have him mentoring up-and-coming fighters. As a result, Dana White spoke with Ryan Couture regarding his future with the UFC, letting the young fighter know that he is still welcome, but stated in no uncertain terms that "Randy, is not cornering him. Randy Couture can't buy a ticket to this mother****ing event." This poses the interesting question as to whether or not Dana could legally prevent Couture from being a part of his son's corner?

The short answer is no, Dana cannot legally prevent Randy from buying a ticket or from cornering his son. First, it would be extremely difficult and distracting to supervise an event to keep one unwelcome person from entering (and it would open a floodgate of potential litigation if he was actually thrown out), and second, it would be a decision to be made by the athletic commissions whether or not the elder Couture was qualified to work his son's corner. However, Dana could make things extremely difficult for Ryan in the form of card placement, sponsorship approvals, media conflicts and fight scheduling that could make it very arduous for Randy to take part in Ryan's fights.

Although I am not privy to what happens behind closed doors, it is disappointing to see Randy Couture leave the UFC for personal financial gain. Even though the UFC sometimes rules MMA with an iron fist, there seems to be a lack of respect for the company that made Randy Couture the public figure he is today. Yes, he was instrumental in launching TUF, and yes, he was a great role model for what fighters could achieve in the sport, but to jump to the main competitor of the company that gave you a career and employed you for over a decade is a heel maneuver straight out of a WWE script. If Randy Couture was going to take a stand against the UFC, it would have been nice for him to fight for something not only for individual gain like his own reality show or his own fragrance, but something important to the sport, like a fighter's union, higher payouts for undercard fighters, or retirement benefits.

Like everyone else, I am curious to see how this plays out and I think the next chapter is going to unfold shortly when we see how Dana reacts to Greg Jackson's involvement with Randy Couture's Bellator-based reality show.

Gregory Bloom, Esq. is a sports and entertainment attorney with ChaseLawyers in Miami, FL (www.chaselawyers.com). He has represented numerous high-level athletes in both boxing and Mixed Martial Arts, and has handled complex, high­]profile contract negotiations, sponsorship and endorsement deals, and brand recognition opportunities for his clients.