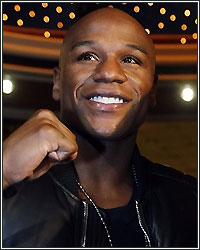 "Showtime and CBS, I've got to take my hat off to them. They did a tremendous job and I am happy to be a part of this family. It's not just Showtime. It's CBS too. I have to give everyone their just due and credit. They are partners, came together and gave me a great deal and one I couldn't refuse. I couldn't ask for a better deal," stated undefeated pound-for-pound champion Floyd Mayweather, who recently spoke about his blockbuster multi-fight deal with Showtime/CBS. Mayweather was in attendance at today's final press conference for Saturday's Showtime event, which his company, Mayweather Promotions, will co-promote with Golden Boy Promotions. Though the focus was on his fighters participating on the card, Mayweather did take time to address the news about his deal, as well as his May 4th title defense against Robert Guerrero.

"I am comfortable in this new relationship and my team is happy too. It's like a new marriage and I feel good about it. I will be ready to go May 4, Cinco de Mayo. It's going to MayDay and May-Per-View," Mayweather proclaimed. "Robert Guerrero is a champion. For this guy to be mentioned with some of the top fighters in today's time, he must have done something right or correct in his career. This is a guy who I know I can't overlook; I have to push myself to the limit. I have to dedicate myself and I have to do what it takes to stay at the top."

Never one to overlook an opponent, Mayweather is fully aware of what Guerrero will be bringing to the table when they step into the ring. "Guerrero is a very aggressive fighter. I am starting to train. As a matter of fact, this week I was out on the basketball court with some young kids working on my cardio. I have to build my cardio up to fight Guerrero. I will not overlook him. I don't overlook anyone. I know that everyone who fights me is gunning for me, so I have to be ready for what they are ready to give me," he continued. "I am absolutely excited about fighting more. It's about staying active and that means a lot more of me. Before my career ends, that's what I am going to give the fans; a whole lot more of me. It's Showtime, baby!
[ Follow Ben Thompson on Twitter @fighthype ]