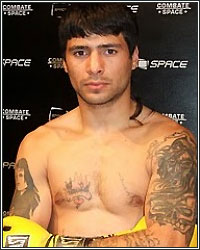 The World Boxing Council is bold on mandating a well anticipated world title tilt between Philadelphia born WBC/WBA world champion Danny Garcia (25-0-0, 16 KO's) and Argentinian banger Lucas Martin Matthysse (33-2-0, 31 KO's). The winner of the April 27th bout between Garcia and Zab Judah will be obligated to face the dangerous Matthysse directly after their fight. Judah previously edged a split decision to Matthysse in a highly controversial 2010 battle, and while Garcia has mentioned the idea of facing Matthysse on multiple accounts, serious negotiations have yet to arise amongst him and Matthysse. But fans, rest assured, as Garcia and Matthysse share top American promoter Golden Boy Promotions, so they can hopefully shorten the stiff task of booking the collision.

The idea of a bout between Garcia and Matthysse has been contemplated by diehard fans for the last couple of years. Garcia stunned Amir Khan and Erik Morales with knockout defeats last year to unify the WBC and WBA titles, while Matthysse went 3-0 with 3 KO's against top contenders Humberto Soto, Mike Dallas Jr., and Olusegun Ajose, showing his power and versatility in the process. A fight between two prime, world-class stars like this can often seem mind-boggling in modern day boxing, so Golden Boy Promotions pulling this off is highly applaudable.

Garcia, 24, emulates his nickname "Swift". He started off his career a bit timid with careful shot placing, rarely pulling the trigger in his assaults. Recently, he has shown dramatic improvement as his simply brutal, quick check left hook, glided in by prior boxing skills, smashed top competitors to the canvas with relative ease in 2012. Will he have that same success against Matthysse? He had better hope so.

Matthysse, 30, Is a widely recognized "Peoples Champ". Some even go as far as saying he is the Argentinian successor of lineal Middleweight champion Sergio Martinez. He is in his very prime right now and must take advantage in booking these high stakes fights with men like Garcia. A man with such stamina, fast movement, and power in both hands is about as dangerous as you can get, but can he upset a confident Garcia is still to be determined.

A rumored bout between Lucas Matthysse and newly signed Golden Boy boxer IBF beltholder Lamont Peterson may shatter these plans, of course, but if that fight does occur, it will still provide the highly ranked Matthysse his claim for a clash with Garcia in a win, or even potentially a loss. That is all speculation as of now until told otherwise, so leave it on the rumor mill until it is officially announced.

In retrospect, 2012 was a booming year in the Light Welterweight fight scene. With Lucas Matthysse, Danny Garcia, Lamont Peterson, Amir Khan and a heavy amount of the division's elite linked to a single promoter in Golden Boy Promotions, we can expect nothing less in 2013. We hope to confirm some interesting bouts soon.

Check out Corey Quincy's Facebook page at www.Facebook.com/BoxingLegends.