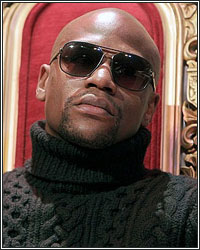 The bad blood is already starting to boil between undefeated pound-for-pound king Floyd Mayweather and the next challenger to his throne, multi-division champion Robert Guerrero. Over the weekend, the two fighters had their first face to face encounter while shooting promos for the Showtime Pay-Per-View event. In a video released by Showtime Sports (seen below), Mayweather and Guerrero are seen having a verbal confrontation as the shoot was taking place.

What you don't see in the video, however, is what happened when both fighters first arrived. Evidently, Guerrero was under the impression that it would be a friendly encounter at the shoot, but according to a source, Mayweather stepped to him immediately and "he let it be known that Guerrero's mouth is writing checks that his ass can't cash." According to that same source, Adrien Broner was also on hand and made some deragotory comments directed towards Guerrero. Instead of engaging in any further verbal confrontation with Mayweather, Guerrero surprisingly chose to focus his attention and energy on the undefeated lightweight champion prior to the cameras rolling.

It's clear that Mayweather is taking Guerrero just as seriously as he's taken every opponent throughout his career. As we get closer to May 4, it will be interesting to see if the bad blood boils over before the fight, as the fathers of both fighters, Floyd Mayweather Sr. and Ruben Guerrero, are sure to stoke the fire with their own war of words.


[ Follow Ben Thompson on Twitter @fighthype ]