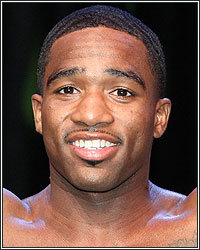 Sources close to the information have informed us that there's an extremely strong possibility that undefeated lightweight champion Adrien Broner will indeed be making his welterweight debut this summer. When Richard Schaefer first suggested that Broner could potentially face WBA welterweight champion Paulie Malignaggi, some thought that the Golden Boy Promotions CEO was simply blowing hot air. Evidently, there's much more substance to his comments than what was originally thought, as it looks like Broner will indeed be jumping up two weight classes to challenge the two-division world champion on June 22 at the Barclays Center.

"That fight is going to happen," one source stated simply, but adamantly. Yet another source informed us that HBO is eager to place Broner on the fast track to becoming a pay-per-view star. "When Floyd left, HBO decided to speed things up for Adrien. I'm telling you, they fighting, and with all the trash talk those two will do, Adrien's going to come out of that fight an even bigger star," they commented. Whether or not a fight with Malignaggi will indeed make Broner a bigger star remains to be seen, however, it is a very intriguing matchup between two guys who are not shy about being on camera and voicing their opinions.

Now that Floyd Mayweather has signed a multi-fight deal with Showtime, HBO is definitely looking to create his replacement a lot sooner than originally planned. If they play their cards right, a Broner vs. Malignaggi clash could be extremely entertaining must-see TV, provided they give both fighters a platform like 24/7 to talk trash and hype the fight. The question is whether or not they would actually consider making Broner vs. Malignaggi a pay-per-view. Before you scoff at the idea, keep in mind that Floyd Mayweather's first pay-per-view fight was with Arturo Gatti, and it did 365,000 buys. Could a Broner vs. Malignaggi fight do anywhere near those numbers if it was on pay-per-view? Maybe, maybe not, but like they did with Mayweather, they have to start somewhere.
[ Follow Ben Thompson on Twitter @fighthype ]