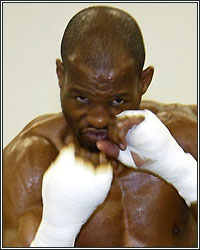 Boxing is a young man's game? Tell that to Bernard Hopkins!

"The Executioner" Hopkins is 48. He already snapped George Foreman's record for oldest world champion of a legitimate sanctioning body, already reigned a near half decade as the Middleweight champion of the world, and already timbered some of the elite fighters of this era in Felix Trinidad, Oscar De La Hoya, Kelly Pavlik, Glen Johnson, "Winky" Wright and Jean Pascal. But he isn't done yet. At age 48, gradually treading into the second stanza of his life, he will look to break past his own record of 46 as oldest fighter to hold a world championship.

Walking into the squared circle a whopping 60 times as a professional, Hopkins is the ultimate boxing scholar. He has one of the most thorough ring IQ's of any modern combatant. From digging under a fighters skin at the press conference to mortifyingly confusing him with awkwardly angled punching and even slipping in some "veteran tactics" every now and then, Hopkins has seen and adapted to almost every style offered in the game today and has managed to surpass his own mishaps to become a living legend and future hall of famer.

The man has contemplated retirement on numerous occasions, but his remarkably consistent dedication to the Sweet Science completely disemboweled the thoughts. Even coming off losses to the seemingly faster, younger Jermain Taylor and Chad Dawson over the years, he compulsively makes a living off of ruining the hopes of young, exciting fighters like Pascal or Pavlik - and Cloud fits the job description just right.

Lightning doesn't strike twice? Oh Contraire....

Hopkins wasn't supposed to batter then-undefeated developing superstar Felix Trinidad to ignite his own career in 2000, but he did it. He wasn't supposed to outclass unified Middleweight champion Kelly Pavlik in 2008, when he himself was going 1-3 in his last four fights, but he did it. Nor was he supposed to embarrass hard-hitting Haitian-Canadian Jean Pascal twice in 2010 and 2011...and you know what happened.

But when does a charm wear off? Nearing age 50, his witty reflexes and rough and tumble boxing skills will inevitably fade away. And even if he knows the fight game inside and out, if he cannot physically pull it off, these skills are practically irrelevant, and when it's all said and done, his world-class career will fall into a dark abyss. One can hope he doesn't eventually turn down Evander Holyfield street, en route to Roy Jones Jr avenue.

Tavoris Cloud isn't a new face for "B-Hop". He has savage power that has left many of his opponents down and out. While his power isn't a field to critic, it is a known fact that Cloud lacks the stamina to outwork a top boxer. Gabriel Campillo lost a heavily shunned split decision to Cloud last year in which the IBF champion was left eating the quick jab-straight right combos Campillo was dishing at him. If Hopkins can keep proper range, work those combos, and last through the surges Cloud presents on him, We may see the old great pull it off once again.

Don't be shy and give Corey a question or comment at cquincy@fighthype.com. Follow him on Twitter at @Quincyboxingfan.