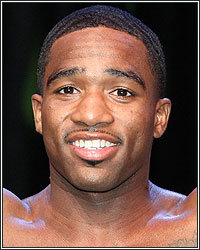 It's Monday. Welcome back for another edition of Observe and Fight, The Boxing Observer's compilation of observations and random thoughts from the week that was in boxing. Get caught up on some of the most recent events you may have missed out on, including the ageless wonder, Bernard Hopkins, a Paulie Malignaggi vs. Adrien Broner world title fight, a preview of the lowly-anticipated return of Timothy Bradley, and much more. Without further ado, check out the latest observations from The Boxing Observer, David Kassel.



How can anyone explain what Bernard Hopkins continues to do? Hopkins' undoubted victory over Tavoris Cloud should result in him going down as the most remarkable athlete in the history of sports. If anyone can think of a more remarkable athlete doing something more amazing, please email me with reasons why. I would love to engage in a spirited debate. I'm not saying Hopkins is more influential than Jackie Robinson, but someone doing what he is doing at his age should be recognized accordingly. Hopkins may not be the most well-liked athlete in sports, but nobody can discount what this man has accomplished. I don't even care that Hopkins acted like a complete jerk to Cloud, who is one of the most even-keel, likable guys in the sport, after the fight. I don't care that he verbally attacked Don King (who probably deserved it) after the fight. I'd like to remain focused on what Hopkins continues to do in the ring.


Anyone who thought the outcome of Hopkins vs. Cloud was potentially the end of Don King's promotional career needs to look back to when Devon Alexander left his stable. Cloud doesn't sell tickets, and Alexander was the man who put butts in the seats. Cloud did not sell tickets for Saturday night's world title fight. It was Bernard Hopkins. Don King can barely do business with any other promoter or any network anymore because he has burned so many bridges over the years. King may continue "promoting" until he kicks the bucket, but make no mistake about it, his days of being a big-time promoter are long gone. He has laid off most of his staff at Don King Productions and does not bring in any sort of serious money for prizefights anymore. That will not change because there are no up-and-coming fighters who aren't being snatched up by other promoters with strong reputations. Unfortunately for King, all it takes is one Google search to see all the disgraceful things he has done to fighters over the years.


I should have known that HBO would put a spin on the deal Floyd Mayweather signed with rival network Showtime. When I heard Jim Lampley begin to mention Mayweather's new deal with CBS/Showtime on Lampley's show, "The Fight Game," I was intrigued. However, when I heard what Lampley had to say afterwards, I came back down to reality. I do agree with Lampley in the sense that Mayweather probably won't fight 6 times in 30 months, but I highly doubt that Mayweather will go back to HBO anytime soon. I actually believe Mayweather will eventually fight on CBS network television.


Keith Thurman passed his showcase against Jan Zaveck with flying colors. Don't listen to the pundits who will say that Zaveck is washed up. Zaveck is still a top 15 welterweight and would have beaten Andre Berto had the fight not been stopped on cuts. "One-Time" Thurman is a future superstar, and though he didn't score the knockout against Zaveck, he is still a fan-friendly fighter who puts everything he has into each and every punch, and the experience he gained by going 12 rounds for the first time will be invaluable. I highly doubt that any of the welterweight champions will step into the ring with Thurman in his next fight, but one possibility for Thurman is to move back up to jr. middleweight, as he did against Carlos Quintana, to face newly crowned IBF champion Ishe Smith.


Paulie Malignaggi vs. Adrien Broner WILL be an entertaining fight. On Saturday night, Richard Schaefer confirmed this fight is a done deal for June 22nd at the Barclays Center in Brooklyn. Broner himself confirmed the fight is going to happen. This 24/7 (and there should be one because it is must-see TV) will be the most entertaining HBO has ever produced, assuming, of course, the fight is on HBO. The fight itself should be pretty entertaining as well. Paulie has become a bit more fan-friendly as he has stepped up in weight class, and he will certainly want to test Broner's chin moving up two weight classes. Broner, on the other hand, doesn't mind standing toe-to-toe and trading with anyone. Why not continue that trend with Paulie? I, for one, am LOVING this fight!


By the way, the post-fight verbal war between Malignaggi and Thurman was one of the best I have seen in awhile. If you haven't seen it yet, I highly suggest going to YouYube and doing a search for it.


Is anyone getting less recognition for a big win in boxing more than Timothy Bradley? For someone coming off a win last year against Manny Pacquiao (disputed or not), Bradley's fight this Saturday night is certainly not getting any serious hype. Some of that is Bradley's fault as he refused to sign a contract for a rematch with Lamont Peterson for a $2.3 million payday. Another reason this fight is not being hyped is that nobody believes his opponent, Ruslan Provodnikov, can actually move up in weight to upset Bradley. Either way, this fight is nothing more than a showcase for Bradley to try and build him up, possibly for a showdown with Juan Manuel Marquez should Marquez choose not to fight Manny Pacquiao for a 5th time. The only issue with a showcase fight is people have to be interested to care enough to watch. Unfortunately, nobody gives a crap about a Bradley vs. Provodnikov fight. HBO's ratings Saturday night will probably showcase just that.


Top Rank continues to put on terrible undercards. If you don't believe me, look at the co-feature to Bradley vs. Provodnikov. I'm about as interested to watch Jessie Vargas fight as I am to carry bags at the mall for my wife while she goes shopping. As a matter of fact, maybe that's what I'll do. Maybe if Bob Arum decided to move junior featherweight prospect Jesse Magdaleno to the televised co-feature, I might allow myself to sit in front of the flat screen for the co-feature. As soon as Vargas steps up (I'm not counting the fight with Josesito Lopez because I believe Lopez won that fight), boxing fans will see he is not a future world champion.


Argenis Mendez came in looking to settle a serious vendetta against Juan Carlos Salgado on Saturday night. That's exactly what Mendez did as he came into his IBF 130-pound world title rematch 100% focused. To be honest, Salgado had no chance from the first round after being dropped with a vicious right hand. From that moment until the devastating left hook in the fourth round ending the fight, Mendez was in complete control, and Salgado looked defeated the entire fight. Congratulations to Mendez on his first world title. As for Salgado, I wouldn't be surprised if he were to win another world title in the future considering the 130-pound division is so weak.


Hey, do you remember when Victor Cayo was an undefeated contender facing Marcos Maidana in an HBO Boxing After Dark main event? Boy, how times have changed. After remaining undefeated through his first 26 fights, Cayo is now 6-4 in his last 10 contests, having lost every time he stepped up in competition (before Friday night's loss to Emmanuel Taylor, Cayo had previosly lost to Maidana, Lamont Peterson, and Nate Campbell). We can now officially place Cayo on the list of one-time contenders who will now be used as a stepping stone for young prospects looking for a name on their resume.


Hugo Centeno Jr. still has something to prove, but he is being moved along quite well. Centeno Jr.'s performance wasn't his best Friday night against Keandre Leatherwood, but it was the type of fight that will serve Centeno Jr. well in the future. Leatherwood made the fight ugly and rough. Eventually, Centeno Jr. will have to deal with that type of fighter as he steps up in competition, and he will have to draw from that experience to pull out a victory. Through 18 professional fights, the 22-year-old Centeno Jr. now has wins over Leatherwood, Allen Conyers, and Ayi Bruce. His handlers are doing an excellent job with his career thus far.


Nice work by Canelo Alvarez and Golden Boy Promotions by starting tickets for the Austin Trout fight in the Alamo Dome at just $10. We all know the $10 seats will be damn near Mexico, but at least it gives fight fans, who don't have serious cash to shell out, a chance to experience the thrill of attending a true prizefight.


The "Baby Bull" returns April 13th! Former lightweight champion, Juan Diaz, makes his return to the ring in his home state of Texas in a showcase fight for Diaz to see if he still has what it takes. Diaz was never the most technically skilled boxer, but he is one hell of a fighter. If Diaz can still make the lightweight limit of 135 lbs., seeing how weak that division is (Adrien Broner will be moving up soon), Diaz could have a legitimate chance of winning another world title. Only time will tell. First, we have to see if Diaz still has the desire to train like a world champion.


I have no idea who Francesco Pianeta is, but good luck to him against Wladimir Klitschko on May 4th. It's amazing that the Klitschko brothers continue to find undefeated heavyweight opponents to face. Nobody can knock the heavyweight champion brothers for trying to find legitimate opponents, but they are going to run out of guys pretty soon. Pianeta is a 6'5" southpaw, and I have never seen him fight, but I can probably accurately predict he will become just another victim.


Each week, I feature an email from a fan on Observe and Fight. This week's email comes to us from Wayne B. regarding the Mayweather vs. Guerrero showdown on May 4th...


"You have probably been asked this question a whole bunch of times but how do you see the Mayweather vs Guerrero fight playing out? I'm a big Floyd fan and will of course purchase the PPV but do you see the fight being competitive or will Floyd just be Floyd and bank the rounds?"


I actually see Guerrero winning a couple of the first 2-4 rounds, and then maybe winning one in the middle rounds. Otherwise, I have Mayweather winning the fight by unanimous decision 9 rounds to 3, with potentially a knockdown or two thrown in there. I wouldn't be surprised if Mayweather stops Guerrero, and I think Mayweather will stand in and trade a little bit, but he won't be careless.

That's all I've got for this week. Email any questions or comments to
dkassel@fighthype.com
and I will answer them throughout the week. Your email may be featured in the next "Observe and Fight." Follow me on Twitter @BoxingObserver, and be sure to "Like" The Boxing Observer on Facebook.
[ Follow David Kassel on Twitter @BoxingObserver ]