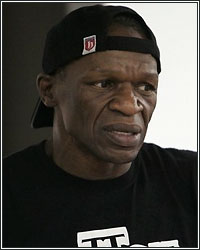 "I doubt very serious that he's older than I am, but it ain't gonna make no difference. I already know exactly how it's gonna go down. You can start counting right now because he gonna be down for the count. I done been stabbed and shot and he ain't said nothing. I done been in gangs and everything. That shit he talking about don't mean nothing to me. He gonna be from the barrio alright; we can definitely get it on," stated world-class trainer Floyd Mayweather Sr., who continued his war of words of with fellow trainer Ruben Guerrero, father of multi-division world champion Robert Guerrero, who faces undefeated pound-for-pound king Floyd Mayweather on May 4 at the MGM Grand Garden Arena in Las Vegas, Nevada. Mayweather Sr. let it be known that he's not at all concerned about anything that Ruben Guerrero has said thus far.

"He definitely gonna find out that Floyd Joy can back up every fucking thing that I say. Lil Floyd shut the son up at the photo shoot and I shut his daddy up because that motherfucker been quiet as hell since I accepted his challenge he put out there. You gonna see. I hope you can make it out there to the press conference Percy because it's gonna be something to see. He can jump off of that podium like he wanna do something. I'm gonna say, 'Don't nobody hold him. Let him come on. Let him come get this ass whoopin.' I'ma make him 30-1," Mayweather Sr. explained, making it crystal clear that his son isn't the only one in the family who can back up his words if push comes to shove.

"Talking about he done whooped 30 motherfuckers...come on, man. But you mark my words, if he even acts like he's gonna do something, you can start counting as soon as I stand up because his ass gonna be going down; ain't no ifs, ands or buts about that," he added. "He ain't talking no more though. I haven't heard shit he done said since I told him we can do it. I don't play, man, and he gonna find out how serious I am if the motherfucker come my way. His son did a lot of talking too until he was face to face with Lil Floyd, and his daddy gonna be the same way when he sees me."
[ Follow Percy Crawford on Twitter @MrFighthype ]